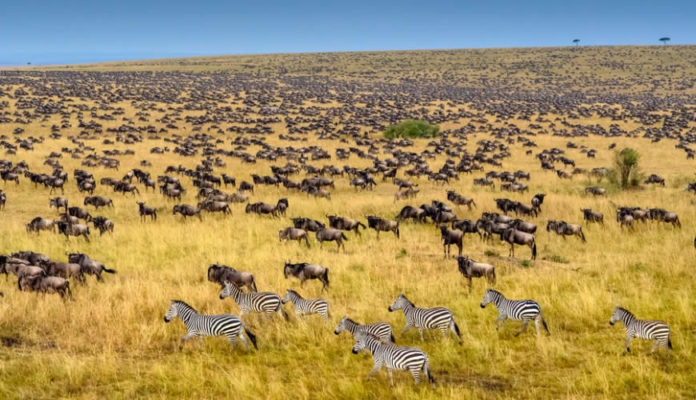 BY FRANCISCO E. ROMERO BOCK
EMBASSY OF MEXICO IN KENYA
Although there are many safaris on the African continent, there is one that distinguishes between them all for its impressive landscapes, the great variety and number of animals that live there, and its additional cultural feature: The Maasai Mara.
Located in the southwest of Kenya, along with the border of Tanzania, the Maasai Mara is a nature reserve with an area of 1510 km². Most of its territory is Savannah and the Mara River crosses it creating canals, lagoons, and swamps in its path.
The Maasai Mara is a mystical trip to nature that immerses us in the miracle of life.
Wildlife
The Maasai Mara is famous for its exceptional wildlife. First of all, we can find there the so-called Big Five: lion, leopard, elephant, buffalo, and rhinoceros.
The variety of animals is amazing. There are giraffes, cheetahs, servals, hyenas, bat-eared foxes, black-back and side-striped jackals, antelopes, gazelles, impalas, topis, warthogs, ostriches, baboons, and millions of zebras and wildebeest. In its wetlands, you can see hippopotamuses and crocodiles. One can also find more than 450 species of birds.
During July and August, the great migration takes place and the herds begin their pilgrimage to more fertile lands. Millions of animals cross the rivers, sometimes being attacked by felines or crocodiles. This dramatic mass movement is one of nature's greatest spectacles.
The weather is pleasant throughout the whole year. Temperatures are slightly higher from October to March and slightly cooler from June to August. The area is just south of the equator with an altitude between 1,500 and 1,900 meters. The nights are generally fresh, with temperatures between 11°C and 13°C. In the days, they are between 25°C and 28°C, depending on the station. There are two rainy seasons in the year, from March to May and from October to December.
The landscape also takes your breath away. The reserve is located in the Great Rift Valley. It is endless plains and grasslands, decorated by some flat African acacias, and crowned by a deep blue sky, inviting us to a peaceful daydream.
The Maasai Tribe
The other protagonist of the magical place is the Maasai people. The villages are scattered among nature and are home to one of the oldest human groups of humanity, which still retains their distinctive features.
The Maasai are nomadic shepherds of bovines, sheep, and goats, with a warrior tradition that goes back to the ancient hunting of lions and leopards – no longer practiced because they are now considered protected species.
They live in settlements called "manyatta," in their huts made of mud and straw, that are arranged in a circle and surrounded by a fence of trunks and branches, which has the function of defending their animals from the attack of lions.
The Maasai are divided into age groups. The Moran are the young men, who after a few years in nature, become warriors and come back to the towns to take a wife. The first of them, because they are polygamists. However, their houses are built entirely by women and belong exclusively to them.
The Maasai people feed only on meat, milk, and the blood of cattle, goat or sheep. Due to their traditions, they do not eat other animals' meat, eggs or fish.
Traditional Maasai clothing, known as "shuka," is red and purple, and very showy. It is made of cotton and wrapped around the body and it is usually accompanied by ornaments with colored beads. Men and women perform multiple perforations and enlargement of the ears, as well as ritual marks on the cheeks. The religion of the Maasai is monotheistic and is linked to the forces of nature.
A highly recognizable ritual of Maasai are the chants and dances. They stand out for their high jumps during the performance to prove their strength.
The Maasai are always happy to welcome visitors to their villages and share their beliefs and traditions with them. To spend a few hours with them is an incomparable and enriching cultural immersion.
Unforgettable Life Experience
Maasai Mara is the safari that has it all. Millions of animals gathered and migrating are one of the most fabulous scenes you can witness. Nowhere in Africa is wildlife more abundant.
A climate, landscape, nature, and culture combine to offer us an African cliché, but it is something that we have only seen in our dreams.