BY AZERI OBSERVER STAFF
In an interview with Azeri Observer the spouse of UN Resident Coordinator in Azerbaijan, Mrs. Norma Rahmanzai Isaczai sheds a different light on Afghan refugees. She explains why she had to leave her home country and highlights the volunteer work done by diplomatic spouses in Azerbaijan.
Question: What is your background, education, and profession?
Answer: My life changed the day my dad, a university professor, was put in prison by the communist government of Afghanistan in 1982. His crime was that he was educated in the USA and thus seen as a threat to the government. I had a very challenging childhood. At the age of eight, I witnessed half of my extended family being imprisoned, was forced to leave my country, and lost loved ones to a war imposed on us by others. My dad made the difficult choice of leaving behind everything we knew and loved to save his six children. Our trip began in Logar, Afghanistan through the treacherous valleys and mountains of southern Afghanistan in order to cross the border into Pakistan. We traveled by foot, animal, and then car, but the roads were dangerous because there were landmines everywhere. A mine blew up the lorry in front of us, but we were not injured and our car was spared. We were lucky to be alive. Our guide took us down to a small village to spend the night and rented a few horses, donkeys and a camel for us. We tried to disguise ourselves as a nomadic family traveling to Pakistan for the winter. The price of being caught by Russian or Afghan soldiers could cost us our lives. In 1983 we became a refugee family in Islamabad, Pakistan. A year later we immigrated to the United States and settled in Omaha, Nebraska.
Today I consider myself an Afghan/American who left Afghanistan due to war, but was lucky to be given an opportunity, an education and freedom in the US. I completed my primary and secondary schooling in Omaha and later obtained my bachelor's degree in Management Information Systems and International Studies from the University of Nebraska in Omaha. I received my master's degree in Media & Communication from Leicester University in the United Kingdom. I started my career as a computer programmer in the US in the private sector. After my husband joined the United Nations, I had to make the difficult choice of abandoning my career to accompany my husband on a life-long adventure – seeing different countries, cultures and people, but most of all raising a family together. I continued to work wherever I could find a job and kept myself busy. For instance, when we were posted in Sana'a, Yemen, I worked as a bursar at the British School. In Iraq I worked for UNESCO as a report officer and in Nepal I did some consultancy work with the UN. But, the best experience I have had was to work as a volunteer for various causes and events in each country we have served. Currently, I love serving on the board of Head of Missions Spouse's (HOMS) and teaching English at the Refugee Center in Baku.
Q.: How long have you been in Azerbaijan and what do you enjoy most about living here?
A.: My daughters and I arrived in Baku in June of 2016 when the city was buzzing with the excitement of hosting the first year of Formula 1 racing. We very much enjoyed being part of the excitement of Azerbaijan hosting Formula 1. The event gave us a great taste of Azerbaijani culture and cuisine. We had the opportunity to watch global stars, Chris Brown, Pharrell Williams and Enrique Iglesias, perform at the event. We continue enjoying our walks through the old city, our neighborhood and outside Baku, appreciating the traditional, old and new mixture of architecture, restaurants, museums, and the beautiful doors, windows and balconies overlooking the Caspian Sea. I enjoy traveling around the country to see life outside Baku and to experience the various shades and colors of Azerbaijani history and culture.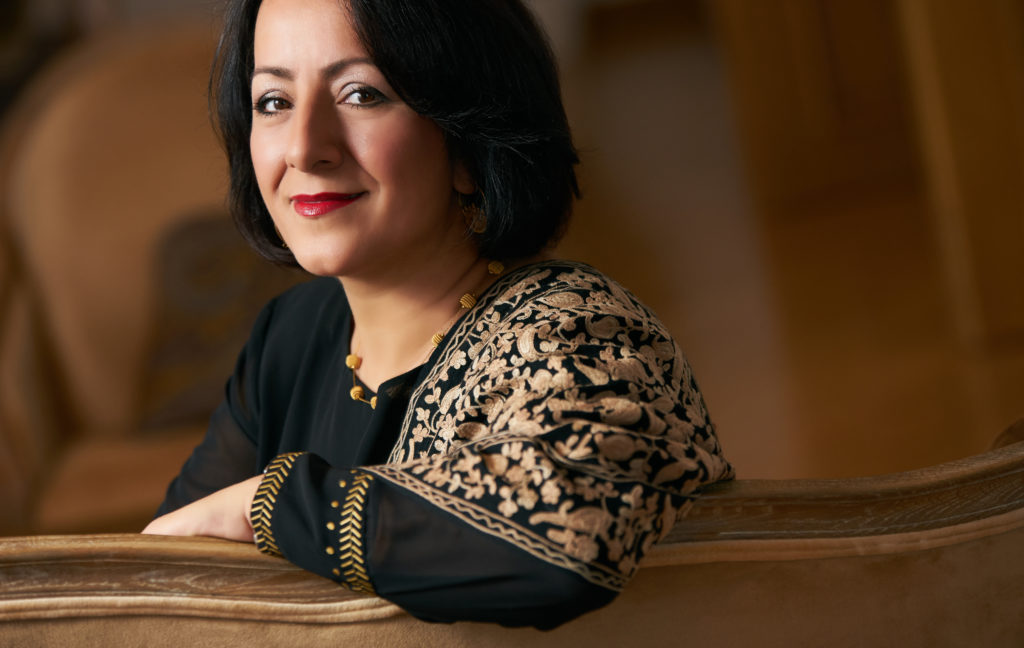 Q.: How does it feel to be the spouse of a diplomat? How would you describe the role of an Ambassador's spouse in diplomacy?
A.: Being the spouse of a diplomat is an honor, a privilege and a responsibility – in the sense of how we represent the UN in our host country. It is the most rewarding experience, but it can also be challenging at times. I share the burden of my husband's work pressure, frustrations and challenges of making the transition from one country to another. Spouses play their own positive role in ensuring that they are connected to the people and community they live in. I feel lucky that with HOMS activities and volunteer work, I have established close friendships with many Azerbaijanis, ambassador spouses and ambassadors. We all believe in the work we do by representing our country or organization with a positive attitude. I try my best in the work I do as a friend, a spouse, a host, a mother, and a teacher.
Q.: What do you find to be the most challenging aspect of being a diplomatic spouse? And what is the most rewarding?
A.: The challenge is leaving and saying good-bye to friends every time you move jobs. The most rewarding part is the experience of visiting new places, meeting new people and contributing in small ways to society. Our diplomatic life makes us understand and appreciate differences and teaches us to be tolerant. I will forever cherish my experience of living in Iraq, Syria, Yemen, Afghanistan, Nepal, Germany, North Korea and now Azerbaijan. I feel as if I have taken a part of each country with me and in a sense these countries become my own. At home I have art pieces like Nepali bronze door handles, Middle Eastern nomadic silver jewelry, Afghan embroidery pieces, and Asian and European teapots and books, which I carry with us from country to country. They remind me of the fond memories I have of these countries.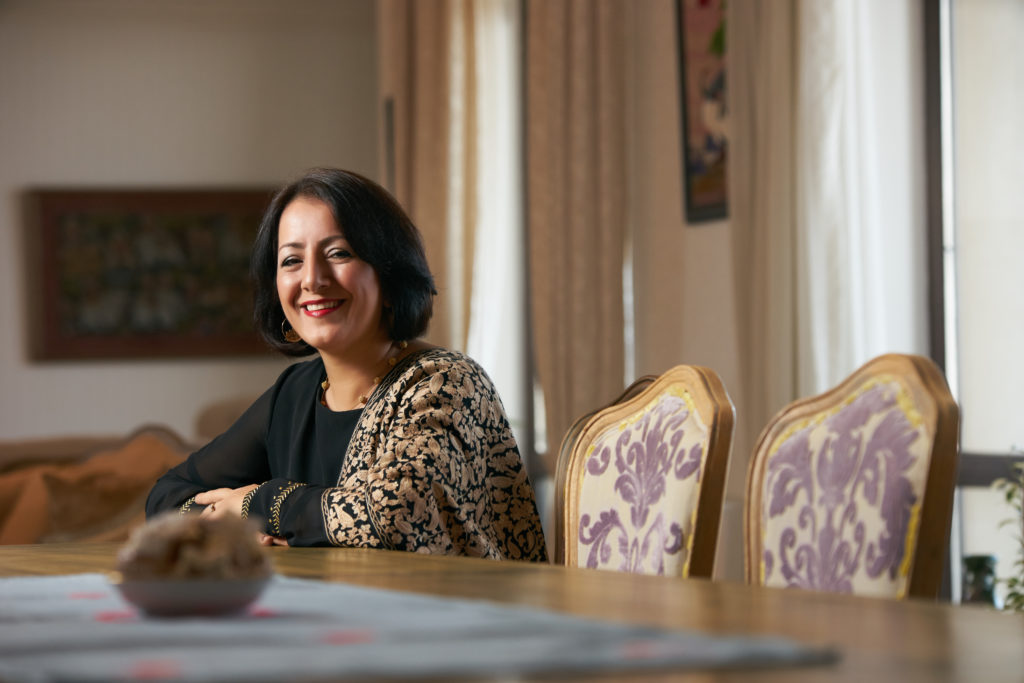 Q.: What activities have you become involved in during your time in Baku?
A.: As I have mentioned before, HOMS has been my family in Azerbaijan. At the first HOMS monthly meeting I attended at the Indian Ambassador's residence, I had a very positive feeling from the group. I knew from my previous experience that the best way to be active and truly have an impact is to be on the board. One and a half years later, I have had the privilege of meeting some very generous individuals and spouses who support numerous projects and work as volunteers in Azerbaijan.
Azerbaijan offers such a rich variety of art and culture for expatriates to experience and learn about. Therefore, I enjoy visiting the many museums and art galleries in the city. This interest has taken me to pursue art classes in Baku. Currently I am working on capturing the different faces and ethnic groups of Azerbaijan and Afghanistan on canvas.
Q.: How did you and the Ambassador first meet?
A.: I first met my husband while we were both students at the University of Nebraska. We became friends and corresponded for two years after he moved to Boston, Massachusetts to pursue higher studies and I remained in Omaha, Nebraska before we got married.
Q.: What do you most admire about your husband? What does he most admire about you?
A.: He is deeply committed to the values and principles of the United Nations and has a passion for humanitarian and development work. What I also like about him is that he is a visionary; he wants to bring positive change to the people and to society wherever he works. He is humble, but brutally honest at times, which people who don't know him well may misunderstand. In the last twenty years of marriage, I am grateful that his work has taken us to many exciting and wonderful countries. It has also put a great amount of pressure on us – at times being separated by long distances, being evacuated due to security risks, and moving our home every few years. What has made our marriage work is that we are friends first, we respect each other, and I am flexible when it comes to the demands of his job. He supports my interests, my studies and my work. In our line of work we have to be open-minded about change and supportive of one another.
Q.: Your husband has worked in over ten countries in his UN career. It must be a real privilege to have experienced so many places, but also quite challenging at times. How do you support each other and your family?
A.: As I have mentioned before, I love traveling and living in a new country. One can truly experience the life, culture and know the people. Each move to a different country is a learning experience for us. As an expat or a diplomat, you should be flexible, open-minded, willing to try something new without pre-judgement, and show respect to your host country and people. In the end it is mainly our mindset which determines whether we grab an opportunity with open arms and a positive attitude, or whether we choose to stay in our home country or headquarters.
Q.: What is your favorite thing to do in Baku or Azerbaijan and why?
A.: I look forward to teaching English on Tuesdays at the Refugee Center. It gives me an opportunity to not only teach but also encourage the refugee students to study and work hard as they wait to be resettled.
Traveling around Azerbaijan or even walking in our neighborhood has been a good way to see your beautiful country and to have a feel for my community. Often I see people feeding street cats, or a child bringing leftover food to feed and play with the neighborhood kittens. I see beauty in the countryside, and compassion and kindness in the people of Azerbaijan.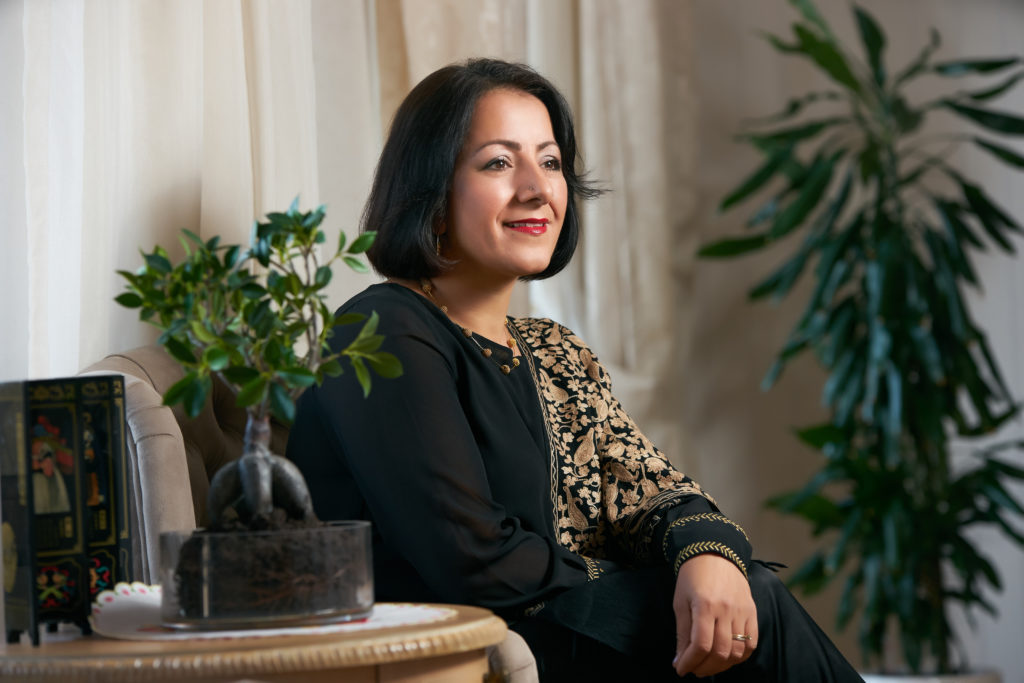 Q.: What are the biggest cultural similarities and differences between Afghanistan and Azerbaijan?
A.: When I first arrived, it was a wonderful shock to hear words I could understand in the Azerbaijani language. We are very much alike when it comes to traditions, culture and even wedding ceremonies. There are many words we share in the Azerbaijani and Dari languages. Azerbaijan has awakened a part of me that I had left behind as a child in Afghanistan.
Q.: Azerbaijan is quite proud of its national cuisine. What is your favorite Azerbaijani food or dish?
A.: My family and I love to have breakfast in the Old City. The fresh bread from the tandir, pumpkin kutab, fresh cream, honey, all the green herbs, yogurt and eggs with tomatoes are my favorite. These tastes and smells take me back to my grandparents' home in Logar, Afghanistan. Priceless – it awakens all the tastes and feelings of home.
Q.: And finally, our signature question: It's said that behind every successful man there is a woman. How does this manifest itself in your family?
A.: Marriage is a partnership and we complement each other very well in our lives. He works long hours and has a demanding job, and I take care of the family and our home. I am ready for the demands of school, challenges of finding our way in a new country, and ultimately being supportive of one another and our three daughters.