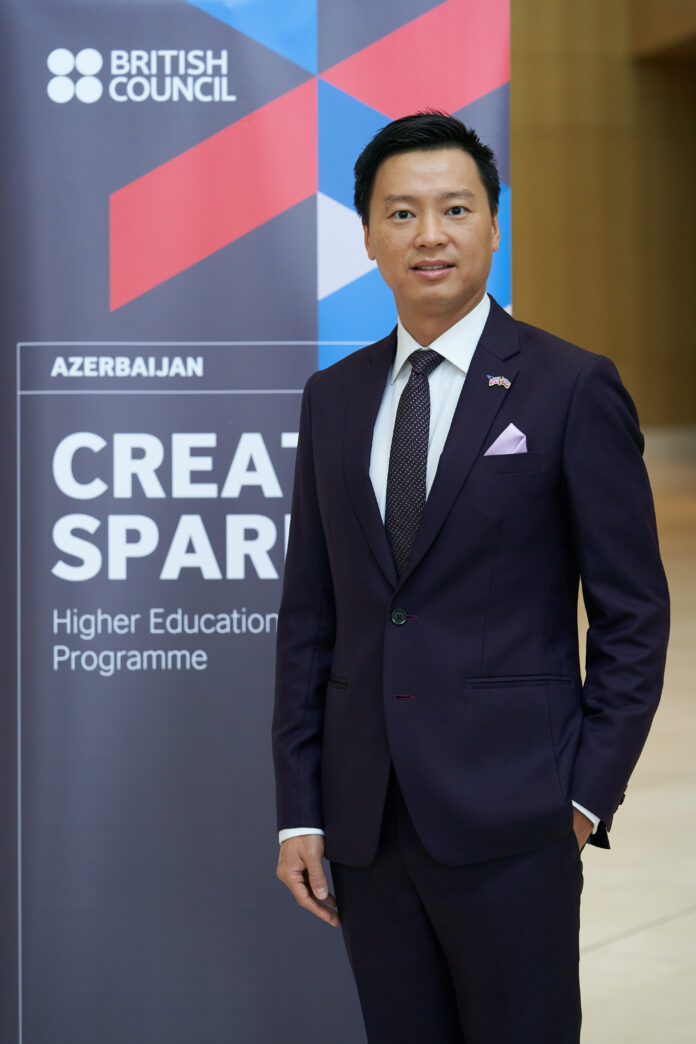 DIRECTOR OF THE BRITISH COUNCIL IN AZERBAIJAN, MR. SUMMER XIA, INFORMS THE AZERI OBSERVER ON THE SPECIAL ROLE THEY PLAY THAT STRENGTHENS THE RELATIONSHIP BETWEEN THE UK AND AZERBAIJAN BY WAY OF BUILDING TRUST, CONNECTIONS AND OPPORTUNITIES FOR AZERBAIJANI CITIZENS. HE ALSO ADVISES US ON THE SPECIAL PROJECTS THEY ARE INVOLVED WITH IN ORDER TO DRIVE EDUCATION REFORMS FORWARD WITH UK EXPERTISE SUCH AS 'CREATIVE SPARK' AND HOW THEY CAN ASSIST WITH THE PRESERVATION OF THE CULTURAL HERITAGE OF AZERBAIJAN.
Azeri Observer Editor
Gemma Bianchi Slater
Question: Can you tell us please what are the roles and responsibilities of the British Council in Baku?
Answer: The British Council is responsible for the cultural relationship between the UK and Azerbaijan. We have been in Azerbaijan since 1993, so we have operated here for over 27 years.
There are three areas that underpin our work in Azerbaijan: Education, English Language and Arts & Culture. Our mission is to build trust, develop connections and create opportunities for people in both of our countries, and to strengthen that exchange and relationship between the people of Azerbaijan and people in the UK.
In Education, we bring UK expertise and experience to drive education reform. Together with the Ministry of Education we've specifically focused on higher education to support Azerbaijan's ambition to internationalise its higher education institutions and increase their competitiveness. We have programmes such as 'Creative Spark' where we established institutional partnerships between the universities here and in the UK, with a focus on enterprise education so that young people can think about starting their own business and develop entrepreneurship, which will help Azerbaijan diversify its economy. We also work on skills development, with projects supporting tourism and hospitality, by working with 40 5* hotels and bringing training for participants through the vocation education route, with a focus on the employability skills that people need to secure jobs in these sectors.
The second area is English Language. We are the market leader in English language teaching, learning and assessment. Again we work closely with the Azerbaijani Ministry of Education and other organisations such as the State Examination Centre to look at how we can enhance the quality of English language teaching and providing extra-curriculum activities to improve English skills of students and young people in this country. Together with the British Embassy and the Ministry of Education, we have set up 18 learning hubs across the country. 11 of them are in Baku, and seven in the regions, with five of them dedicated to support the IDP settlements. They act as resource centres for teachers' professional development and also as training centres for students and other community members, not only to improve their English but also to develop 21st century skills, such as communication, problem solving and debating. This prepares them to engage better on an international stage and will provide a head start when they think about their career. In addition to capacity building, when it comes to English language learning and teaching, it's also important to consider assessment, as without it one won't know how good one's English is and the progress made. Our Exams team bring internationally recognised qualifications to Azerbaijan, such as IELTS and APTIS (which is a test designed by the British Council) so that people can take these exams in order to demonstrate the level of their English if they plan to study or emigrate abroad, or secure a better job. These qualifications will also help them gain better access to information and interact with the international audience better.
The third area is Arts and Culture, and this is where we showcase cultural assets of the UK through dance, films, music, fashion, etc. in support of the development of creative industry in Azerbaijan, which is also a priority for the government in order to diversify its economy. So far we have supported the Ministry of Culture in developing their strategy for the creative industry, which resulted in the launch of 'Creative Azerbaijan' last year, a portal owned by the Ministry of Culture to support the identification of sectors under the creative industry and look at how the government can support them in terms of policies and environment. In addition to that, our work also focuses on promoting arts inclusivity. We have a programme called Unlimited where we work with disabled artists to change public perception and improve access to cultural and arts venues across Azerbaijan, so that everyone can participate in cultural and arts activities with dignity, with choice, equally and independently. Ultimately, what we do here is about creating opportunities for all people and giving everyone better access to the rest of the world and building trust between people from both the UK and Azerbaijan.
Q: Can you tell us how you share British cultural relations with art, music and theatre with Azerbaijan?
A: We have some showcase programmes, specifically in music and film. Every year, we host a British film festival, showing a selection of the latest and most interesting British films of the year to the Azerbaijani audience. This is organised in partnership with the Ministry of Culture and the British Embassy. What is special is that every year we have a specific theme. Last year we focused on diversity, and this year the upcoming British film festival, which will take place in January, will focus on women, because we recognise the important role women play in society. All the films will either be produced or presented by inspiring women working in the film industry. In order to increase access to these films, we have decided to move this year's British Film Festival online for the first time. We hope this will enable more people to watch these fantastic films from the comfort of their home and expand our audience from Baku to the regions. It starts on 22 January and people can find more information from our Facebook page British Council Azerbaijan.
In music, we have a radio show called Selector, which is a music programme produced by the British Council and then broadcast here in Azerbaijan on radio. We work with 103FM – Khazar FM. Every Saturday listeners can tune in to listen to the most contemporary British music – anything and everything that's exciting in the UK right now. We take the audience on a virtual tour of the UK, dropping them into the heart of cities like Bristol, Belfast, Cardiff and Glasgow to listen to the best emerging talent, jazz, grime, indie or electronica – or somewhere in between.
In addition to this, we also have two arts programmes that are very relevant now because of the travel restrictions; Exhibition on Screen and TheatreHD, so that people in Azerbaijan can watch some of the latest and most successful performances from world-class theatres in the UK – including the National Theatre, Shakespeare's Globe Theatre, the Royal Shakespeare Company, Royal Opera House Covent Garden, and others, and appreciate visual artists and exhibitions from around the globe.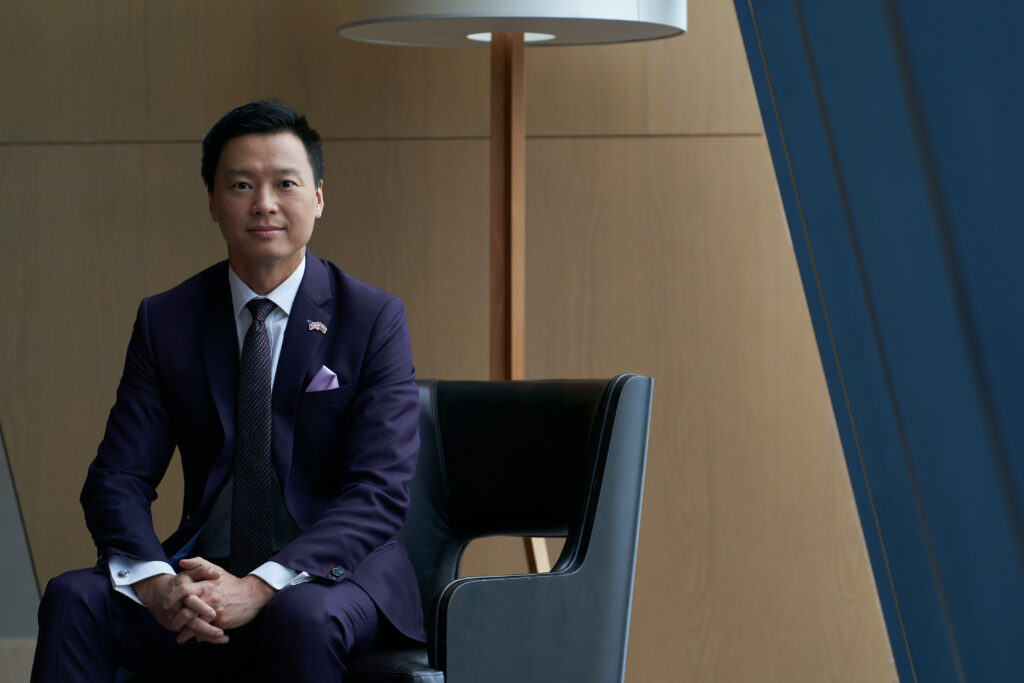 Q: How closely do you work with the British Embassy in Azerbaijan?
A: We work very closely with the British Embassy, being an arm's length body of the Foreign, Commonwealth & Development Office. We are an executive non-departmental public body and receive part of our funding from the Foreign, Commonwealth & Development Office. At the same time, we enjoy the independence and flexibility to do what we do best, which is cultural relations. I think our unique status gives us great access to work with a wide range of people who need our support and create opportunities for them. On a strategic level, our work supports the UK's objectives in Azerbaijan. This is reflected by the fact that our programmes and activities are aligned with the programme objectives of the British Embassy, which are climate change, gender equality and disability. In particular, both organisations care about providing equal opportunities to different marginalised groups and that's where we see the value of sharing resources and working together. I also have a very close relationship with the British Ambassador to Azerbaijan, Mr James Sharp, who recognises the importance of cultural relations and values the role of the British Council.
Q: Can you tell us about your background and how you ended up working for the British Council?
A: I have a background in Computing Science, which is far from cultural relations but I was introduced to the British Council by a friend and was immediately attracted to the work that they have done, and went there straight from university. I have now worked for the organisation for 16 years. Lots of people have asked me what keeps me at the British Council for so long. Well, to start with, the organisation is very people oriented. It values people both internally and externally and empowers everyone to reach their full potential, and this is supported through a serious commitment to the mainstreaming of equality, diversity and inclusion, with a focus on removing barriers so that everyone can have the chance to do their best.
Azerbaijan is the sixth country I've worked in with the British Council. Previously, I worked in Turkmenistan, Indonesia, Thailand, Singapore, China, and of course, in our Head Office in the UK. I've held various roles as well. Right now I'm a Country Director, but previously I worked on international education, student mobility, marketing, change management, learning and development etc.
Q: Can you provide us with information about 'Creative Spark', which is your higher education enterprise programme?
A: This programme is dedicated to the development of enterprise education with a focus on the creative industry. We recognise there is a need in Azerbaijan and other countries in this region – as this is a regional programme implemented across seven countries including Azerbaijan – to tackle youth unemployment and empower students to think about building on their creativity and innovation by starting their own business so that they can support the diversification of the economy here. The way we do it is by establishing institutional partnerships between countries. Here in Azerbaijan, we've set up seven partnerships involving 15 universities and creative institutions from Azerbaijan and the UK, so they can work on capacity building through programmes that provide training and the know-how for the students and the teachers. These partnerships create a platform for skills development, including English language. In addition to capacity building, the highlight of Creative Spark is the 'Big idea pitch competition' which is a challenge we give to the students for them to come up with a business idea and present it with a three-minute video pitch. The ideas are then judged by a panel of entrepreneurs and academics on their impact, authenticity, and innovation. The winners receive financial support (a £3,000 grant) and coaching and mentoring by experts from our UK institutional partners. What makes me really proud, is that this year, our country winner in Azerbaijan is a student from Azerbaijan State Economic University whose idea is about creating adaptive fashion to support disabled people. He then went on to become the global winner of the whole programme, which demonstrates how much creativity there is from Azerbaijan, and that is something we want to promote more globally. It's truly inspiring how he developed this idea from seeing the struggles of his disabled grandmother. We hope ideas like this will change perceptions amongst the general public so we can remove barriers and stigma towards disabled people and make our society more inclusive.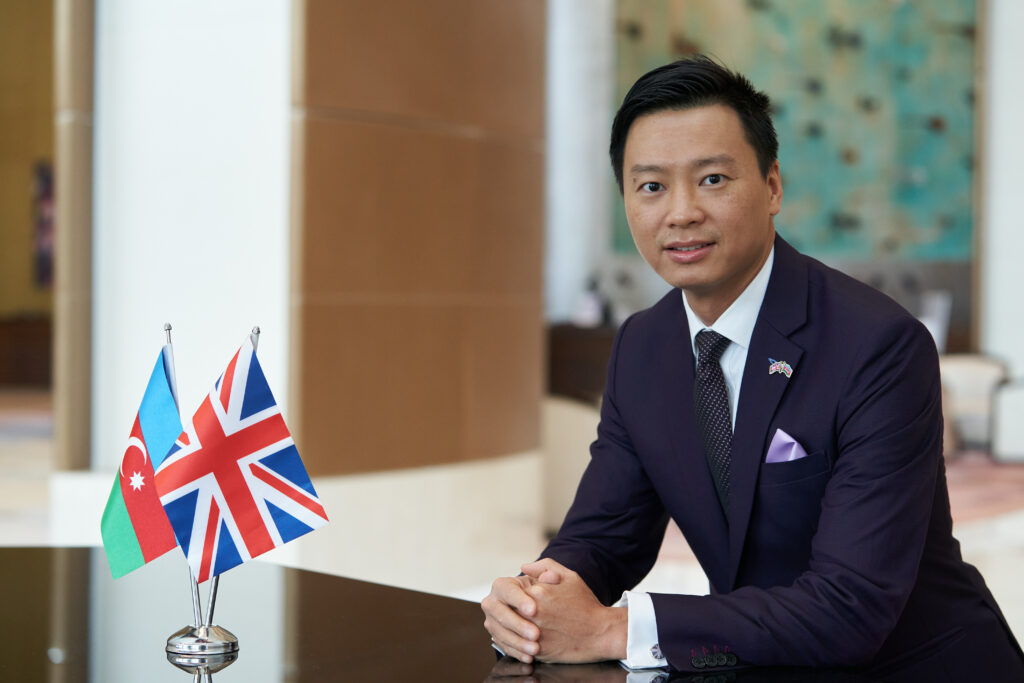 Q: How does Azerbaijani youth benefit from other educational programmes supported by the British Council? How do you help them to get an education of their dreams?
A: I want to mention three programmes in particular. The first one is the SABAH project in collaboration with the Ministry of Education. This is about teaching English to selected university students. The English training we provide gives these students a head start and helps them improve their language skills, enabling them to pursue their dreams to study abroad or find a good job. So far, more than 3000 SABAH students have benefited from language courses delivered by professional British Council trainers. The second programme is Creative Spark, which we've spoken about already that focuses on enterprise education through capacity building and the big idea pitch competition with mentoring provided by experts. The third offer is the exams we provide, especially IELTS which is widely accepted globally for study abroad, immigration, and employment purposes. Last year we introduced computer-delivered IELTS, which means candidates, can get their results faster. We currently offer them on a daily basis so people can book it on our website according to their own schedule. More and more countries, institutions, and companies are accepting IELTS as a benchmark to demonstrate English proficiency. We are pleased to provide such an internationally recognised qualification, which creates a pathway for people to get an education of their dreams or work in an international context. We have lots of free online resources on our website, designed by qualified British Council teachers, to help people learn English and prepare for exams like IELTS. This year we also launched English Online which is a brand new British Council teacher-led English course that is fully delivered online, interactive, designed around people's needs, and offered 24 hours a day, 7 days a week.
Q: Tell us about the British Council's work in society beyond education and art. (Entrepreneurs support, accessibility, etc.)
A: I want to highlight that as the UK's international cultural relations organisation, our work is based on building meaningful, enduring and respectful relationships across different cultures. We cannot do this without a strong commitment to equality, diversity and inclusion. Here in Azerbaijan, we have dedicated programmes to support the mainstreaming of equality, diversity and inclusion. In that regard we have one project funded by BP and its co-ventures to enhance employability for people with disabilities and we've been running it for two years. This is where we look at how we can help disabled people find employment through skills development, which remains to be an issue in many countries, especially during the pandemic, which reduced opportunities for disabled people in particular. We are extremely pleased that 60% of the participants have secured employment. To lead by example, we also launched an Inclusive Internship Scheme at the British Council and provided internship opportunities for six disabled people. We intend to continue this programme to change perceptions and inspire other companies to seriously think about creating job opportunities for disabled people, short-term or long-term.
In addition to this, we have 'Unlimited', which is our arts and disability programme arising from a common-sense idea that there are no limits for those who dream big, regardless of background or physical ability. In this programme, we work with the Ministry of Culture and disabled artists on their capacity building, creating a platform to showcase their talents, and improving cultural and arts venue access so that more people can appreciate their artistry.
Q: What big events are the British Council planning to host in Azerbaijan?
A: We have the British Film Festival from 22 January 2021, dedicated to women, and there will be 16 fantastic films we have selected from the UK, which we will present to the Azerbaijani audience in its original language, English, and with Azerbaijani subtitles. The other thing to look forward to is the celebration of the achievements by Azerbaijanis who have studied in the UK. This is our annual Study UK Alumni Awards, and this year we will have a virtual award ceremony on our Facebook page (British Council Azerbaijan). Last month, the judges, which include myself, the British Ambassador, the Vice President of BP, the Head of the State VET Agency, and the Chairwoman of 100 Business Women of Azerbaijan, came together and we selected the winners. I think their success stories will inspire many more Azerbaijanis to pursue their study in the UK so stay tuned to find out who has won.
Since the start of the pandemic, in order to continue our engagement with our audience, we have launched three online series successfully and I would encourage more people to follow our Facebook page to join these interesting discussions. One is In Conversation with Entrepreneurs, which is part of Creative Spark for the audience to learn from successful entrepreneurs in Azerbaijan and the UK. The second one is called Higher Education Dialogues, where we gather Higher Education experts from across the world to talk about the common challenges faced by Universities during and post pandemic and how we can address them together. The third one is our Live Arts Talk, where we invite Arts & Culture Leaders to discuss the importance of continuing Arts and making them accessible and inclusive during the pandemic.
Q: Do you plan any projects in the liberated regions?
A: Azerbaijan is starting a new chapter in its history and as an organisation, we very much hope to support Azerbaijan in the rebuilding of these communities and territories. We stand ready to support our partners such as the Ministry of Education and Ministry of Culture, by bringing UK expertise on education, English language, and cultural heritage preservation. Specifically, building on the success of the 18 learning hubs we have already established, we hope to expand them and have more of them across the country. Speaking of English language, we have worked in other parts of the world that have endured conflict to use language as a tool for resilience and empowerment, so I hope there will be a chance for us to provide more language training opportunities for schools and communities in the regions.