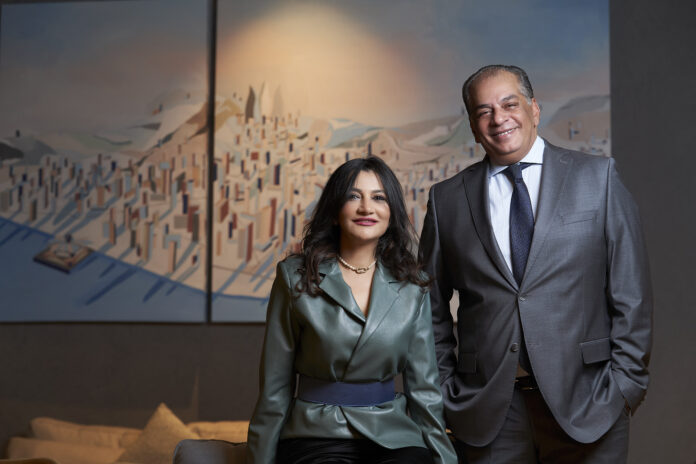 The outgoing Egyptian Ambassador to Baku, Mr. Adel Ibrahim, and his spouse, Mrs. Ines Eissa, in a farewell interview for Azeri Observer, speak about the four years they spent in Azerbaijan, share what they learned about the country over this time and how they see prospects of bilateral cooperation in future.
By Elena Kosolapova
Azeri Observer Staff Writer
Question: You have an interesting fact in your biography. Before starting your diplomatic career, you worked as a journalist. People say "once a journalist, always a journalist." Does it manifest in your life? What effect did this profession have on you?
Ambassador Adel Ibrahim: You are right. At the start of my career, I worked in the media and covered economic and financial issues. I think it had an effect on the way I work now. Even after becoming a diplomat, I am always very curious to know everything about the country where I am accredited. I try to find concrete, verified information, to dig and go deeper, and such an approach sometimes even surprises people around me. Another aspect of journalists' work which I brought to diplomacy is building contacts with different people, as journalists always need a good network. I am very sociable, and try to be an open person, not only to officials and diplomats, but to all kinds of people in society.
Q.: What countries did you live in before coming here? Is there anything that makes your experience here unique?
Ines Eissa: Our first mission was in France, as my husband was studying at the prestigious École Nationale d'Administration. At that time, we were so young, and we had a chance to explore new horizons. It was Paris where our first son was born. Our first posting was in Tanzania, a beautiful African country, where we had an opportunity to discover the wildlife, the outstanding safari destinations, diving, sailing, and fishing in the Indian Ocean. One of the most unforgettable moments during our stay in Tanzania was the news that I would become a mom for the second time. Then, we had the second posting in Vienna, a stunning city in the heart of Europe with the taste of the Imperial history of Austria. Our third posting was in Damascus, a beautiful Arabic city; that was a great experience, full of culture and history. The last posting before Azerbaijan was in Brussels, where we had a chance to discover the city as a melting pot of cross-cultural European civilization. What makes our posting in Azerbaijan unique, is the fact that your country has all the aspects of our previous posting mixed in a very harmonious way and this is what makes our stay here magic.
Q.: What did you know about Azerbaijan before being appointed here?
Ambassador Adel Ibrahim: That was my first exposure to this region. To be sincere, I just had general information about Azerbaijan. I just remembered that Azerbaijan achieved its independence at the beginning of the 1990s. At that time, I studied at the diplomatic institute and we attended a few lectures about the future of this region, and what influence Egypt will have in this part of the world. So, I knew that Azerbaijan is one of the former Soviet Union's republics; booming, modernizing, and rich in oil with a long history. When I was appointed to Baku, it was a surprise; I started looking for more information about your country and our bilateral relations. I had to come and discover it by myself.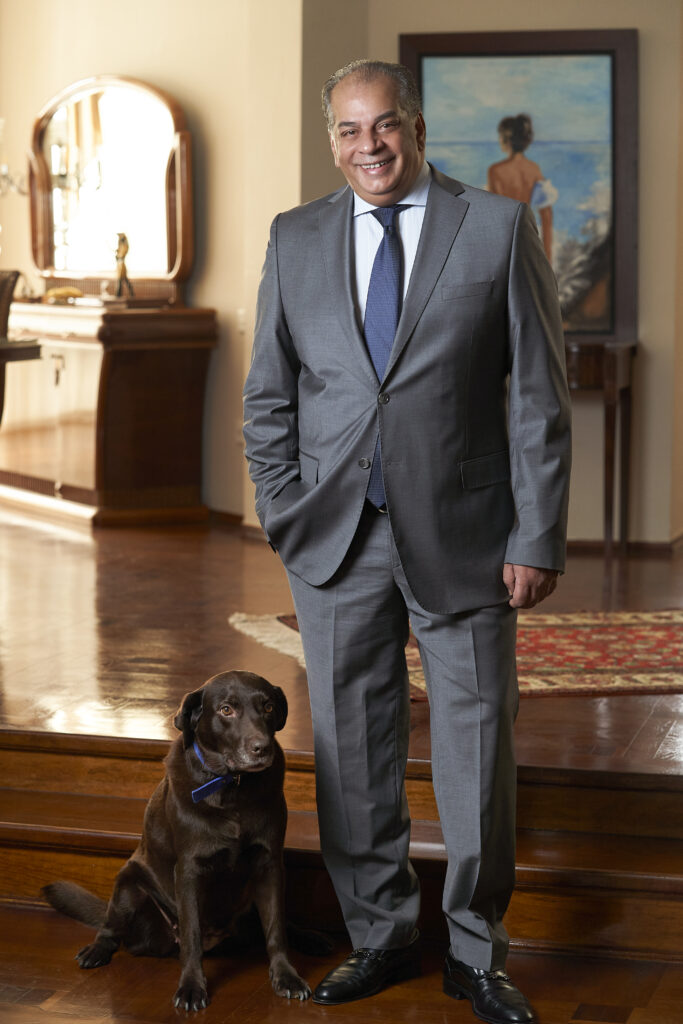 Q.: What impression did you have when you came here for the first time? And how did this impression of the country change after four years here?
Ambassador Adel Ibrahim: I always say, when you first arrive in Baku, and the road takes you from the airport to the downtown area, you are pleasantly surprised. And this is the impression of most people, most delegations who come here. I was not expecting Baku to be that modern, beautiful, well-organized and clean. The capital of Azerbaijan always gives you more than you expect. So, my first impression of the city was a good surprise, and after four years it hasn't changed. I mean, it has changed, but has become even better. It is possible to see from the first glance that Azerbaijani people are very polite, educated, nice and kind, but it takes time to see the depth of the country, its real nature. After four years I can say that the country is on the right path. It is becoming more and more modern. People are becoming more adapted and integrated to the new style of life in Baku. I can say that the city and the country have changed a lot even in four years, but it's all moving in the right direction.
Q.: Did you have an opportunity to travel around Azerbaijan? What places did you like the most?
Ines Eissa: Yes, of course. We had a chance to visit most of the regions of Azerbaijan from north to south, from east to west like Lankaran, Astara, Aghdam, Naftalan, Ganja, Goygol, Samukh, Gakh, Tovuz, Ismayilli, Shaki and Zaqatala. I would like to mention that each region has its own character and for that reason, whenever we decided to visit a new place we were certain we would find something new and special. In Azerbaijan, you have the advantage to feel and relish all the four seasons, having the landscape and atmosphere of the five continents. One of the amazing advantages concerning Azerbaijan is that you can enjoy the sea, the sun, the mountains, the wildlife, all in one journey and this makes our life rich of experience and full of pleasure.
Q.: Did you develop any new hobbies while living in Baku?
Ines Eissa: The social and cultural life in Baku is so dynamic, that it does not allow enough time to develop new hobbies. In spite of that, I had a chance to further focus on my main hobby, which is oil painting. In four years, I was able to produce more than thirty new paintings, essentially inspired by Azerbaijan in many aspects, be it landscape, culture, social life, and women's conditions. In addition, I started yoga in Baku and have also taken some golf lessons, enjoying the great landscape of Absheron.
Q.: Unfortunately, your term in Baku fell during the period of coronavirus, which hampered international cooperation in many spheres. How did it influence the Embassy's activity?
Ambassador Adel Ibrahim: I have to admit that the pandemic slowed down the relations between many countries, all over the world. Meanwhile, we did the maximum to preserve cooperation between Egypt and Azerbaijan. The Minister of Foreign Affairs visited Baku in October 2019, just several months before the pandemic. In autumn 2020, we were expecting a visit of President al-Sisi on the invitation of President Aliyev, where many agreements were supposed to be signed, but the pandemic forced us to postpone these plans. Now we resume this process. In June 2021, Azerbaijani Vice Minister of Foreign Affairs, Fariz Rzayev visited Cairo for political consultations. We are expecting a visit of the Egyptian Minister of Foreign Affairs to Baku on the invitation of his Azerbaijani counterpart. At the end of February 2022, a meeting of the Intergovernmental commission is going to take place in Baku. The Minister of International Cooperation, Rania Al-Mashat, will head the Egyptian delegation. She visited Azerbaijan two years ago, when she led the Ministry of Tourism, and she knows your country very well.
The delegation is expected to include a group of Egyptian businessmen representing large companies, and they will take part in a business forum in Baku. Several agreements are expected to be signed during the visit, and it will pave the way for a Presidential visit that will probably also take place in 2022. So, this is how we try to recover from the pandemic and its effect on the relations between the two countries.
Q.: How do you assess the current state of cooperation between our countries and in which areas do you see the biggest prospects for that development?
Ambassador Adel Ibrahim: I think the cultural field is very promising. Here I would like to mention that Azerbaijani Culture Minister, Anar Karimov visited Cairo at the beginning of December 2021, where he discussed cooperation with our Minister of Culture, Ines Abdel-Dayem. The Grand Sheikh of al-Azhar, who is the highest Islamic authority in Egypt and the Middle East, also received him. Sheikh of al-Azhar clearly stated that Azerbaijan, representing tolerance, coexistence and peace, is a model for Muslim countries. This is how he qualified and described Azerbaijan in a very sincere way. Another promising field, in my opinion, is tourism. Many travel agencies solicited me to help in resuming a direct flight between Baku and Sharm el-Sheikh, but due to restrictions related to the pandemic it has not been possible yet. However, many companies are ready to operate in this sphere and they ask for 2-3 flights per week. I hope we will be able to resume them soon. Trade is a more complicated area, but I think there is great potential between the two countries, because Egypt has a lot to import from Azerbaijan, and equally much to export to Azerbaijan. So, what we need to do is make more effort introducing business people on both sides, in terms of making contact. In terms of investments, I think we can also do better. I will be very happy to see some Azerbaijani investments in Egypt and have discussed this issue with the Azerbaijani side. On our part, Egypt is willing to help Azerbaijan in the reconstruction of the liberated territories [Ed. note: from Armenian occupation]. There is even an instruction from our government to the private and public sector to contribute to this process, which I stressed during my meetings with Azerbaijani officials. Last year we had a visit of a delegation of a big Egyptian company specializing in construction and real estate, which was received at a high level, and they are preparing to open a branch here. Egypt also can help Azerbaijan in demining. Moreover, we have experience in building smart villages, and it can be useful since your government plans to create such villages in the liberated territories. So, there are many opportunities. As for the relations at the political level, they are already excellent, so I don't think we have much more to do there.
Q.: What will you tell your compatriots about Azerbaijan when you are back home?
Ines Eissa: I mainly stress the beauty of Azerbaijan and the genius mixture of traditionalism and modernism, which is reflected in all aspects of life, food, architecture, and most importantly the culture. The first thing I will do is recommend my compatriots to visit Azerbaijan, to explore the magic and the mystery of the Azerbaijani people.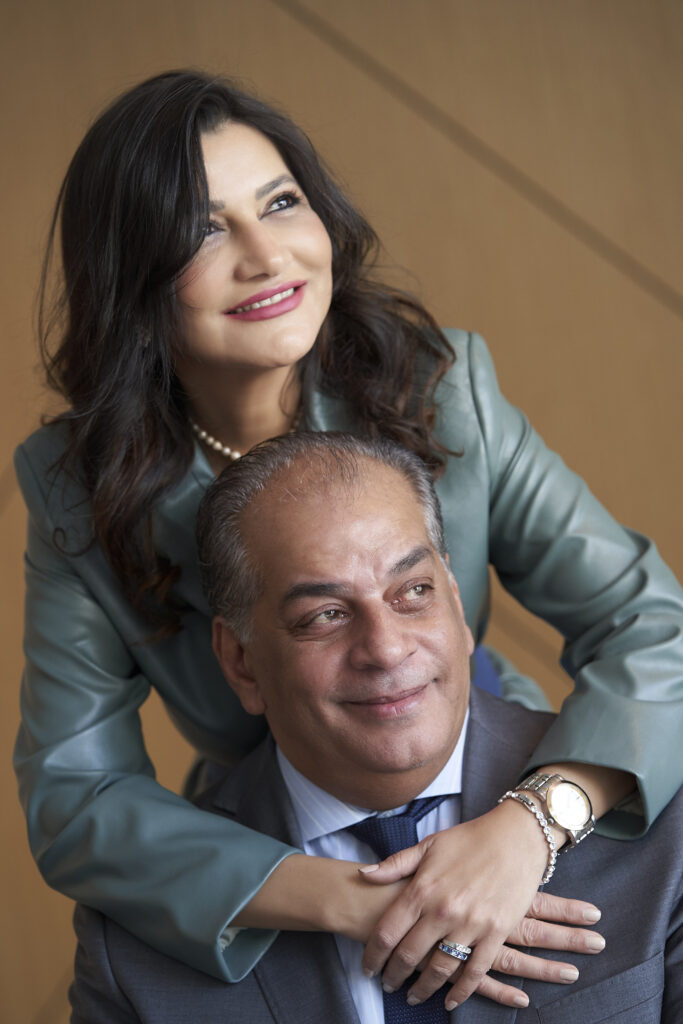 Q.: What do you consider your main achievements in the post of the Ambassador of Egypt to Azerbaijan?
Ambassador Adel Ibrahim: It is quite difficult to assess my own work. One of my main tasks was to make Egypt present here in Azerbaijan. Being an ambassador does not mean staying in your office, sending information back to your country, and meeting officials. An ambassador has to personally represent his home country everywhere and show and remind people about it, so I'm quite sure I have succeeded. During four years here, I met so many people in Azerbaijan. Sometimes when I am walking down the streets, people smile to my face knowing that I am the Ambassador of Egypt. They ask me to take photos with them when I go shopping. I consider this a great achievement. Other than that, I was very happy when we could resume a direct flight from Baku to Sharm el-Sheikh about three years ago, which was very important for me. I was also happy when my minister of Foreign Affairs visited Baku and we had prosperous consultations. In the cultural field, I was so happy to organize many events representing Egyptian culture in Baku before, and even during the pandemic. Moreover, with the help of the Minister of Culture of Azerbaijan, we managed to encourage many artists and musicians participate in major cultural events in Egypt. Finally, I consider one of my major achievements is the holding of the 5th Session of the Azerbaijan-Egyptian Joint Intergovernmental Commission led by Dr. Rania Al-Mashat, Minister of International Cooperation of Egypt, accompanied by 50 businessmen that will hold consultation with their counterparts in Azerbaijan.