BY NARMIN RZAYEVA
AZERI OBSERVER STAFF WRITER
WE MET LYDIA SHESTAK-ALIYEVA IN HER UKRAINIAN RESTAURANT AND MOST SUCCESSFUL PROJECT "SOLOHA", ENJOYED A FRUITFUL CONVERSATION ABOUT HER CURRENT PROJECTS, UPCOMING BOOK PLANS AND UKRAINIAN HERITAGE. HERE IS WHAT LYDIA SAYS:
On "SOLOHA" – her most successful project
"Soloha" has been in my life for over 13 years and we have been through thick and thin together. The name comes from a woman in a Ukrainian fairy tale which gives me inspiration. Originally, "Soloha" started off somewhere far from the center of Baku. It was unusual at the time and I was advised by my closest confidantes, that we wouldn't stay in business for long. We succeeded and prospered for a while and luckily, the first manat devaluation of 2015 barely affected us. However, it was during the second devaluation when we suffered some losses; the restaurant would stay empty for days before we received a single customer. During these times the business survived almost solely on catering services, that we provided to international corporations. I like to believe, that a small, seemingly insignificant event changed the dynamics of our business: a young lady came in one day to buy some half-stuffed frozen vareniks – Ukrainian dumplings. Her husband asked her to cook some, but the girl needed some advice. We sold her some vareniks and gave her a little flour with instructions on how to cook them just right. This inspired us to open a line of frozen semi-finished goods, that "Soloha" is very famous for nowadays!
On the new project "#Varenik by Soloha"
Even though we like calling "#Varenik by Soloha" a child of "Soloha", the concept behind the two projects and, sequentially the niche they both hold are very different. While "Soloha" fits under a classic definition of a restaurant and family institution, "#Varenik by Soloha" – as created between my partners Alexei Kuchmenko and Tatiana Parfeniuk and myself – is more of a conceptual café, where you can both drop by for a cup of coffee, spend time with friends or even hold a brief business meeting.
In "#Varenik by Soloha" we will focus mostly – besides vareniks, obviously – on such traditional Ukrainian sweets and pastries as coulibiacs, pies with different fillings and cakes, especially the very popular Baku Kyiv cake. We also plan on organizing master-class events for both children and adults, where everyone could try and bake something delicious of their own! I sincerely hope that we will manage to turn "#Varenik by Soloha" into a chain of cafés – but that may be far down the road!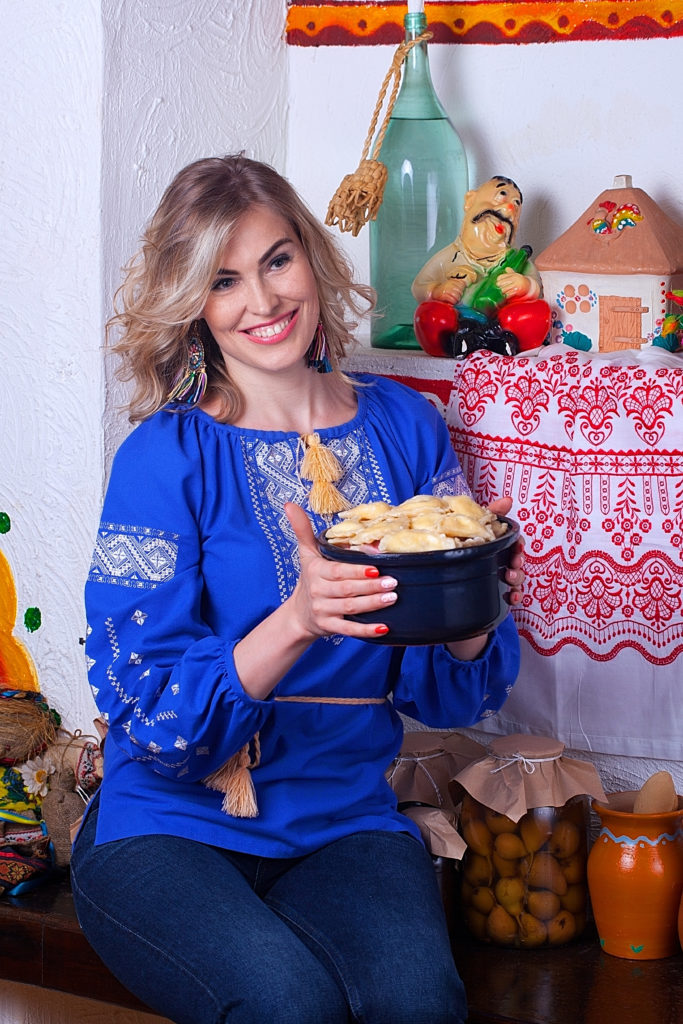 On business challenges
The biggest challenge a restaurant, café or bar is going to meet in its initial stage in Baku, is to find qualified staff! It is quite interesting: a nation that loves delicious food and a variety of restaurants but lacks educated and hardworking waiters. I think the problem is the stereotype, that waiting on tables is not prestigious – people are not willing to take a course in the field. I assure you, nevertheless that the most successful maitre-d'hotels and managers have started off as waiters.
On Ukrainian cuisine
Ukraine is my motherland and its spiritual and cultural connection will never cease to inspire me. I have always loved cooking, and the bounty of Ukrainian cuisine always leaves space for imagination and experimental dishes. When I opened a restaurant in Baku, I came to realize, that the primary goal for "Soloha" is to raise awareness about Ukrainian culture in Azerbaijan; for this reason we work with the Ukrainian Embassy and have already organized a couple of projects. What we have learned to do is adapt, in particular with pork, which is one of the main ingredients of Ukrainian cuisine, therefore mainly substitute pork with beef or lamb. Of course, we couldn't eliminate it from the menu completely, but instead communicate to our clients, if and when there's pork in their selected dish. I believe, that we have succeeded very much in terms of introducing Azerbaijanis to Ukrainian cuisine and of course, to make them fall in love with it.
Our menu constantly changes, and we are always surprised by the consumer preference here. There are times when we add a dish to the menu and expect it to be very popular, but it just won't sell. On the other hand, we hesitated to put our most celebrated starter, herring served on a black bread with pickles, on the menu for a very long time.
On the upcoming book
As I already mentioned, my first and foremost goal in business is to raise awareness of Ukrainian culture and cuisine in Azerbaijan. I always believed that opening a restaurant was the best way to do it, until most recently, I had a completely new idea. After thorough consideration and talking to my business partners, I decided to give it a go. Therefore, my team and I are currently working on a recipe book of Ukrainian dishes in the Azerbaijani language.
Frankly, I've never thought that publishing a book would be such a time-consuming activity; firstly writing a draft, that is then sent to Ukraine for editing. The final result is returned to Baku for translation, while our digital team works on the visual material: photos and the covers. It may sound like I'm exaggerating, but I have been working on the book for almost two years – and only approaching the release date now!
On life and work balance
I always keep in mind what famous Ukrainian restaurateur Iqor Suhomlin once said about a restaurant business: it is not just work, but also a lifestyle. All my projects reflect my thoughts and beliefs, and consume a lot of my time and energy. I once spent three years working with no vacation, just because I could not leave "Soloha" unsupervised! I have walked a long way to finally come to the conclusion that I am not only a restaurateur, but also a woman. Nowadays I manage to find a good balance between raising a child, operating a business and loving myself! Self-care is essential – every woman owes it to herself!