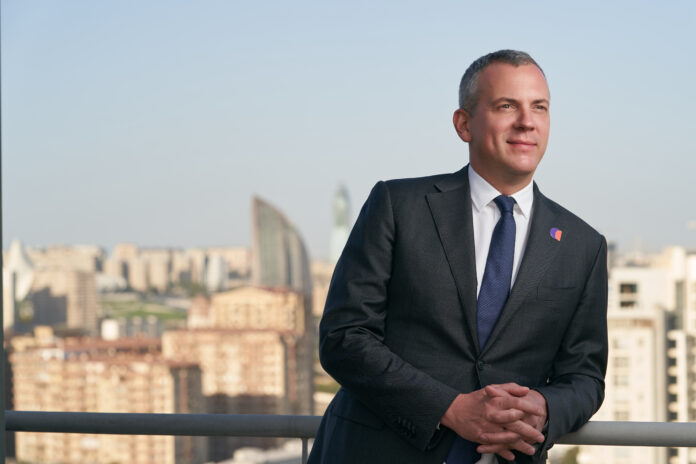 BY ELENA KOSOLAPOVA
AZERI OBSERVER STAFF WRITER
FLORIAN SENGSTSCHMID HAS BEEN SERVING AS THE CEO OF THE AZERBAIJAN TOURISM BOARD SINCE 2018. IN AN EXCLUSIVE INTERVIEW, WHICH TOOK PLACE 2 DAYS BEFORE THE ESCALATION OF THE CONFLICT IN NAGORNO-KARABAKH, HE TOLD US ABOUT THE ACHIEVEMENTS IN AZERBAIJAN'S TOURISM SECTOR OVER THE LAST 2 YEARS, MEASURES SUPPORTING THE INDUSTRY IN THE CORONAVIRUS CRISIS AND FUTURE PROJECTS AND CAMPAIGNS WHICH ARE SUPPOSED TO CONVERT TOURISM TO ONE OF THE MAIN PILLARS OF THE COUNTRY'S NON-OIL SECTOR. WITH MARTIAL LAW RECENTLY DECLARED IN AZERBAIJAN, UNFORTUNATELY SOME OF THE PROJECTS WILL BE OBVIOUSLY POSTPONED. HOWEVER, WE HOPE THAT ALL THE PLANS WILL NOT JUST BE REALIZED SOON, BUT EXTENDED TO THE LIBERATED NAGORNO-KARABAKH REGION.
Question: The tourism industry all over the world has been massively affected by the coronavirus pandemic. The international movement restrictions are still in place and unlikely to be lifted in the near future. Do you think that the Azerbaijani tourism sector will be able to survive without international travelers?
Answer: The current situation is unprecedented for the entire world. Tourism and tourism-related sectors, such as airlines, are the hardest hit. In 2019, tourism in Azerbaijan was a success and everyone acknowledged that the tourism industry is an important part of the non-oil sector, with roughly 3.5% contribution to the GDP. In the first 2 months of 2020, we also performed well, and then the crisis hit and the sector decreased by 90%. The situation is very bad in all countries. We see that one country is praised for a doing a great job, like Georgia, and then the number of the coronavirus cases double's, as in Azerbaijan. Some countries are called heroes, like Singapore, and then suddenly they have more than 2,000 cases because of their migrant workers. There are many good ideas currently being discussed within the government, but still, the impact on tourism will be limited simply because people do not travel. It is not just about opening borders. Look at Turkey, for example, who, despite their open borders, have still experienced a fall in tourist flow this year. People just don't feel safe travelling just yet. We need to see that globally, there is a reliable vaccine available in the market. We witnessed just how much travel changed after 9/11 with safety protocols; now with COVID they will likely change again. We will have to adopt new regulations, introduce new kinds of red rules into our travelling habits, and will strive to ensure Azerbaijan is a main player of the game, a part of this new environment. It is a global restart, and we will all have to start from zero.
Q.: What do you do to help the tourist industry overcome this crisis?
A.: First of all, we have to keep Azerbaijan on the top of travelers' minds; let them know that it is a fantastic destination. We have continued with intensive marketing and PR activities in our source markets. We never stopped interacting with journalists around the world. I did many online press conferences, informed them about our initiatives, our Sanitation and Hygiene Methods and Norms (SAHMAN) program, the products we are developing; we organized virtual press trips, sent foreign journalists little sweet Novruz greetings when they were in lock-down. We kept up our connections, because at some point the crisis will be over and we will continue to work together again. In addition, we founded the Azerbaijan 101 e-learning platform, where we deliver digital coursers and issue certificates on travel destinations in Azerbaijan for foreign trade partners and tour operators. We plan to organize the largest gathering of the tourist industry called Travel Business Azerbaijan, where local suppliers and international buyers will have an opportunity to conduct one-on-one meetings. (Ed. note: The event was postponed from 2020 to 2021 after the imposition of martial law). We never stop creating content about Azerbaijan for different platforms to let more people know about the country. We even work on platforms like Qyer, Weibo and WeChat, which people do not use here, but are very popular, for example, in China. We see that the awareness of the destination is rising, and I am positive that once travel starts again, figures will go up.
The other side is what we do here, in the local market. We are doing our best to support the industry partners with financial and other programs. For example, the Tourism Board launched a campaign to support local digital projects in the tourism industry. If you are willing to create a website, for instance, about German heritage in Azerbaijan, you can submit this project and get financial contribution up to 10,000 manats.
I think our biggest task is to use this time to do our homework here. There are a lot of issues to tackle in Azerbaijan's tourism sphere. We need to do our utmost to raise the quality of services, though it is very hard to do during this crisis. We launched our Tourism Training and Certification Center and invited very professional trainers to provide free weekly coursers for beginners and intermediate housekeepers, chefs, front office managers, project managers, etc.
We're working on a project to support small accommodation units in the regions, such as guest-houses, family houses, village houses, rural homes, etc. We will assess 150-200 of them and upgrade part of their infrastructure, mainly toilets and bathrooms, because travelers like authentic living, but all they want is a clean bathroom and toilet.. Then, we will put these houses on a booking platform to give them access to the market. So, it is a direct support to local entrepreneurs.
We also support individuals involved in the sector. For example, there are about 400-500 active guides in Azerbaijan. We started working with them through Azerbaijan Tourist Guides Association and now we are working on a program to take them through the crisis. We are not the Social Welfare Ministry and we do not pay them a social fee, but if they bring an input, we are ready to pay for it. The guides, for example, have a lot of implicit knowledge about the country; they know a lot of unique stories, a lot of authentic places, and we try to make this knowledge explicit, and use it for our content platform, Azerbaijan.travel and others.
Infrastructure investment is another important area. A lot has been done and we are lucky that we have full support to develop new infrastructure sites. We are creating a mud volcano experience center, about 20 kilometers from the Gobustan UNESCO site. The beautiful, moonlight landscape of this place makes you feel like you are on a different planet, and then there is the unique set of mud and bitumen volcanos and bitumen lakes. The center will not be just educative, but have many immersing entertainments, like off-road car driving, mud baths, etc. We have already started construction and I think it will be ready in a year's time. Furthermore, we are restoring an old hammam, an old mosque and an old square in Basqal Reserve, houses roofs in Khinaliq village, as well as working on a master plan to upgrade the city of Sheki, which is a part of the UNESCO World Heritage List. We have developed 20 hiking roots for self-guided hiking and trekking, mark them to ensure that they are clean and safe in terms of walking, have garbage bins and viewpoints, created maps of the routes. And again, we cooperate with local guides who are already involved in this sphere and can contribute to this project.
Another huge topic is bird watching, because Azerbaijan is one of the top 5 global bird watching destinations globally. Thousands of species migrate through the Caspian Sea, Beshbarmaq mountain and Khizi region twice a year. So, I hope next year we will have a bird watching site, bird watching towers and a camping site available for birdwatching enthusiasts
Glamping, or glamorous camping, is another topic. We want to create a small glamping site next to the mud volcanos in Gobustan, because this area has almost no light pollution, and is a perfect spot for star-gazing at night.
To summarize, there are a lot of exciting projects ahead, but I think the most important now is to stay strong during this crisis, and to come out of it even stronger.
Q.: Do you still follow the Tourism Development Strategy for 2023 or was it revised due to the coronavirus?
A.: I don't think that we will double the figures, as we forecasted, by 2023. In fact, the world will be happy if we reach the pre-COVID scenario in 2023. I think travel patterns will change. Our traditional source markets were Russia, Middle East, Turkey; followed by new, strong markets like India, China and other countries in Asia and Europe. Currently, it is very early even to say which markets will lead. We might even get an excellent flight connection with China, which may create a boom in this market. The cards are completely mixed, so we will have to see what will happen. The most important item on the agenda is to keep an eye on what is happening and to never stop communicating. I don't think that Azerbaijan have to be the first in the COVID crisis. We have all seen examples; when a country opens their borders, and suddenly the number of coronavirus cases rise. It's better to bet on the promotion of the domestic tourism now and familiarize locals with the adventure around them. On September 8, we launched a domestic campaign, Macəra Yaxındadır (Adventure is near) and created a platform, macerayaxindadir.az, where all entrepreneurs and individuals could upload their offers. (Ed. note: The campaign was temporarily suspended due to martial law). There is such an amazing diversity in a relatively small territory, and I am always surprised how little the locals know about their own country.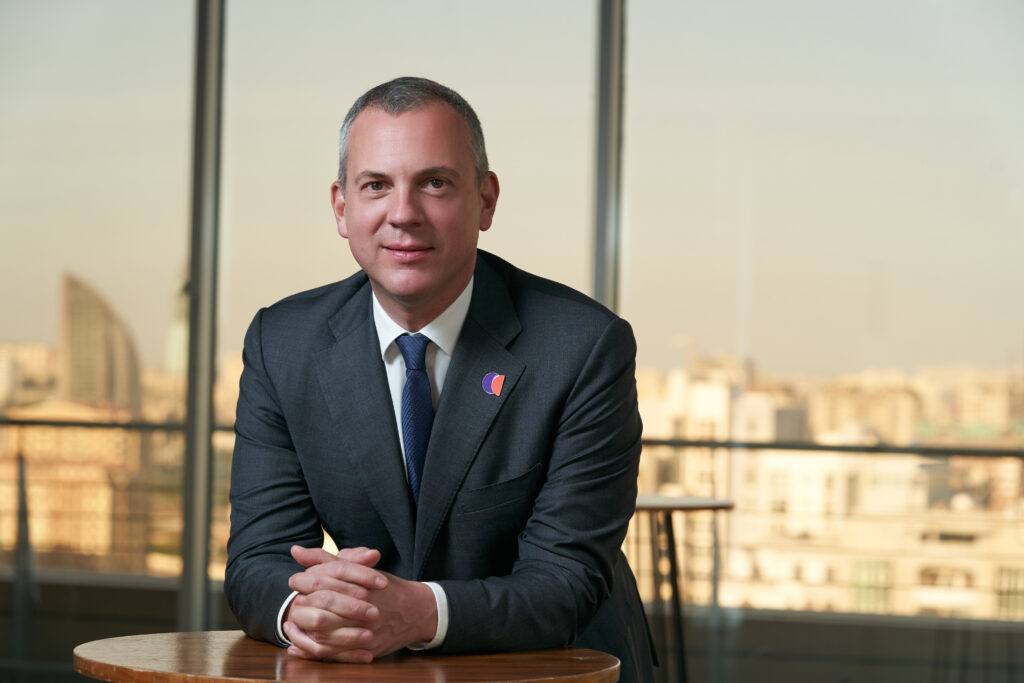 Q.: What places in Azerbaijan do you personally like the most?
A.: I have my favorites. For example, when driving and relaxing, I prefer the Gobustan region with its beautiful, no man, extra-terrestrial landscape where the mind completely relaxes.. As I come from Austria, I like forests, green areas, and that is why the Guba-Gusar region attracts me. I love the mountains and the authentic mountainous villages of Griz, Jek and Khinaliq, which are great spots for mountain tourism, hiking and trekking. Another beautiful place, which is almost unknown, is Saribash in the Gakh region. Its architecture and nature are amazing, like it is from a different century. Lankaran-Astara, with its tea and rice plantations, subtropical trees, is fascinating, and is only a 20 minute drive between the mountains and the sea. It is worth visiting the German settlements in the Shamkir region. One more area where I always love to visit is Shamakhi with its vineyards and wine. I grew up in a wine region in Austria, so I love wine. Additionally, you can see the picturesque Caucasus Mountains in the background and visit the beautiful villages of Lahij and Baskal. Naftalan is a wonderful place. By the way, we are developing a cycling route through Naftalan, upgrading parks together with the local executive power, and plan to open a Naftalan tourism information center with a small Naftalan oil history experience center. I always encourage people to go out and discover the world. Obviously it is not the best time now, but I think it will work if we keep supporting each other. We need to look at others not as competitors, but as partners.. If we manage it, then Azerbaijan will be extremely successful in tourism.
Q.: What are the main competitors of Azerbaijan as a tourism destination?
A.: Globally – every destination, for some source markets, like Russia – our nearest neighbors. However, in some countries, for example, in Japan or South Korea, where we are very active, we try to work together with our Georgian colleagues, because Japanese and South Korean's want to combine two, or even more countries in a tour. The same happens with cultural travelers from Europe. It is true that Georgia is our competitor, but in a different environment it becomes a partner. People in Azerbaijan often praise Georgia as a tourist destination, but I think it happens because they look from the Azerbaijani perspective. The grass is always greener on the other side of the fence. I worked many years in Georgia and I never thought that it was better in terms of tourism. Azerbaijan has many unique features, which you will not find in Georgia or anywhere else. It has diverse landscapes from the subtropics to 4,000 meter mountains, its own food, with a Zoroastrian, Albanian, Jewish, German, Polish, Molokan heritage, burning water fountains and bubbling mud volcanos. From the tourism prospective Azerbaijan's dynamic government structure for tourism is also a great advantage.
Q.: What are our weaknesses compared to our competitors?
A.: The first weakness is the complicated visa obtaining process and we continue to convince our government partners to facilitate this. The introduction of the e-visa was the first step, and many countries have already benefitted from it. We would like to provide e-visas to the citizens of even more countries and enlarge the list of countries, with visa-free entry for tourists.
The second thing is the air connectivity and connection in general. It has improved a lot over the last two years and we have to make sure that once the borders reopen and people start travelling, the air connectivity will be good. Though it has been difficult, because many airlines have become bankrupt. The train connection is also being upgraded, and we see that new wagons are provided for the Baku-Tbilisi railroad. So, accessibility and visa facilitation are the main issues, and we will not give up discussing them with our colleagues.
Q.: What are the main target audiences while promoting Azerbaijan abroad?
A.: Travelers looking for the hero experience. It could be an active leisure in the Caucasus Mountains – paragliding, skiing, rafting, hiking, trekking and golfing. Then comes the food, culinary cuisine, agro, farm and ecotourism in the subtropical south. The Caspian Sea resorts in Nabran, Khachmaz, Astara, Lenkoran, Absheron peninsula are great attractions. Health and wellness tourism at the Naftalan oil resort, salt cages in Duzdag mountain in Nakhchivan, and Lankaran hot springs, are all very promising. Another target audience are actually business tourists and participants of international congresses and big events. We have a Convention Bureau under the Tourism Board, which supports local academicians, active in the international networks, and help them to bring important congresses to Baku. For example, with its support, Baku has recently received the right to host Regional Conference of the European Association for Cranio Maxillo Facial Surgery in 2023, which will bring together about 1,500 international participants. We also helped Azercosmos to become the host of the International Astronautical Congress in 2022. So, nature activities, health and wellness tourism, cultural and food tours and business events are all a highlight to look forward to.
Q.: What activities do you hold in the main tourist source markets?
A.: In 6 key markets we have representative offices – in Russia, India, Saudi Arabia, Dubai, Germany and China – who are in touch with travel traders in those countries on a daily basis. They organize presentations, make sales calls, visit tour operators, travel agencies, invite media, organize press trips, and make sure that social media content is advertising Azerbaijan. Every 6 months, we receive coverage reports on the articles about Azerbaijan, published in different global online and offline media, because it is extremely important to push the Azerbaijan word-of-mouth abroad.
Q.: What do you consider to be your major achievement during your tenure in Azerbaijan so far?
A.: I think that we have developed a good framework for cooperation with partners and improved the general system of tourism – the tourism law, functioning of the associations supporting private sector, communication tools, activity in the international market, etc. It is the core being of our infrastructure. However, it is hard to look at our achievements during the crisis. I think we have to work even harder in the coming months and years, but we will manage to ensure tourism as an important part of Azerbaijan's economy. That is our goal. There is a lot of potential in tourism, and it can become one of the main pillars of the economy. Everything is here, we just need to put the things together correctly and communicate them to people.