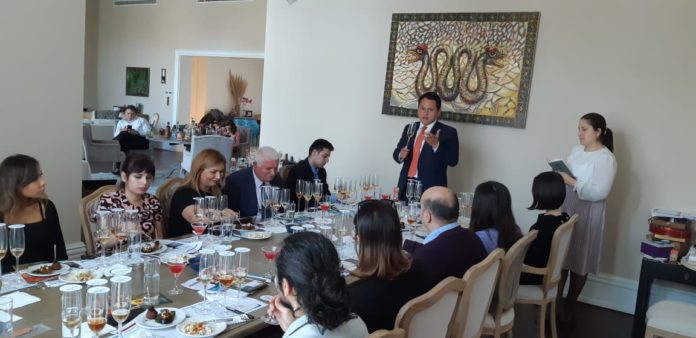 Mexican Ambassador in Baku Rodrigo Labardini hosted tequila presentation and tasting in his residence on April 26. Alongside with delegation of tequila producers from Mexico he highlighted – salt and lime, so often accompanying tequila drinking in Hollywood movies, are myths. Today, when it comes to cherishing this drink, no other ingredients are needed.
BY IRINA SAVVINA
AZERI OBSERVER STAFF WRITER
Representatives of the delegation each presented its own tequila brand (Don Valente, Cava de Oro, Galindo, Tequilas del Senor and Adictivo). With such a variety it became clear, tequila has to offer a wide range of tastes, from fresh wild herbs, oak, wooden flavors and cooked agave to fresh fruits, chocolate, almonds and vanilla.
Tequila producers from Mexico shared their plans to promote and increase tequila exports in Azerbaijan. According to Ambassador Labardini, the trade delegation has held a number of meetings with Azerbaijani distributors and plans to sign several deals on supplies of new types of tequila to Azerbaijan.
Mexico-Azerbaijan bilateral trade has grown more than 8 times in recent years (from 2.4 million USD in 1995-2014 to 20 million USD in 2015-2017), according to Azerbaijan's State Statistics Committee.
Azerbaijan is a high-potential market for Mexican businessmen, as strong drinks, like vodka, are in favor here. Therefore, tequila could take it over.
In Mexico there are 152 certified companies which produce 271 million litres of tequila. The main importers are the US, Spain, Germany, Japan and France. Ambassador Labardini put a lot of effort to add Azerbaijan to this list and to promote the culture of its drinking among Azerbaijanis.