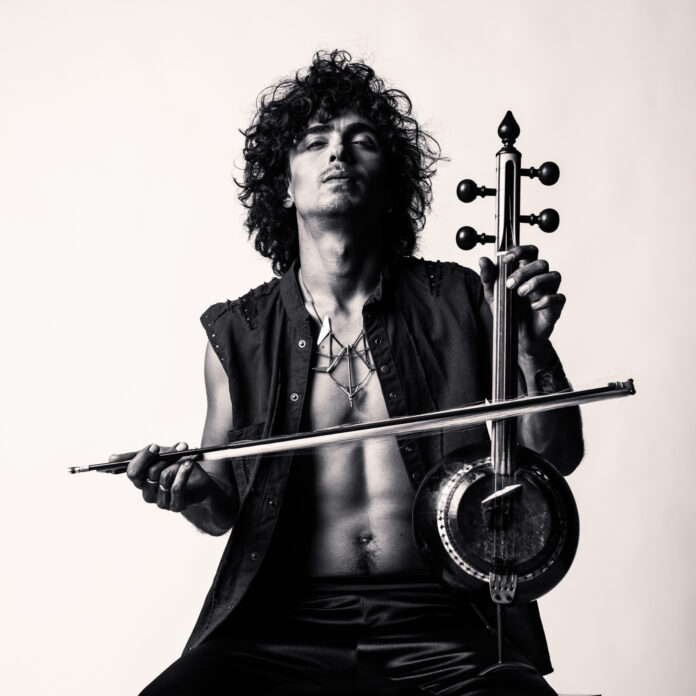 BY SALATYN MIRZAYEVA
AZERI OBSERVER STAFF WRITER
One day, a 16-year-old Israeli boy woke up to the sound of an inner voice. The voice responded to the sound of the ancient Azerbaijani musical instrument – the kamancha, which came from the next room. It was a moment that changed his whole life and predetermined his further path.
Today the music of this young man – kamancha virtuoso, Mark Eliyahu – travels the world, gathering thousands of audiences in Syria, Turkey, Russia, Iran, France, Finland, Israel and other countries. Compositions of his own creation are gaining over 40 million views on YouTube. Mark Eliyahu can be considered the artist who gave world fame to the stringed bowed instrument, kamancha. While the musician says that it was the kamancha who gave world fame to him. Acquaintance with the national traditions of Azerbaijan, it seemed, were predetermined by fate. Life led him to this by a narrow path.
Mark was born in 1982 in Russia's southern region of Dagestan, into a family of Mountain Jews. At the age of four, his parents sent him to a music school to study violin. Then in 1989, Mark emigrated with his family to Israel, where he continued to study musical traditions. His first teacher was his father, a musicologist, composer and tar [Azerbaijani string instrument] player, Piris Eliyahu, who was educated in Russia. According to his father, the Soviet system taught to clearly distinguish between Eastern and Western music establishing boundaries between them. But after a while, Piris realized that the music of the East and West speaks of the same thing, only in different languages. What is in Western music – development, culmination, the transition from quiet to loud – all this is the basis of Eastern music. It is this knowledge that Piris instills in his son and supports his idea – to travel around the world in search of himself and his life purpose.
At the age of 16, Mark comes to Greece, where he takes lessons in the Turkish instrument, saz, from a Greek musician of Irish origin, virtuoso of the Cretan lyre, Ross Daly. But one day, while living in his teacher's house, the young man suddenly wakes up to the sound of an inner voice. The sound of the Azerbaijani kamancha, coming from the next room, awakened completely new feelings in him. The record was played by the People's Artist of the Azerbaijan SSR, Habil Aliyev, where he performed the "Bayati-Shiraz" mugam.
Question: To quote you, "This was the first time I heard this sound, but it seemed to me that I always heard it inside myself, as if it were my own inner voice. I had a chill that engulfed my entire body, and I clearly understood that I needed to quit the saz and start playing this new instrument." When you told your father about your discovery, it turned out that your great-grandfather was a kamancha player.
Answer: In my family there have been kamancha and tar players for many generations. These instruments and the mugham are the sound and culture I grew up to. This is the culture of my family that has evolved over the years.
Q.: Upon arrival in Baku, you met the Honored Artist of Azerbaijan, Adalet Vezirov, from whom you later took lessons in playing kamancha. How was the educational process?
A.: I came here when I realized where and why I needed to move. From the first moment I met Adalet, I felt a strong connection to him. He became my first teacher in Baku. For two years, I lived and studied the kamancha with him. Adalet and his family treated me with great warmth, and I thank them for it.
Q.: You have a special relationship with Habil Aliyev, whose own playing resonates in your heart. What can you say about your mastermind?
A.: Habil was a close friend of my father, and used to play my father's compositions. That was our first connection. I used to meet Habil once every two weeks at his house or at a restaurant, and we would talk for hours. I would play for him, and sometimes he would play as well. We had a very good connection. He loved me and gave me a lot of support.
Q.: Gabil Aliyev gave you his kamancha, which is over 150 years old. Do you perform on it?
A.: Yes. This is the instrument I play every day, perform every show, and record my music with.
Q.: You have taken lessons from different teachers in different countries. Was there a desire to reinforce your knowledge with an academic education?
A.: I grew up in a creative family and an atmosphere where music always surrounded me. My dad is a composer and tar player, and my mother is a pianist. I was lucky to meet amazing teachers on the way who taught me and gave me such inspiration.
Q.: Brought up in the Soviet system, endorsed by the canons of Russian and European classical music, as a person who does not distinguish between the East and the West, the difference of cultures. What would you say are the origins of your music?
A.: Of course, there are samples of everything I went through in my life and in my musical education. My music, my art, is my way to express myself, and my expression is who I am, and what I have experienced in my life.
I myself am a blend of the East and the West, and it is expressed in my music.
It's from two different worlds, but I dont think you have to choose between them. You can take the best from each, and make your own blend.
Q.: You're known for saying, "Seeing many cultures in integrity is wonderful," and, "I am global, multicultural, there are a lot of cultures in me,". Can we conclude that the concept of boundaries does not exist for you, and your music is beyond boundaries?
A.: Music is universal, and when I talk about the language of music, I can easily cross all boundaries. Music is the global languagethat unites people.
Music is forsure over any boundary, and when I am talking in the laguage of music, I am able to be over the boudaries as well. Music is the global laguage and it unites people.
Q.: Nobody knew what the kamancha, saz or tar was. This music did not have a large audience. In pursuit of innovations, we are increasingly moving away from our origins and following the times. How did you manage to conquer the public with these ancient instruments? What is your advice to young musicians who play ethnic instruments but cannot attract an audience.
A.: A lot of people learned to know and loved the sound of these amazing instruments. People love music and the emotion it gives them. Therefore, through their emotions, they found a way to these instruments.
As for young musicians who play ethnic instruments, my advice is: just do your job well, believe in what you are doing and never stop learning.
Q.: The Caucasus, Israel, Greece, Azerbaijan – these are the places you've lived and grew as an artist. Where does your path lead now?
A.: The journey continues all of the time. My music takes me all over the world, touring with my band, and meeting amazing people in amazing places. My wanderingsconcern not only my music, but also my inner search. This is an irreversible process that I hope will never end.
Q.: While travelling around the world, you have found your professional purpose. What kind of internal changes have occurred in you?
A.: Cognition is an endless process. I still continue to learn every day. The learning and the internal changes are not just one part of my life; they are still part of me and always will be.
Q.: 20 years later, in 2019, having gained worldwide popularity, you came to Azerbaijan to perform a concert. How did the audience greet you?
A.: I have great impressions from the last concert and I hope that we will be able to repeat it in 2022. The Baku audience were very special and warm. I look forward to returning to Baku with a new concert.
Q.: The line-up of musicians with whom you perform on stage has remained stable for many years. These musicians are Rony Iwryn, Haim Weiss and Piris Eliyahu. How did these collaborations occur?

A.: My father, Piris Eliyahu, was the first musician with whom I collaborated onthestage, from my first performance until today. And with the rest of the musicians who play with me on stage, I met over the years, and we have always had a strong connection. The musicians with whom I share the stage in my shows are masters, each in their own field, and I've enjoyed playing with them all these years.
Q.: Every creative person has his masterpiece, which is the best creation of his work. You have a lot of popular melodies of your own composition. In your opinion, have you already created your masterpiece? If so, which piece do you consider your business card?
A.: I love and have a special feeling and connection to each of my compositions. I feel that as the years go by, I am succeeding with my precision, developing deeper and more refined emotions. Music is infinite,and there is still a lot to discover. Without a doubt, there is something strong inside me that wants to come out and manifests itself in my music.
Q.: "Endless", "Journey", "Always now", "Hope", "Through me", "Open sky" are the names of your compositions which gain millions of views. What is the message with which they are created?
A.: Pining for the one. Union.
(Photo credits: Zahar Ron, Gabriel Baharalia and Regev Gal)