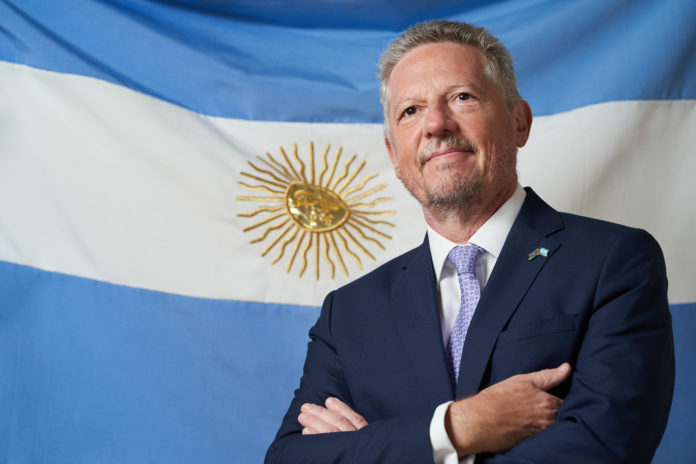 Argentinian Ambassador to Azerbaijan, Mr. Sergio Osvaldo Perez Gunella, in an exclusive interview with Azeri Observer discusses the most efficient sectors of Argentinian economy, promising areas for bilateral cooperation, and the plan of activity postponed due to the coronavirus. He also reflects on the prospects of cultural and technological exchange, development of Argentinian tango in Azerbaijan and shares his views on the similarities between the two nations.
BY ELENA KOSOLAPOVA
AZERI OBSERVER STAFF WRITER
Question: Could you give our readers a brief history of bilateral relations between Azerbaijan and Argentina?
Answer: Despite being very distant countries – there are about 14,000 kilometers between us–we managed to build an excellent cooperation in different fields, including political, economic, commercial, and cultural. Argentina was one of the first Latin American countries to recognize Azerbaijan, just a few months after it established independence. In 1993, we ascertained diplomatic relations, and since then we have had a number of visits and meetings of high authorities in many areas. For example, last year, Azerbaijani Minister of Foreign Affairs, Mr. Elmar Mammadyarov, participated in the UN High-Level Conference in Buenos Aires, Argentina – taking advantage of the opportunity to attend bilateral meetings with his Argentinian counterpart and other representatives of Argentinian authorities. Subsequently, the President of the Chamber of Deputies of Argentina paid a visit to Baku and was delighted with the opportunity to meet his Azerbaijani counterpart, Minister of Foreign Affairs, and even President Ilham Aliyev. Additionally, Argentina's Minister of Tourism came to Baku last year to attend an international meeting, and was fortunate to meet his counterpart at great benefit to them both. For now, we have 15 bilateral agreements between our ministries but are negotiating further.
Q.: Azerbaijan and Argentina are countries with sufficient oil and gas resources, with potential prospects for cooperation in the energy sphere. What contacts do we have in this area?
A.: In Argentina, we have a well-developed oil and gas industry. However, there are differences in the way of exploration and production and the type of the reserves in our countries. Here, oil and gas is mainly produced at offshore fields in the Caspian Sea, while in Argentina – at onshore and shale fields. We also have many international companies who are working in both our countries, sending oil professionals from Argentina to Azerbaijan and vice versa; now we have some Argentinian engineers here, and a couple of Azerbaijanis working for international companies in Argentina. In addition, there is an Argentinian company "Tenaris", who produces tubes for the oil industry and sell quite a lot of their products here. There is plenty of room for cooperation in the oil industry and we are trying to bring the specialists of both our countries together.
Q.: Argentina has quite a developed agricultural sector. Could Argentinian experience and technologies in this specialty be useful for Azerbaijan?
A.: Argentina is a traditional and very efficient agricultural goods producer. We have a huge country – more than 2.7 million square kilometers, with a varied range of climate zones with rich soil. We are one of the main producers of wheat, soya beans, sunflowers, other cereals, beef, chicken and other agricultural products in the world. We also produce fruits and vegetables of good quality and prices – apples, pears, potatoes. More than half of our exports come from the agricultural sector. We also produce agricultural machines and spare parts, exporting them to other countries in South America, Africa and also to Azerbaijan's neighbors – Russia, Kazakhstan and Ukraine.
In addition to producing many agricultural products, we also have companies with expertise in this field, who are ready to work together with Azerbaijani counterparts, particularly taking into account that this is a strategic area of the local economy that is developing very quickly. With all the new policies established in the last few years, your country has made tremendous progress, and the Argentinian private sector is interested to come here and cooperate with local partners in milk production, pastures, water management, and agricultural technologies.
Q.: What are the main products of our bilateral trade?
A.: The biggest share of our export to Azerbaijan, are agricultural products, which include soybean, corn oil, peanuts, corn products, wine, beans, fruits, fish and prawns. We also export different type of medicines. The pharmaceutical industry is quite developed in Argentina and many of our laboratories come here to sell their products which are well-received. We are also interested in creating pharmaceutical joint ventures here, since Azerbaijan is also trying to develop in this area. The annual exports of Argentina to Azerbaijan are around $22-23 million, while Azerbaijani exports to Argentina are very little. Of course, creating the right conditions is vital in order to increase the trade and we are working together in that direction and assisting the entrepreneurs of both countries to forge a closer relationship.
I am quite optimistic about the future of our bilateral relations – not just about buying or selling products, but about this idea of working together and establishing joint companies. Those are the initiatives that will make our relations permanent and sustainable. The opportunities are there. Argentina also has an interesting and advanced technological development programme. For example, we produce satellites and are building bridges between the Azerbaijani and Argentinian entities in this area, in order to work together. Argentina is also a well-known provider of nuclear technology. We have already sold nuclear research reactors to Australia, Netherlands, Algeria, Egypt and Peru and we are ready to participate in any international tender should there be a decision to construct this type of reactor.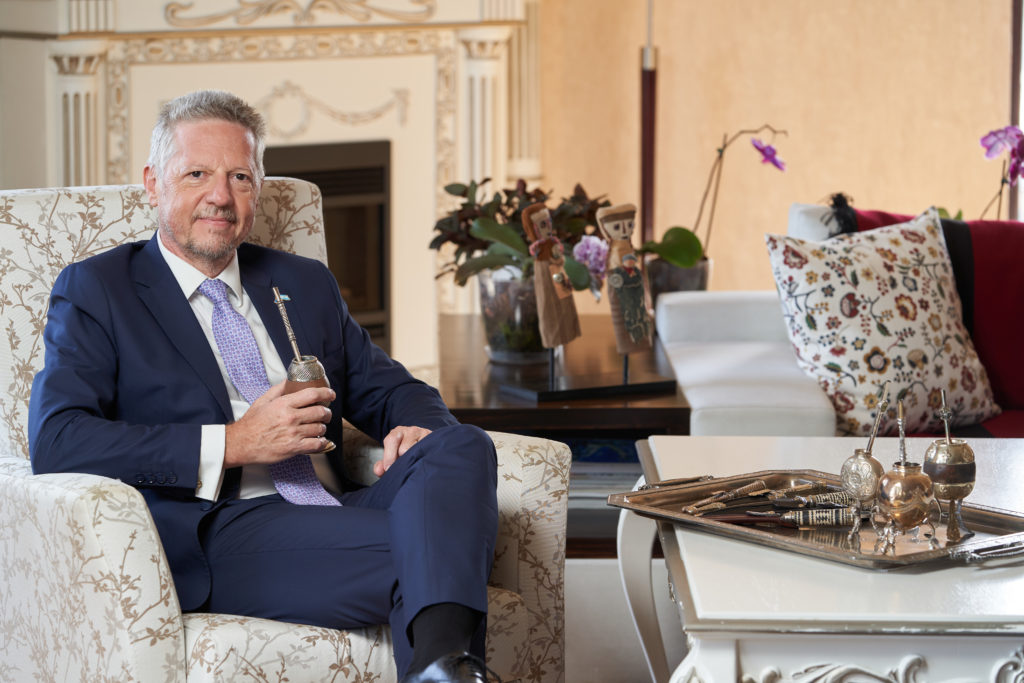 Q.: What Azerbaijani products could find demand in the Argentinian market in the future?
A.: I definitely think it's worth exploring certain areas. You are good producers of some agricultural products, which you are already selling to the markets around Azerbaijan. Both countries have limitations because of the distance, since the cost of transportation is an important part of the final price of the product. Therefore, you have to be very efficient and have an aggressive policy to penetrate this market.
Just as an example, Azerbaijan produces excellent handicrafts like carpets, which are real pieces of art. There is always a market for that in Argentina and I am sure that there are many other products with good possibilities. We are working closely with the Azerbaijani Embassy in Argentina and our main common objective is to increase bilateral trade. During the quarantine period, our Embassy took the advantage to contact our Argentinian companies, in order to present the general image of Azerbaijan to them – via video conference – to advise them of the opportunities they could achieve here. We will continue this work in the coming months, in order to create further bilateral interest, and when the situation changes and we can move around, we hope to have a lot of Argentinians coming to Azerbaijan to promote their business.
Q.: Do you have any offline meeting's scheduled, or it is too pre-emptive, due to quarantine?
A.: Due to the coronavirus pandemic, we have had to reschedule everything. However, we intend to hold a meeting of the Bilateral Economic and Commercial Commission before the end of this year. We propose that the delegations include representatives of economy ministries and other areas of Government from both countries. With the Azerbaijani Ambassador in Argentina, we are also pushing to add the private sector, to enable the entrepreneurs to have an opportunity to meet and interact with their counterparts and the authorities, in a productive environment. We also expect a visit of the Argentinian Minister of Agriculture to participate in the Caspian Agro Fair in Baku, in November. Additionally, we are working on a visit of the Azerbaijani Minister of Agriculture to Argentina, in order for him to see first-hand the technological developments in Argentina, to begin our business negotiations.
Q.: How do you assess the possibilities of tourist exchange between Azerbaijan and the South America region and Argentina in particular? Are any measures planned to facilitate this exchange?
A.: There are always prospects of tourist exchange. There are some obstacles, but there are opportunities too. For example, we do not have a direct flight between our countries, but we have different routes connecting us – through the Persian Gulf countries, Europe, and Istanbul. The tourist exchange is insignificant at the moment, but we are developing ideas with private companies, in order to include Argentina as a destination for Azerbaijani tourists, who want to go to Latin America. We have many wonderful places in Argentina – the city of Buenos Aires, the Iguazu Falls in the north, the glaciers in the south, the magnificent mountains in the province of Mendoza where we produce wine, the Andes region in the north with the most beautiful views. However, we understand that it is a long journey from Azerbaijan and the tourists will want to see more than one country in that trip, therefore, we are working in order to propose them multiple destinations within the South American region. At the same time, there are many Argentinian tourists coming to Europe and Turkey, and we want them to extend their trip to visit Baku and some other regions in Azerbaijan. We have to work very hard to make this possible. It will not be a significant tourist flow between our countries in the near future, however there are many possibilities that we are already developing.
Q.: Let's speak a little about cultural cooperation, like dancing. The popularity of Argentinian tango in Azerbaijan is increasing year after year and we have already had several Argentinian tango festivals. How does the Embassy contribute to the development of this dance in our country?
A.: When I was nominated to be the Ambassador here, I tried to find out what we had in common. It was surprising to know that a part of Azerbaijan's population, knows and dances tango. The Embassy is in contact with all tango dance schools. They regularly participate in our activities, and perform the Argentinian tango at the Embassy and all over Azerbaijan. We are the co-organizer of the annual International Tango Festival in Baku. Last November, we had the 3rd edition of this festival, with the participation of incredible musicians and dancers, including the couple who were the last world tango champions in Buenos Aires. So, it was a huge success and we were very happy with the outcome. Should quarantine come to an end soon, we plan to organize this festival before the end of this year. The idea is to make it even more international and have more participants from the neighboring countries – Turkey, Georgia, Russia, Ukraine – where tango is also very popular.
Q.: Do we have any other exchanges in the sphere of culture?
A.: Besides the tango festivalwe are very active within this sphere. For example, we have participated in many different festivals last year and this year, with different types of music, Argentinian folklore and film. We presented some paintings and a collection of photographs from Argentina at the Fantasy festival of cultural heritage. We participated in the Maiden Tower Festival with two documentaries by Argentinian women directors. This year, an Argentinian musician and composer have participated in the online Imagine Festival. We planned to organize a presentation of a book, by famous Argentinian tango dancer, Rodolfo Dinzel, in Azerbaijani language, which teaches how to dance tango. Together with our friends from dance academies, we are going to present it as soon as we can. We are also going to keep on participating in festivals organized by Azerbaijan and international organizations.
Q.: How has the coronavirus pandemic influenced Argentinian economy? What are the forecasts regarding its influence in the future?
A.: For sure, it is going to have a negative impact on the economy. Our GDP will decrease, however, we still do not know how much exactly. People in Argentina respect quarantine, and so far the number of infected and deceased is not as high as it was projected at the beginning of this process. However, nobody knows when the pandemic is going to end or at least ease enough to allow us to return to a certain normality and begin the recovery process of our economy. There are many different projections, but I don't consider it is possible yet to make a real forecast.
Q.: What are your impressions during your tenure in Azerbaijan? What places did you like the most? Do you see any similarities between Azerbaijan and Argentina?
A.: In my 30 years of diplomatic experience, this is the first time I haven't required an adaptation period in a new country. My wife and I felt at home from the very first day. We have found it to be a very open society, particularly with foreigners. We have discovered fantastic places, a very rich culture, and it is always a pleasure to meet people and try to understand this part of the world. I especially love Sheki – it's environment, cultural aspects, and its ancient buildings are fantastic. When I graduated from University in 1986, Azerbaijan didn't exist as an independent country. I knew about the Soviet Union, but I didn't have any information about the specific countries that recovered independence afterwards. My generation in Latin America didn't know about this part of the world until very recently. So, the South Caucasus and Central Asia are the places that we are trying to discover and enhance our relations with, the most. It is an honor to be here and be a part of this process. I have found similarities in the way we behave with each other, with kindness and proximity. Whenever you meet somebody and you go to their house, they offer you everything, which makes you feel really at home. There are many good traits that we share. I have no explanation for this – we have different ethnic roots, different language, culture, geography, different hemisphere, but anyway we have a deep connection.