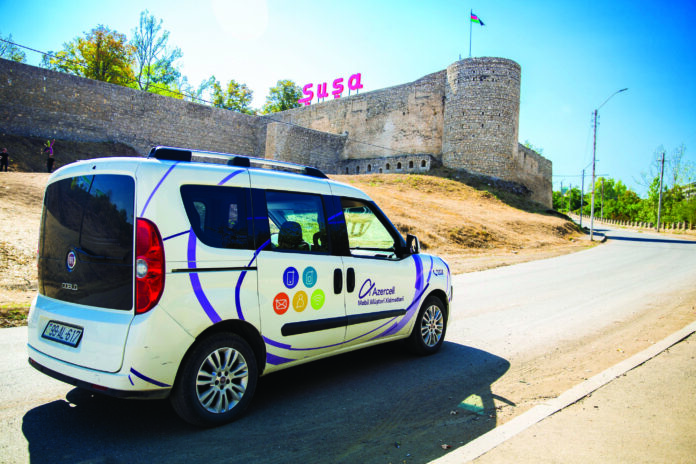 The liberation of our native lands as a result of Azerbaijan's victory in the 44-day Patriotic War opened up a new stage in the life of the country. Azercell started building the first mobile network infrastructure in the liberated territories. It has announced the launch of its mobile network in the city of Shusha, which has a great cultural significance for the country.
The Azercell team was able to launch its 4G network in the restored territories, starting from Jabrayil to the historical city, Shusha. Azercell has continued to build its mobile telecom infrastructure, which is a prime platform to continue the rapid development of the liberated territories. More than 65 units of 2G/3G/4G base stations have been established and the Azercell network currently covers the districts of Shusha, Agdam, Fuzuli, Jabrayil, Zangilan, Gubadli and Kalbajar, along with the settlement of Istisu, Hadrut, Sugovusham and the villages of Khojavand and Lachin.
Zarina Zeynalova, the CEO of Azercell said: "The liberation of Karabakh is a great historical marker for Azerbaijan. With the restored territories comes vast opportunities to develop the area and improve the quality of life, as well as bring more people to visit and work there. At this stage, the deployment of the latest mobile technology across the region is of top priority for Azercell."
In addition, following the official order of the President of Azerbaijan to develop the concepts of 'Smart City' and 'Smart Village' across the country and specifically in the restored territories, Azercell has declared that it is prepared to support state institutions in this regard.
The main purpose of Azercell is to accelerate the expansion of the new generation network at full capacity in the liberated territories to provide the population returning to these territories, with mobile internet and advanced communication services.
During September 22-23, Azercell Mobile Customer Care services organized a tour to Shusha, allocating two separate days to provide a full range of customer services in the area. For example, the Azercell Customer Care crew met with various subscribers currently located and working in Shusha. During this visit, up to 200 subscribers, which include military men, healthcare personnel and employees of various organizations, received services. Additionally, over 50 various customer operations were implemented by the Azercell team such as new acquisition, sim-card change and number restoration, and were done sofree of charge for subscribers in Shusha.
Azercell has become the first to service its customers in the liberated territories of Karabakh and has completed one of the many tours planned in the area. Additionally, Azercell will be expanding its sales and service centers across the region, thus providing complete customer support for various subscribers. Azercell is in eager anticipation of the growing population who will gradually return and inhabit the beating heart of Azerbaijan.