AZERI OBSERVER EDITORIAL STAFF
Schneider Electric, the multinational giant leading the Digital Transformation in Energy Management and Automation has been ranked #1 World's Most Sustainable Company in 2020. This recognition encompasses its global innovative products and solutions that are also deployed worldwide including, in our case, the Republic of Azerbaijan.
We met with Mr.Dan VLASCEANU, Central Asia Country General Manager at Schneider Electric, based in Baku, to talk more about these innovations and how they are able to address today's challenges for the sustainable economic development in the country, with a focus on energy, buildings and industrial sectors.
Question: Mr.Vlasceanu, how does Schneider Electric contribute to bringing new solutions for the energy supply of oil and gas projects in Azerbaijan?
Answer: Schneider Electric is providing a wide range of advanced technologies, notably on the electrical energy distribution and power management. One of these solutions will supply the energy for the offshore facilities at Absheron, Azerbaijan's latest gas field. The solution, which was delivered in August 2021, is called "E-House", and will combine power and control equipment together in a compact design for safe and reliable electricity supply. The site is jointly operated by JOCAP, Joint Operating Company of Absheron Petroleum, a joint venture between TotalEnergies and SOCAR, the State Oil Company of the Azerbaijan Republic. JOCAP will develop the field in multiple phases, increasing the production to five billion cubic meters of gas annually.
The E-House contains Low and Medium Voltage equipment, transformers and uninterruptible power supply devices. This comprehensive solution saves costs of auxiliary energy consumption related to climate control (HVAC), lighting and auxiliary power, security, fire and gas management.
The Absheron gas field is the key to Azerbaijan's economic development and requires power and control solutions at the highest quality, with safety standards for an unusual operating environment, which would be ready to install according to the project's overall schedule. Schneider Electric was able to meet both requirements and our solution will secure the Customer's operations as they look to expand the gas production at the field.
Q.: Schneider Electric is globally recognized with its Smart solutions for efficient energy management. Is the Company ready to introduce these solutions locally?
A.: Housing, workplaces in the buildings, transportation and mobility are essential elements in all human communities. They are the base of life and activity everywhere and all necessitate a significant amount of energy, as well as a good deal of control (with data) of the different flows of people and materials. All necessitate energy and electricity at its cleanest and most sustainable form. At Schneider Electric we strongly believe that Sustainability is based on Electrification and Digitization (including the Internet of Things) that support the "Smart" prefix of all activities and sectors mentioned above.
Smart Cities (and smart mobility) are therefore very much about Smart Energy and Smart Infrastructures and Schneider Electric have developed world-class solutions, generically named EcoStruxure™ for providing, distributing and using reliable, safe and sustainable electrical energy as well as electrical power and control for all aspects of living and working in the cities. These EcoStruxure solutions can comprise electrical substations automation, automation of renewable energy sources like wind and solar power, clean and waste water plant automation with smart pumping and processing, railways and road tunnels, urban gas network operation optimisation, comprehensive building management systems with adapted EcoStruxure solutions for hospitals, data centers, administrative and commercial buildings/ offices and residential/ home automation.
However, these Smart solutions are not limited to just large cities. Especially for the rebuilding of areas, like the liberated territories in Karabakh, we can provide adapted solutions for Smart Villages, which have their specific needs in terms of efficiently rebuilding the energy grids, mobility infrastructures and utilities networks – water, gas heating-  together with specific industries that will ensure sustainable development for the region's returning population.
The uniqueness of Schneider Electric's approach relies on covering the whole cycle, from Design to Build to Operate and Maintain, of the facilities in these Smart Localities securing that they are eficient and optimised at any time. This is based on dedicated, specialised Software suites that can integrate the information flow and processing from the end point / sensors in the field, to the Cloud.
Unlike other large international companies and foreign contractors who undertake large projects directly, Schneider Electric's strategy has always been to work with local Partners who are locally integrating our technologies, creating qualified local jobs in Azerbaijan and securing the transfer of international know-how and experience. This long-term view is supported by our long-time local presence with Azerbaijani engineers and specialists that provide fast local support without any language barriers to our local Partners involved in the country's diversified development.
Because in the end, Sustainability is about improving people's life.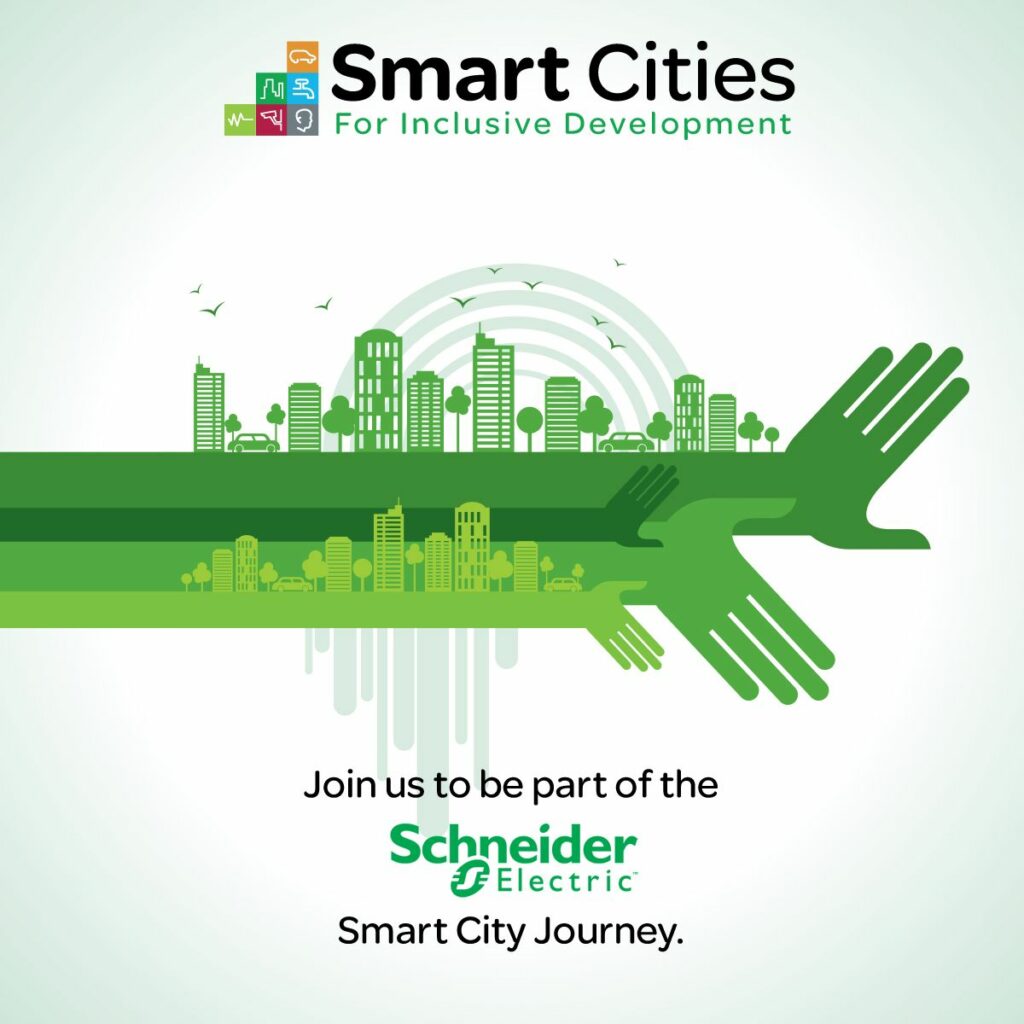 About Schneider Electric
Schneider Electric is leading the Digital Transformation of Energy Management and Automation in Homes, Buildings, Data Centers, Infrastructure and Industries. With a global presence in over 100 countries, Schneider is the indisputable leader in Power Management – Medium Voltage, Low Voltage and Secure Power, and Automation Systems. We provide integrated efficiency solutions, combining energy, automation and software. In our global Ecosystem, we collaborate with the largest Partner, Integrator and Developer Community on our Open Platform to deliver real-time control and operational efficiency. We believe that great people and partners make Schneider a great company and that our commitment to Innovation, Diversity and Sustainability ensures that "Life Is On" everywhere, for everyone and at every moment.