Shahin Novrasli is an Azerbaijani musician, who is well known and admired not only from his home country, but also far beyond its borders. In cooperation with the legendary jazz pianist, Ahmad Jamal, he performed in the best jazz venues all over Europe and America, making a considerable contribution to the promotion of Azerbaijani culture abroad. In an interview with Azeri Observer, he discusses the forms of modern music, the changes it has gone through over the past decades, the synthesis of different styles, as well as the war in Karabakh, the pandemic and the predestination by God.
By Elena Kosolapova
Azeri Observer Staff Writer
Question: You come from a family of non-musicians. However, you and your brothers have devoted yourselves to music, and chose this path at a fairly young age. Do you have any explanation of how that happened?
Answer: I think our parents' great love for music produced the effect. Mom always sang, Dad played the tar. They saw that I was a musical person (at the age of three, I tapped out tunes on a table) and enabled me to study music. Then everything happened by itself – one brother started playing the tar, and the other the kamancha, then switched to singing. Our parents wanted to be musicians, so they were glad that their children were pulled into this sphere. I remember how my Dad said: "I always had a boss, and you are lucky – you will not have any bosses." Eventually, he was right. In my profession, I am not subordinate to anyone; I am the one who says the last word.
Q.: What is the difference between the jazz of the golden era (in the 1920s-1930s) and the jazz now?
Which one is closer to you?
A.: I would say that not only jazz, but all music has changed. The styles' names have remained the same, but their composition, and improvisation components are totally different. People's attitude towards music has changed. I think the changes emanate from the time we live in, and the developments around us. A very big difference of today's music from the one 100 years ago is the synthesis of various genres with different countries' national rhythms. The culture of the country where a person lives has a huge impact on his work. This was not the case in the 1920s. The experiments started in the 1960s and 1970s, and they changed not only the music, but also the way people think.
Q.: As a result, we see that modern jazz has come a long way from its origins. Do you think that it has molded into another genre as a result?
A.: Jazz is improvisational; everyone has their own way of writing it. At the same time, it is based on classical music, which has many forms. Improvisationally – yes, jazz has changed, and it will never be as it was again. Today, when an audience attends a concert, they expect something new, interesting, and different even from how it was five years ago. If people want to listen to the music of the 1920s, they will put on a record – however going to a live concert they will anticipate something unusual. I believe that spectators pass this desire on to musicians at some philosophical level, and the musicians deliver it to the music.
Q.: How could you explain the incredible popularity of jazz in our country? At first glance, this genre is far from Azerbaijani traditional music.
A.: Our traditional music, mugham, just like jazz, is improvisational. So, there are some things in common. However, I don't think this is the only reason. It seems to me it happens because jazz is intellectual music that gives food for thought. Our people are highly intelligent, and jazz attracts us by its ability to create space for reflection.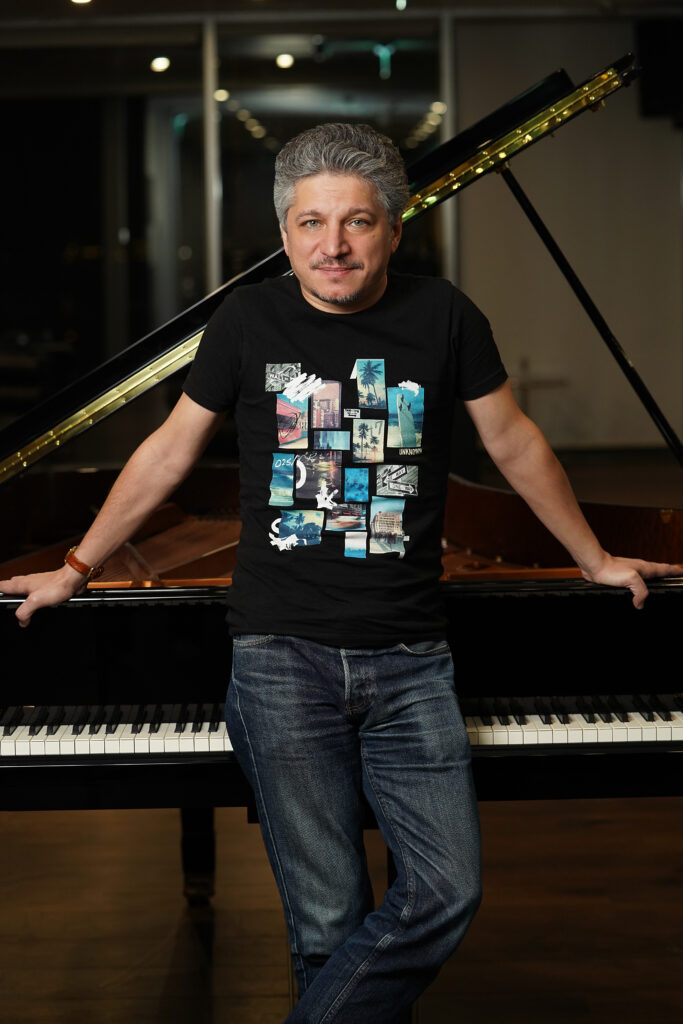 Q.: You mentioned mugham. Your current music is an amalgamation of mugham and jazz. How do people abroad, who are not familiar with mugham at all, perceive such kind of music?
A.: Like any other good music. If it is quality music, which is well-performed and rightly presented, people will absorb it. It is important to ensure that different styles complement each other
in synthesis, and not interfere with each other. Each music has its own listener – some like mugham, some like jazz, some like a combination of mugham and jazz, and others like other genres. However, when a spectator goes to a concert, he knows what the artist will perform. People who don't like my music just won't attend my performances, however I do get a lot of good feedback. For example, when journalists in the West write about my music, they always emphasize that it originates in Azerbaijan, which differs from music in Europe and America; that this is a synthesis of East and West. However, I play different music as well. For example, my last album From Baku to New York City, includes only one mugham piece. Other compositions are purely American music, even including pop songs, such as She's Out of My Life by Michael Jackson and Both Sides, Now by Joni Mitchell. That is how the producer wanted it. If tomorrow they ask me to learn Mozart's concerto, I will not add any mugham there. Mozart said everything already; there is no need to supplement it. It will just be my interpretation of classical music.
Q.: Does this mean you enjoy playing any kind of music?
A.: Yes, of course. The issue here is not just about my desire to do it, I have to do it. A musician should know and be able to perform different genres! At the age of 15-16, I played a lot of classical music and thought that was what I would do in the future. However, the Almighty brought me to jazz and opened my eyes. I realized that people want to listen to different music – someone likes classical music, someone likes jazz, someone likes pop. It is wrong to play only one style. You need to let things go. As I got older, I came to the conclusion that there is no need to chase anything in life. If something has to happen, it will happen. In contrast, trying to catch something, which is not destined for you, can waste a few years of your life. Therefore, one should have dreams and strive to make them true, without being too persistent.
Q.: Would you say then that you are fatalistic to some extent?
A.: Yes, having crossed the 40-year threshold, I began to believe more in chance than in attitude. You need to set yourself a goal in life, but you don't have to dedicate all your life to reaching this goal. You need to pursue the goal, but you also need to be able to let it go. If it is destined for you, it will come back to you. However, this understanding came with time.
Q.: You have collaborated with many western jazz musicians. Which projects are the most memorable for you? Which joint projects are you especially proud of?
A.: Meeting Ahmad Jamal; working and communicating with him is one of the brightest periods in my life. Being a living legend, he is 91 years old now – almost like jazz itself. Our meeting was quite unexpected. I sent him an e-mail, received an answer from his wife – who is also his manager – and later they invited me to their place in the USA. I remember he asked me to play something, listened a bit, and then sat down next to me and started playing 4 hands. That was an incredible feeling! Listening to such a high-level musician on record or at a concert is one thing, but when he plays next to you, the emotions are very different. When he touched the piano keys, my understanding of ​​jazz changed completely. I realized that he wasn't thinking about the key he presses, he simply let the music go. False notes don't exist; there can be E flat in the C major; you just need to allow yourself to follow your feelings. That is what improvisation is all about. Meeting Ahmad Jamal changed my attitude towards music. Now when people ask me: "What do you play?" I answer: "I play my life" … Later, he ended up promoting me and presented my three albums all over the world for the last five years. We recorded two joint albums in French studios, and also played joint concerts at Blue Note in New York, which is one of the most prestigious jazz clubs in the world, as well as in San Francisco, Boston and Paris. Ahmad Jamal did not know anything about Azerbaijan before meeting me, but when we had a press conference in France, he suddenly started telling reporters about mugham, and Uzeyir Hajibeyov [great Azerbaijani composer] and Vagif Mustafazadeh [Azerbaijani jazz pianist and composer]. At that moment, I realized that I had been able to do something really important in my life.
I would also like to mention the joint projects with my brothers, and other foreign jazz and classical musicians – Didier Lockwood, Kenny Wheeler, Kyle Eastwood, and a project with contemporary dancer, Akram Khan in London. It is always interesting to work with new art forms, and each project gives unique emotions.
Q.: What projects are you working on now? How will you please your fans in the near future?
A.: I am planning a new solo album. Several years ago I also shared a joint project with my brothers in the framework of the Buta Festival of Azerbaijani Art in London, but we never recorded it as an album, so I would also like to fill this gap. In addition, I want to make a kind of flamenco-mugham synthesis in cooperation with a flamenco dancer, so I am negotiating this issue with the Spaniards. There is also an idea to organize a project in collaboration with other artists, as I always want to communicate with people from different styles in music, culture, painting, etc. This opens up new verges of culture, and brings new energy to projects. The time when people were ready to sit and just listen to music has gone. Now the viewer awaits not only music, but also a performance…
Q.: Musicians were probably among the most affected during the pandemic, as all concerts and events were canceled for a year and a half. How did you survive the quarantine?
A.: This was of course, a terrible period. We see how many lives the pandemic claimed; how much suffering it caused. The effect on musicians was, undoubtedly very bad, in financial terms. We still have very few concerts. As a result, many good artists found themselves unemployed. As for my activities during the lockdown, I can say that the Buta record company used my piece, Quarantine, to make a five-minute animated film. A very talented artist from Slovenia worked on it, resulting in a very high quality video. I am glad to be a part of this project.
Q.: Your ancestors were from Karabakh. Have you already had an opportunity to visit their birthplace after the liberation of the city of Shusha?
A: Not yet, unfortunately. However, we all – me, my Mom and Dad, my brothers – want to visit as soon as possible. My great-great-grandfather, Mirza Alaskar was from Shusha, and he was buried there. He was a poet, musician, and a much-respected person. The daughter of the last Karabakh khan, Khurshidbanu Natavan, who nicknamed him as Novras, married her son to his daughter, so it is with great joy and pride that we will finally be able to visit the graves of our ancestors. We give many thanks to our esteemed President, First Lady, Mehriban Aliyeva, their wise policy and, of course, our heroic army, for this opportunity. Their great deeds allowed Azerbaijani people to live with our heads held high!
Q.: Tell us about your feelings during the 44-day war.
A.: All the members of my family hardly slept as our thoughts were constantly occupied with the developments on the front line. I had probably never watched the news on our TV channels so much in my entire life, as I did during this period. We followed all of our President's interviews with many emotions, and enjoyed every one of his speeches. When the victory was announced, we were so happy! RIP to all our martyrs who died a heroic death, they will remain in our hearts forever…
Q.: Let's get back to music. The International Jazz Festival held in September this year was one of the most anticipated events in Baku's cultural life. It is especially pleasing that after a long break, there were live concerts as well. How was it to see the audience again after so many months of the lockdown?
A.: I am very happy that this festival happened. I would like to thank the Ministry of Culture, Rain Sultanov and Leyla Efendieva for making these festivities real. When there are no concerts for a year and a half, everyone craves them. The musicians want to play, and the audience wants to listen and enjoy themselves. At the Jazz Festival, these feelings were highly visible. I hope gatherings will be possible in the future as well.
I haven't played big concerts for a long time, and it would be wonderful to organize such a concert.
Q.: Jazz of Victory was the motto of The International Jazz Festival this year. What emotions did you personally invest in this motto?
A.: Probably the feelings that we experienced during the war. Now each of us has the feeling of victory deep inside. It is present in all spheres of life – in our consciousness, communication with people, work, music, and we should direct these feelings into art and creativity.
Q.: Tell us about your children. Do you and your spouse try to influence their musical taste or are they free to make choices of their own? Do they want to follow in your footsteps?
A.: Our oldest son is 13 years old; he is in the eighth grade. The younger one is six years old; he started the first grade this year. They both have an ear for music. The younger one does not know the notes yet, but when he hears a song, he sings it exactly right, in the original key. The older one used to play mainly classical music, now he has become more interested in jazz and improvisation. The problem is that he wants to play immediately like me, and in reality it takes time. However, I would not want them to play 14 hours a day, as I did. Now I think it is not required, it is important to let it go. The profession's of my wife and myself (Ed. Note: Natavan Novrasli is the Honored Artist of Azerbaijan, soloist of the Azerbaijan State Academic Opera and Ballet Theater) of course gives them not only development but opportunity. Being a child, I didn't listen to so much music and didn't attend as many concerts as they do. In fact, I want my children to have the desire to look for themselves. Therefore, I try not to press them. If, when they turn 15 years old, and they want to be, for example, programmers, so be it. I will let them decide on their own. However, learning musical literacy will not hurt. Firstly, music enriches you spiritually, gives unity with the Creator akin to meditation. Secondly, it may happen that at the age of about 23 they enter some jazz club in New York and change their mind, realizing that this is exactly what they want to do with their life.
Q.: What would you like to wish our readers?
A.: A victorious jazz mood.