In an interview with Azeri Observer, bp's Vice President for the Caspian region, Communications and Advocacy, Mr. Bakhtiyar Aslanbayli, speaks about the landmark projects operated by the company in Azerbaijan and their importance for the country's economy. He gives details about further development of the Azeri-Chirag-Gunashli and Shah Deniz fields, which are key projects of Azerbaijan's oil and gas industry, and plans regarding Azerbaijani gas supplies to Europe. In addition, he shares what ideas bp is considering to implement in Azerbaijani liberated territories, and gives a forecast for oil prices in 2022.
By Elena Kosolapova
Azeri Observer Staff Writer
Question: Last year marked the 27th anniversary of the contract for the development of the Azeri-Chirag-Gunashli project, which is operated by bp. Could you please tell us what has been achieved over these years? And what are the plans for the development of this field in the future?
Answer: ACG is the key project of Azerbaijan's oil and gas industry and a very important project for the economic growth of the country as a whole. Therefore, as the operator of this project, we fully understand how important it is to ensure sustainable production from the ACG field. As you have correctly noted, 27 years have passed since its development began. After many years of operation, production levels of some wells are starting to decrease, but we are trying to maintain production at a certain level by applying various innovative solutions and cutting-edge technologies. 2021 was quite fruitful in this respect – in September, we marked the total production of 4 billion barrels from Azeri-Chirag-Gunashli. As for future plans for ACG, in order to enable sustainable production for a longer period, we are constructing a new, seventh platform – Azeri-Central-East (ACE). During 2020-2021, despite certain restrictions caused by the pandemic, the project construction activities continued and about 5,500 people were involved in those activities at peak. The construction is scheduled for completion at the end of 2022 to support first production from the ACE platform in 2023. At peak, the platform will produce about 100,000 barrels of oil per day, which will help maintain stable production from ACG for a certain period of time.
Q.: Last year also marked the 25th anniversary of the contract on the development of another bp-operated project – Shah Deniz. It was from this field that Azerbaijani gas supplies to Europe started a year ago. What are your plans for its development?
A.: We need to note that Shah Deniz is not only a major gas field for Azerbaijan, but it also represents the largest gas discovery in bp's over 110-year history with its world-class reservoir containing over 1 trillion cubic metres of gas and 2 billion barrels of condensate initially in place. So, this is a project with serious prospects. We had already been exporting gas to our neighbouring countries Georgia and Turkey, but it was Shah Deniz 2 that provided our country with access to the gas market of European countries – Greece, Italy, Bulgaria. In other words, the Shah Deniz project is particularly important because it has enabled us to establish ourselves as a gas exporting country, as well as turn into a player on the European gas market. The project that had been planned for so long, the project for which the final investment decision was made back in 2013 and the project we heard a lot of sceptical analyses about has finally turned to reality thanks to the efforts of all parties – both states and companies. Naturally, our country played a huge role in these developments.
At the current stage of the Shah Deniz development, our goal as the operator is to ensure the stability, reliability and safety of production from Shah Deniz 1 and 2. During 2021, gas supplies from Shah Deniz increased from month to month. Last year, contracts for the sale of gas from Shah Deniz 1 were successfully renewed, which makes it possible to ensure sustainable sales of Azerbaijan's gas resources for a certain period. For Shah Deniz 2, gas contracts for a period of 25 years were signed back in 2013.
Q.: Will it be possible to increase gas supplies through the Southern Gas Corridor in the future? And what sources can be used for that?
A.: This export route is designed so that the capacity of its sections – the South Caucasus Pipeline (SCP), TANAP and TAP – can be doubled, if necessary. We are currently exporting gas only from the Shah Deniz field, but if there are additional volumes of gas from some new projects or there's an increase in production from the existing fields in the country, we will be able to export them via this route. There is also a possibility for gas from third countries to be exported through this route. This, of course, will require certain political, commercial and economic conditions. And in case such conditions are agreed, the capacity of the Southern Gas Corridor will enable the exports of additional volumes.
Q.: It was reported earlier that bp plans to implement renewable energy projects in Azerbaijan's liberated territories. Please tell us more about that.
A.: The transition to renewable energy is a requirement of today's market. Back in February 2020, bp announced its new strategy which suggests that in parallel with the production of oil and gas, the company will substantially invest in the development of renewable energy. So, we will transform from being an international oil company into an integrated energy company. These changes in the company's strategy are also fully consistent with the priorities of our country, the Republic of Azerbaijan, in relation to the development of renewable energy and the reduction of emissions. Therefore, based on almost 30 years of mutually beneficial cooperation, we started negotiations with the Ministry of Energy. In 2021, a memorandum of understanding and an agreement on the implementation were signed. The project envisages the construction of a solar power plant with a capacity of 240 megawatts in the Zangilan-Jabrayil region of Azerbaijan. It would be too early to talk about a timeline or specific figures, because the roadmap is still being developed. Negotiations are underway, there is an ongoing exchange of experience and technical knowledge. We are discussing the possibilities of further streamlining the commercial conditions, which is one of the key factors for decision-making. However, I am very optimistic and I think that we will be able to reach a final investment decision on this project in 2022.
Q.: Is there a possibility of bp implementing any other renewable energy projects in Azerbaijan?
A.: Certainly. We currently have three priority types of renewable energy in our portfolio: solar, wind and hydrogen. At this stage, it is a pilot project in the field of solar energy, which we plan to implement in the liberated territories. In the future, discussions on wind energy are also possible, because the Caspian is rich in high-quality wind for developing wind energy, and we see great opportunities in this area. In the long term, cooperation in the field of hydrogen energy development is also feasible.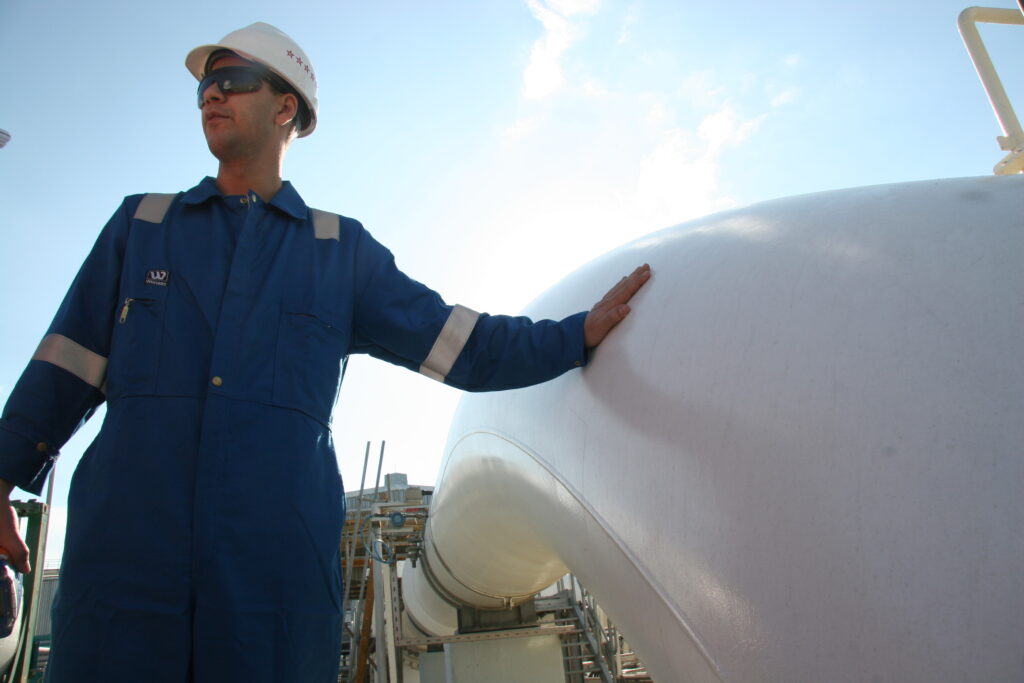 Q.: How successful is the Baku-Tbilisi-Ceyhan oil pipeline (BTC), which is also operated by bp?
A.: In December last year, we celebrated the export of the 500 millionth tonne of oil through BTC. In mid-November, the 1000th oil tanker was lifted at the port of Supsa in Georgia. However, there are still certain available transport opportunities there, and they are open to the oil volumes from third countries.
Q.: The prices of oil and other energy resources were quite high last year. What is your forecast for 2022?
A.: High oil prices are mainly explained by two factors. First, in the post-pandemic period, the economies of countries began to develop more rapidly than expected. Accordingly, as the economy grows, the demand for oil and gas increases, but the supply is insufficient. Secondly, investment in the development and production of oil has significantly decreased in the past few years, which led to a decrease in production. According to various financial institutions and investment agencies, the current price corridor will maintain for a certain period of time. However, this forecast is based on purely economic data. Potential political events in a particular region can change this forecast in both directions.