In an exclusive interview, the Spouse of Indian Ambassador to Azerbaijan, Dr. Rosy Lalmalsawmi Khuma Bawitlung speaks about medicine in India, and the experience in this sphere that her country could share with Azerbaijan. She gives her view of the interconnections between the cultures of the two countries, and speaks about the influence of Azerbaijan's philosopher Nizami Ganjavi on Indian writers and the links that Azerbaijani singer Rashid Behbudov had with India. Finally, she divulges which Indian destination many famous designers from all over the world come for inspiration and interprets her version of the phrase that behind every successful man is a woman.
By Elena Kosolapova
Azeri Observer Staff Writer
Question: Tell us where you are from and where you spent your childhood and youth?
Answer: I am from Mizoram, a state in the North East of India. The rolling hills and valleys of Mizoram with its rich biodiversity in flora and fauna is a part of the Indian Himalayan Region. I spent my childhood there until I finished high school in Aizawl, the capital city of Mizoram. Later, I studied in a boarding school in Tamil Nadu State in Southern India where I finished my higher secondary studies and then went to Lady Hardinge Medical College, Delhi University for my medical degree and thereafter did a post-graduate diploma in Public Health from the National Institute of Health and Family Welfare, New Delhi.
Q.: Why and when did you decide to pursue your career in such a complicated area as medicine?
A.: I have always wanted to be a doctor since my childhood. I remember vividly, in primary school my classmates and I were discussing what we wanted to be when we grew up, each one blurting out his/her ambition. When my turn came, I said "A doctor". The boys started to laugh and ridicule me saying that only boys can become doctors and girls can be nurses. Such was a time when people were ignorant; gender bias was harsh and gender equality was a lesser-known entity. I wanted to be a doctor because I believe that the medical profession is a service to humanity. To be able to treat people from their illnesses and bring comfort and peace not only to the patient, but also to their nearest and dearest has been one of the driving factors. In a medical emergency or a dire health situation we thrust ourselves into the hands of doctors, yet of course, God is Almighty. In my tenure during residency in a government hospital in New Delhi, we used to treat patients in the out-patient department and request them to come back after a week for a follow-up. To see them back in a week, well and good is such a reward; some of the old and wrinkled would lay their hands on yours and bless you, which was truly priceless.
Q.: How has the diplomatic life influenced your career? Have you ever been forced to sacrifice your work for family?
A.: We often spend the best years of our lives representing our country in other nations. With a diplomatic posting in a new country we begin by getting acquainted with new cities, new streets, new schools, new supermarkets, new languages, new culture, new environment and new rules and regulations of our host country. I feel we live in a time capsule taking three to four years each time to make a new beginning, before wrapping up to move to the next one.
In the medical field, pursuing a career in other countries involves many factors – the acceptance of a medical education degree in our country by another country, to clear the examination in both theory and clinical practice in the host country, the language barrier (to be able to speak the local language in order to communicate with the patients) and in case of diplomatic spouses – the permission for the spouses to work depending on the agreement between our country and the host country. Having said all that, one can see challenges and opportunities depending on the host country. More often than not I have to choose my family over my career.
Q.: What does it mean for you to be a diplomatic spouse? How would you describe the role of diplomatic spouses in diplomacy?
A.: I consider being a diplomatic spouse a great privilege. While my husband is at work, busy buildingbridges between our two countries – India and Azerbaijan, strengthening cultural, economic, political, technology, education and commercial ties, as well as people to people connections, etc., I am the one who really goes into the field – into the streets, the market places, the schools, and around the neighborhood to observe and absorb the country and its people.
Diplomacy is a very broad term where many elements play a role. The role of a diplomatic spouse is one of these elements, though often understated, yet very essential. As a diplomatic spouse, my role is to provide every possible support to my husband in his work, as a mother in raising our children, to connect and stand with our Indian diaspora, showcasing our Indian culture through art, music, textiles, food, films, books and other mediums to the wonderful people of Azerbaijan.
Q.: In your opinion, what Indian technologies could be useful in Azerbaijan?
A.: Today, in India we see a transforming medical technology landscape leading to improved healthcare delivery. India is the second-most populous country in the world; our existing healthcare mechanisms have had to adapt through innovative medical technology to meet the ever-growing needs of our people. India has world-class doctors, clinics and technologies and attracts medical tourists from all over the world. Indian medical technology is dominated by medical instruments and appliances as well as healthcare IT equipment, healthcare financing, etc. In an emerging economy like India, we need prudent technology innovations that can impact the larger population in terms of price and affordability. One such example is an ultra-portable echocardiogram (ECG) machine that was conceptualized, designed and manufactured in India according to the requirements of the domestic market – battery operable, easy to use, smaller than a laptop. In the market, this ultra portable ECG machine is priced at one-third compared to similar imported ECG systems and this device will reduce the cost of ECG to just Rs.9 (0.20 AZN). ICT (Information, Communication and Technology) is another significant area where India has gained innovation, filling the gap for universal access to medical technology at a very low cost. It helps to address the problem of doctor/ technician shortage through technologies like Telemedicine on mobile, remote monitoring for cardiac devices and IT professionals proactively monitoring remote medical equipment systems for issues, software installation and upgrades. The COVID-19 pandemic posed an unprecedented challenge to healthcare in India and around the world, and it was during this time that India saw the rise and proliferation of new-age medical technology companies. Innovations were made to develop hands-free sanitizer, remote health monitoring devices for quarantine centers, COVID focused robotic systems and devices, use of Artificial Intelligence (AI) in COVID screening, digital diabetes intervention, medical vocabulary based voice-to-text devices, AI based lung cancer detection, etc. to name a few. 
India is known as the pharmacy of the world, being the largest provider of generic drugs globally, the Indian pharmaceutical sector works tirelessly to ensure the availability of quality drugs at affordable prices. E-pharmacy is growing rapidly, delivering medicines at the patient's doorstep. India is looking to harness the vast talent of our youth to bring out innovations in medical technology that are indigenous to meet the local needs which will be low cost, affordable, accessible and effective for the general public. I believe in India we have a good start-up culture and ecosystem.
Q.: What activities are you involved in Baku?
A.: In Baku, there is an active Head of Mission spouses (HOMS)  group that embraces its members to make them feel welcomed in Baku, organizes coffee mornings, conducts various cultural and charity events and supports many charitable organizations in Azerbaijan and I am honored to be a part of this group. Being an honorary member of the International Women's Club (IWC), I often attend their meetings and along with the other ladies from the Indian Embassy, support the IWC in their charity bazaar. Almost two years of our time here in Baku witnessed the COVID-19 pandemic where interaction and social activities were curtailed to contain the pandemic. Nevertheless, the pandemic created panic and situations were such that many households suffered due to economic slowdown. In these circumstances the Indian Women of Baku got together (not physically) and contributed to make food parcels which were handed out to many families and organizations in need. I have had the privilege to give talks in schools as keynote speaker and in colleges as a resource person for seminars they organized (online and on site).
Q.: Azerbaijan and India have enjoyed intercultural exchange for centuries and we even have a Hindu temple built by Hindu traders community in the suburbs of Baku in the 17th century. Were you able to discover any similarities between our cultures while living in Azerbaijan?
A.: I often used to say that there is a natural chemistry between the people of Azerbaijan and India. There is a close cultural affinity possibly due to our historical relations from ancient times. Music brings people together, Indian raga and Azerbaijani mugham are traditional musical forms which share many similarities as stated by experts from both countries. The friendship between the famous Azerbaijani singer and actor Rashid Behbudov and popular Indian actor Raj Kapoor fostered in promoting Indian music and songs here in Azerbaijan. I came across an article that Rashid Behbudov wrote in a book called "In far India" about his visit to India and I look forward to reading it if I can get hold of it. Films and cinemas are another medium of cultural exchange between the people of both countries. Bollywood films and Indian serials are carriers of Indian dance and culture to the wonderful people of Azerbaijan. Through films, we can recognize social, cultural and family values and the people of both countries exhibit strong family ties, respect for elders, love for the country and a happy attitude towards life.
The writings of the great Azerbaijani poet Nizami Ganjavi have influenced many Indian writers. Bollywood's tragic love story from time immemorial such as Laila-Majnu is actually an Indian rendition of Leyli Majnun written by Nizami in the 12th Century. In embroidery and textile prints the buta design is very popular in both countries. In India and Azerbaijan, the buta design is seen in many paintings and as decorations in architectural monuments. Though the buta has its Persian roots, the buta design has become an integral part of our cultures. The Azerbaijani language and Hindi share many similar words such as kitab, dukan, sektor, khursi, bahar, hava, etc. just to name a few. Familiarity with words in our languages instantly brought proximity to our connection. The youth of both countries have a very positive attitude towards work and believe in the dignity of labor, the culture of aspiration and progress in personal and homeland development is evident.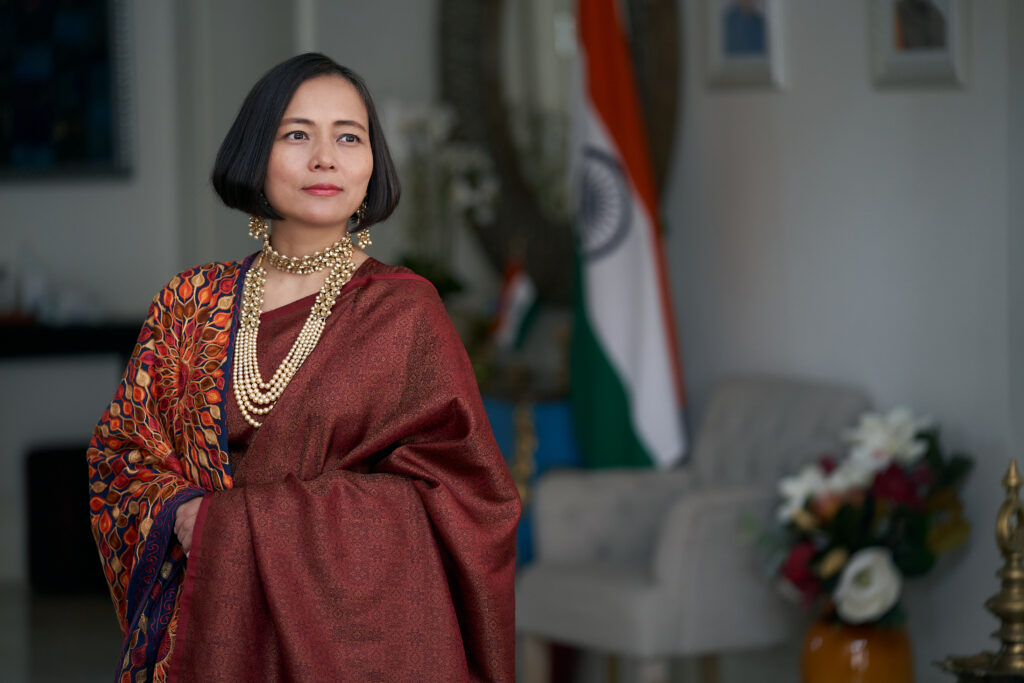 Q.: What was the most unforgettable experience during your stay in Baku?
A.: I would like to answer this question by quoting the poet and social activist Maya Angelou, "I've learned that people will forget what you said, people will forget what you did, but people will never forget how you made them feel." Please allow me to sum up my whole stay in Baku as one experience. I have had many unforgettable moments in Baku and I will never forget the warmth, hospitality, and wonderful nature of the Azerbaijanis. People have extended their hands of friendship to us and we have become like family – this feeling will always remain. 
Q.: Let's talk more about your home country. India is a popular destination for tourists from all over the world. Everybody knows about the Taj Mahal. Which other places of interest would you recommend to see in India?
A.: India is one of the most diverse countries in the world ethnically, religiously, socially, linguistically, culturally and geographically, where the startling contrast of ancient tradition and modern worlds meet. To date, India has 40 UNESCO world heritage sites. Depending on one's interest, there is a destination to choose from the 28 states and 8 union territories of India with each state having unique food, dances, music, dresses and culture, etc. India has varied places of interest to attract everyone from spiritual seekers, health and wellness enthusiasts, backpackers and those in search of a good time.
Jaipur, known as the pink city in Rajasthan, will offer you the ancient forts, palaces, architecture and a bustling cultural life. Once you reach there you will be immersed in its colors and beauty. Many famous designers from all over the world come here to find inspiration for their designs. Kerala, the spice capital of India, has a lot to offer – Ayurveda, cuisines infused with flavorful spices, beautiful nature and festivals. For those keen on things ancient, one can visit the rock cut caves of Ajanta and Ellora caves in Maharashtra dating back to 2nd century BC, the great Chola temples in Tamil Nadu, the Hampi in Karnataka, the Konark temple of Odisha and the Khajuraho temples of Madhya Pradesh. The seven states of North East India known as the seven sisters will offer you nature's untouched beauty, a spectacular view of a river of clouds and exotic flora and fauna. The beaches of Goa offer beautiful sun, sand and sea with good food and music. The pristine beaches of Lakshadweep are breathtaking. I could go on and on. I invite you to come and explore the Incredible India. 
Q.: Finally, our signature question to conclude the interview. It is said that behind every successful man there is a woman. How does that manifest in your life?
A.: I agree with this statement to the extent that behind every successful man there is a woman. Success is a process which does not happen overnight. There are multiple stakeholders in building a person. It starts very early on in life with mothers instilling confidence, integrity and discipline in their children, the influence and support of sisters and friends; of course after marriage the wife plays a very important role in standing by her husband and the role that daughters play to give the right perspective in a man's life.