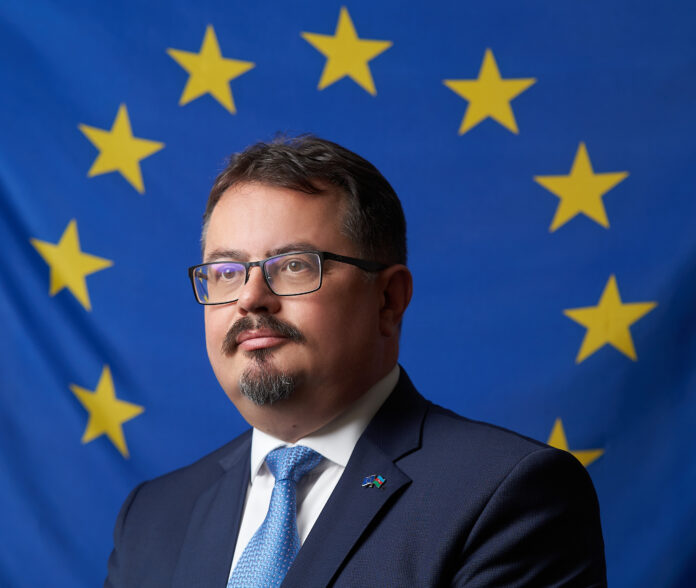 A new comprehensive bilateral agreement that will bring Azerbaijan-EU relations to a new level, cooperation in gas supplies, and renewable energy in the light of the energy crisis, and EU support in demining and restoration of the Azerbaijani liberated territories. Those were the main topics the Ambassador of the European Union to Azerbaijan, Mr. Peter Michalko, spoke about in an exclusive interview for Azeri Observer. He also gave information on over 50 European twinning projects, which helped reforms in Azerbaijan, and technical assistance that the EU was ready to provide to contribute to a peaceful, secure, and prosperous South Caucasus. Finally, he shared a long list of cultural events the EU delegation to Azerbaijan planned for the next several months.
By Elena Kosolapova
Azeri Observer Staff Writer
Question: Azerbaijan and the EU have been working on a new comprehensive bilateral agreement for the last several years. As far as we know, the negotiation on this agreement is at the final stage. How different will this agreement be from the previous one? Could you share some information regarding its main points? And when do you think it will be finalized?
Answer: The European Union and Azerbaijan have been developing their relations intensively for the last 30 years. We are now negotiating a new comprehensive bilateral agreement that will underpin our strong partnership and bring our relations to a new level and quality, replacing the previous agreement from 1996. The negotiations are intensively ongoing, and currently focus on remaining points that need further work to be completed. We hope they can be finalized soon and we will be able to sign the agreement. In the meantime, we continue our intensive cooperation in which the EU works as Team Europe – the EU institutions together with the EU Member States and with international financial institutions like the European Investment Bank, European Bank for Reconstruction and Development and others.
Q.: We recently signed a new Memorandum of Understanding on a Strategic Partnership in the Field of Energy. What does it mean for our energy cooperation? Do you think that Azerbaijan's role in European energy security will increase in the light of the EU embargo on Russian oil and coal and the intention to decrease the dependence on Russian gas?
A.: The visit of the President of European Commission Ursula von der Leyen was a top moment in our relations as the opportunity to underline the importance of our relations for both sides and perspectives of our further cooperation. It is related to perspectives of increasing cooperation in the energy area, and the signed memorandum of understanding on strategic partnership in the field of energy confirms that we have excellent potential for the future in this area. What makes it also important is that the EC President stressed in her statement that Azerbaijan is seen by the EU as a reliable partner in the field of energy, energy supply and energy security. As you know, in the context of Russia's illegal, unprovoked and unjustified aggression and war against Ukraine, as well as Russia's weaponisation of gas supply, the EU decided to turn away from Russian fossil fuels. Obviously, we are interested in working with our partners. This also concerns our long-term cooperation and partnership. The signed memorandum is a continuation of the memorandum that we had signed in 2006 and the joint declaration signed in 2011 that already focused on the construction of the South Gas Corridor. Today, SGC is a reality, it is connecting us and it is an excellent project and excellent example of cooperation and partnership.
Q.: Azerbaijan is internationally known as an oil and gas producer. However, now we are aimed at the development of renewable energy as well, first of all in the liberated territories. What kind of support could European countries offer us in this sphere, considering your huge experience in green energy?
A.: In our cooperation, the perspectives of renewable sources of energy have high importance. This is also a priority for the EU Commission and for President von der Leyen. Azerbaijan has great potential in renewable energy, in wind and solar energy. In fact, the MoU signed in July covers this field as well, with mention of renewable energy generation, energy efficiency and renewable hydrogen. Issues related to fighting against climate change, environmental protection, reduction of methane emissions and other topics of cooperation were also discussed. President von der Leyen was accompanied by Commissioner for Energy Kadri Simson, who had further meetings in Baku and discussed in detail perspectives for cooperation in this field. These issues were discussed in terms of expanding economic cooperation, trade, connectivity.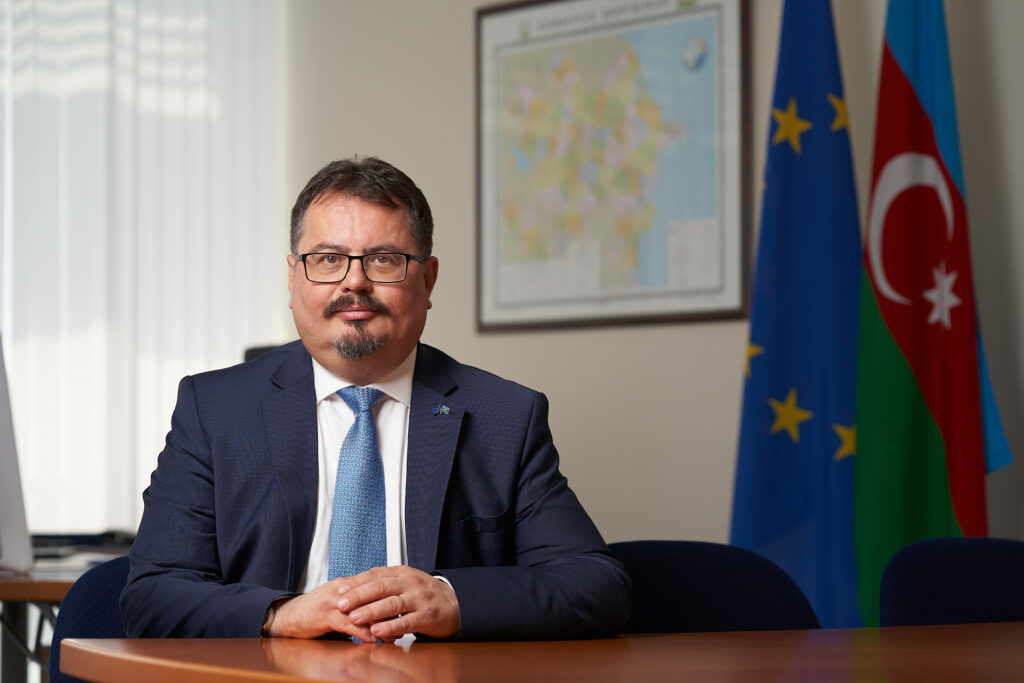 Q.: As you know, the restoration of the liberated territories is the biggest priority for Azerbaijan. Is the EU willing to support us in this process? What kind of support could you offer? What European technologies, besides green energy technologies, could help us in this process?
A.: The EU is the biggest supporter of Azerbaijan in demining, providing financial assistance to ANAMA (Ed. note: Azerbaijan National Agency for Mine Action). President Ursula von der Leyen during her visit informed us of the new package of €4.25 million for demining. We are closely following activities in many sectors, and reconstruction in conflict-affected territories is one of them. Several companies from a number of EU Member States are already present there. They are mainly contracted by the Government for major ongoing reconstruction projects. But of course there is a growing interest, and therefore we would also welcome information about what the plans and priorities of future projects are. As you know, the EU together with the UN and the World Bank is involved in the activity of expert assessment for recovery needs; we recently had an expert group here to prepare such an assessment. We are in close communication with the Government of Azerbaijan on this topic, according to the priorities and needs of the country. In addition, the announcement of the 2-billion euro package of the Economic and Investment plan for Azerbaijan, as you can recall, was made in February during the visit of European Commissioner Oliver Varhelyi. This Economic and Investment plan has five flagship initiatives that are in line with government priorities, including priorities for reconstruction projects when we speak about green transition, connectivity and Port of Baku, but not only. This is also about renewable sources of energy. It was announced that Karabakh's main source of energy will come from renewable sources with a zero net emissions target. I can also mention other areas, like the digital transformation, like smart cities and smart villages, development of rural areas and support to 25 thousand small and medium-size enterprises. All these projects can be supported countrywide.
Q.: The EU is the biggest trade partner for Azerbaijan, with the biggest share of our trade turnover falling on Azerbaijani oil and gas. What happens to the non-oil trade? What 'Made in Azerbaijan' products could find demand in the European market?
A.: A number of sectors and industries have great potential with regard to the EU market, the strongest market in the world. Azerbaijan already has the leading position in some of them, for example, the export of nuts. The non-oil sector in Azerbaijan is growing with impressive numbers, and as the EU is the biggest source of foreign investments in the country, there is a good perspective for increase of exports of other production to the EU as well. In addition, there is excellent perspective for increase of Azerbaijani exports from the non-oil sector with the new comprehensive bilateral agreement, as well as with future connectivity. Of course, further advancement of business environment, investments, and growth of the non-oil sector and small and medium-sized enterprises will add to the positive potential of the export strength of Azerbaijan.
Q.: Within the Twinning Programme, European countries have implemented a number of projects in Azerbaijan bringing their experience to the Public Administration of our country. What twinning projects are you working on now, and what is their expected outcome?
A.: The EU is a strong supporter of reforms conducted by institutions of Azerbaijan. Twinnings are a very advanced form of cooperation that brings together institutions of Azerbaijan and their partners from one or more EU Member States in various areas. We consider what we have to and can offer is interesting for our partner. This is a form of sharing experience from reforms, working together and exchanging information, know-how and practical experience from important areas. The support for reforms does not concern only economy and twinnings, but also aims to assist improvements in social policies, democratic development, rule of law and other important areas.
When it comes to twinnings, Azerbaijan is actually a front-runner among partner countries of Eastern Partnership. More than 50 twinning projects have been conducted or are taking place right now. These projects are usually financed between €1-2 million each and are mainly focused on the sharing of expertise with meetings and activities aimed to support the creation of structures or legislation or secondary legislation. One important aspect is that the form of cooperation support is adjusted to the needs and interest of the partner country. We will continue this intensive cooperation in the future, which is very much appreciated by partner institutions in Azerbaijan. It is important that the legislation created in these activities is adopted and developed into practical use. This is beneficial for all citizens, with an enhanced business environment that encourages investments, creates employment, and in general brings improvement. Within our cooperation, we very much appreciate also working with Azerbaijani civil society, which is an important factor in the development of the country as in any modern society. There is a very active and respected civil society in Azerbaijan that involves many people with high quality expertise, working for the benefit of their compatriots and for the development of the country. We also work closely with our international partners like the UN, UNDP, Council of Europe, EBRD, World Bank and others.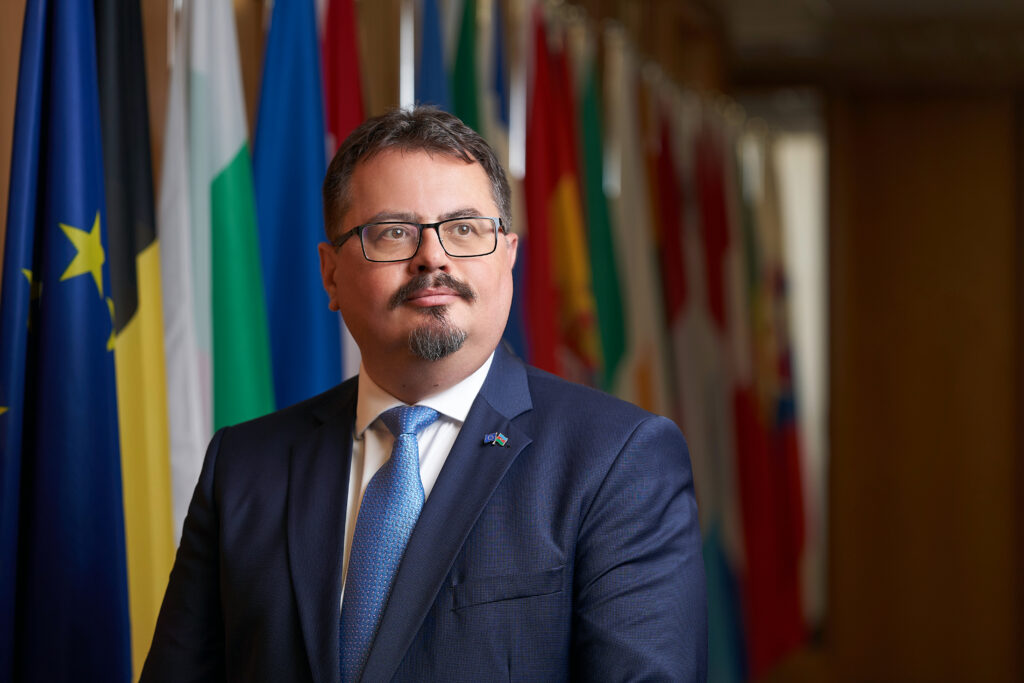 Q.: For years, the Eastern Partnership Initiative was the main format to strengthen and deepen the relations between the European Union and six Eastern European countries. What is the plan for this programme in the new reality? What changes could it undergo?
A.: The Eastern Partnership is a part of the European Neighbourhood Policy, a policy framework jointly agreed by the EU and the partner countries. It has brought very important results and progress in cooperation but also in efficiency of economies and good governance in the partner countries. It has excellent perspective to continue to do so and bring benefits to all participants. When it comes to the Eastern Partnership, everything that we discussed shows how beneficial this project is for Azerbaijan as a partner country and for countries in the Eastern Partnership, in general. Eastern Partnership is a part of the European Neighbourhood Policy, which means that we work with our neighbours and our partners and we work together for our joint benefit. We have mentioned important areas in this regard: economic cooperation and trade exchange that bring prosperity, workplaces for people, investments and reforms that have a scope of sustainability and even more development for the partner countries. For that, the EU offers support to reforms and as we said working jointly at the highest-level standards in the world. The Eastern Partnership has proven its open and flexible approach when it comes to the bilateral track of cooperation, it is very well adjusted to what the partners want to achieve in this partnership and there is also a multilateral track that is opened for working in a multilateral format. Everybody can benefit from this. What we saw recently with the summit of Eastern Partnership in December last year is that we all understand the need for recovery and resilience and reform. I think we also saw the importance of partnership during the pandemic; with the joint cooperation, a number of countries could see an easier way out of this situation. We can see how we can cooperate to overcome these kinds of challenges. We will continue to develop Eastern Partnership.
Q.: Over the last year the EU has emerged as a player in Azerbaijan-Armenia negotiations. What efforts does the EU plan to bring Azerbaijan and Armenia to a long-lasting peace agreement?
A.: In fact, President of European Council Charles Michel already facilitated several meetings of the leaders. It confirms the will of the EU to contribute to a peaceful, secure and prosperous South Caucasus. This involvement has created positive progress, and it is crucial that the process started in Brussels continues and that the peace agenda advances. Future peace agreement is one important point as well as establishment and work of the commission for delimitation and demarcation of the border between Azerbaijan and Armenia, and also the unblocking of transport connections and other issues. The EU can offer immense expertise and technical assistance in all these areas. As you know, the EU is also strengthening peace and security with our involvement and support for demining. All these efforts are connected with the intensive work of the EU Special Representative Toivo Klaar.
Q.: This year the EU delegation to Azerbaijan resumed offline cultural events after two years of the pandemic. For example, in May, Baku residents could enjoy the festivities within Eurovillage 2022. Do you plan more European cultural events in Azerbaijan for this year?
We are very glad that we all have been able to overcome the pandemic and renew activities that allow personal participation. This is also thanks to the measures taken in terms of vaccination in which Azerbaijan has achieved the highest results in the region. September and October are traditionally European Heritage Days that are usually celebrated by the EU together with the Council of Europe. In this context, we are also preparing for the European Day of Languages, together with the Embassies of the EU Member States.
The European Union has declared 2022 the Year of Youth in recognition of the sacrifices young people had to make during the pandemic. The EU supports equal opportunities in education and jobs for young people after two very challenging years. As a part of the European Year of Youth, the Delegation in Azerbaijan has held a number of events such as EuroVillage, European Summer School and EU Youth Competition with the involvement of young people. The aim was to further strengthen the cooperation between the EU and Azerbaijan, underlining the key role that youth play in building a better future. In early October, the Delegation will kick-start the EU Youth Campaign as part of a large-scale regional campaign in collaboration with EU Member States and EU projects for youth. We will promote opportunities provided by the European Union for youth via various events like "Study in Europe" education fair, EU Youth Open Day, Papa School and media literacy training for young journalists and bloggers. European Universities will participate at the Education Fair and will share information with young Azerbaijani students who wish to study in Europe. The aim of the campaign is to raise awareness about the European Year of Youth, inform young people about the EU and EU values, promote EU funded opportunities for youth and to celebrate the achievements of youth taking part in EU funded activities in Azerbaijan. The EU realises the importance of youth involvement, because the youth will have the future of the world in their hands.
Beyond that, in September, we will also organise the EU Beach Clean-up event, as we do every year, spreading awareness on protecting the environment and keeping our seas and oceans clean. We are planning to publish the book, "Tastes of Europe" and this autumn, we will present the book to an Azerbaijani auditorium in Azerbaijani language. Of course, as we used to have every year, this year we will organise the European Film Festival. Another interesting event will be the Glass Room Exhibition on misinformation. The exhibition shows how "deep fake" technology could have a negative impact on one's life; a visualisation exploring the time we spend on our mobile devices, shows how easy it is to detect facts from fiction in online news and many more features on misinformation. And in January 2023 we will celebrate the 15-year anniversary since the establishment of the EU Delegation in Baku.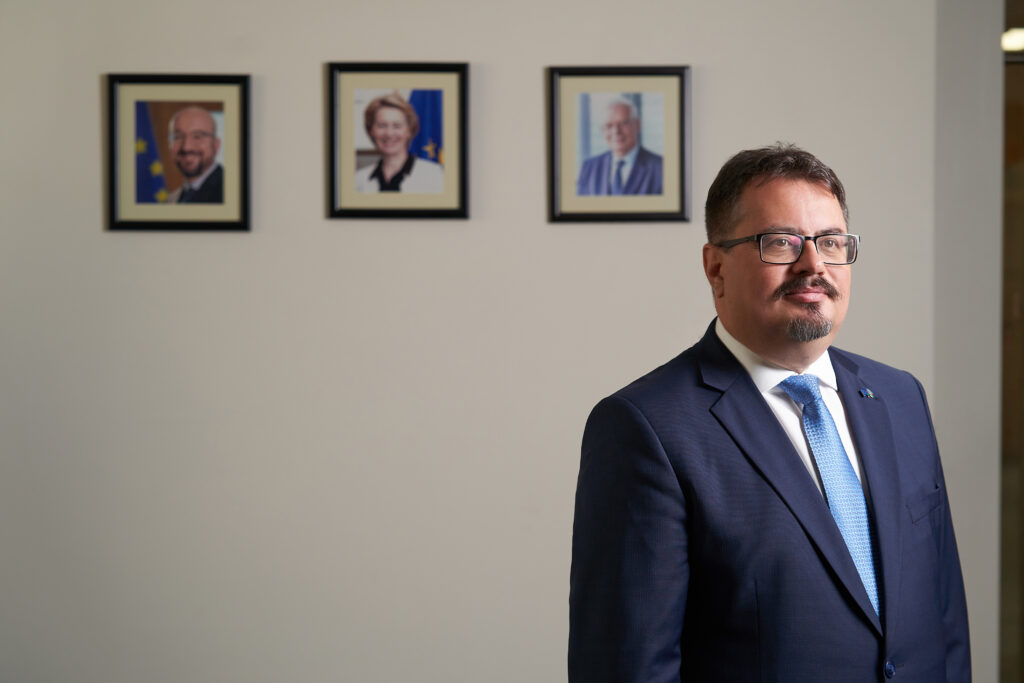 Q.: To conclude an interview on a lighter note, I have a personal question. You have been living and working in Azerbaijan for about a year now. Could you share some of your impressions from this period?
A.: From the first day since our arrival, my family and I were given such a warm welcome and I want to express my gratitude to the people of Azerbaijan for their hospitality. Every day of our experience in your beautiful country was an exciting discovery of new friends, great traditions, beautiful places in Baku and in the regions outside the capital. We continue learning about Azerbaijan and admiring the tolerance, openness of its people, rich history, beauty of nature, and tastefulness of the cuisine. My wife also really enjoys the local fashion. We are looking forward to showing all these wonderful aspects to our daughter and our friends when they visit us here. In particular, we are impressed by the strong historical and cultural ties between Azerbaijan and EU Member States. We even found in Baku, connections with people from our native region in Slovakia more than 100 years ago. This is our common heritage and it shows how close we have always been, it is also an excellent basis for our friendship and excellent relations in the future.