Four Seasons Hotel Baku, located in the heart of the capital, celebrates its 10th anniversary this year. In an exclusive interview, General Manager of the hotel Bob Suri talks about what luxury truly means in the Four Seasons Hotel and Resorts world and what he believes is the key reason behind their success.
BY ELENA KOSOLAPOVA
AZERI OBSERVER STAFF WRITER
 Question: You have been working in hospitality for about 30 years. What attracted you to this sector? Why did you choose this path?
Answer: It goes back to my childhood. As a teenager, I visited my uncle, the General Manager of one of the most prominent hotels in New Delhi, India. While visiting him during vacations, we used to use the hotel facilities like the pool and restaurants, and of course, I liked it a lot! From there on, my passion for hotels started. When I approached my uncle for advice and shared with him that I wanted to join the industry, he showed me the reality of being on the other side of this glamour. But seeing my passion developing, he further guided me that if I wanted to join the industry, I should start from the grassroots level. I am forever indebted to him for that advice. I followed his advice and took up a job as a waiter right after school. Initially, I could not convince my parents that it was the right thing for me to do, as my father was a respected Air Force officer, and understandably it was difficult for him to accept that his son was working as a waiter. While working as a waiter, I realized that I would feel immense satisfaction and happiness bringing smiles to my guests and helping them make memories. That was the light bulb moment for me as I had found the reason to continue my journey in hospitality. So, after one year of working as a waiter, I joined IHM, a premier institute in New Delhi, India, to pursue my degree in hospitality. Upon graduation, I joined as a management trainee at the same company where I worked as a waiter. A year and a half later, I left India and went to work internationally and, today, thirty years later, I believe that this was one of the most important decisions I took in my life that has led me to where I am today.
Four Seasons Baku Planning Committee Members
From left to right: Director of Finance  Ashraf Baghdady, Director of Engineering Basim Amish, Director of People & Culture Idil Tumoz Eratay, Food & Beverage Manager Ahmet Bakar, Director of Marketing Laman Aghazada, Director of Rooms Fariz Hajiyev, General Manager Bob Suri.
Q.: As a person who rose from waiter to General Manager, what advice would you give young people thinking about a hospitality career?
A.: My advice to young people would be to follow their passion. If hospitality is their passion, then for sure, go for it. The most important thing is to follow their passion. If your passion is to play the guitar, do so because you will do it passionately and be successful. When one follows their passion, one doesn't feel that they are working, which is the same advice I always give my sons. In thirty years of my career, I have always woken up excited in the morning to go to work as every day brings new experiences.
The advice to industry professionals would be to come, work, be a sponge, and learn as much as possible. I will be honest, it is not easy, this industry has long working hours, and you are on the giving end of hospitality. Still, if you realize it is what your heart desires, you must pursue hospitality. This industry gives excellent opportunities to travel around the world and allows you to become an ambassador of your country. A wise man once said, "the world is a book and those who do not travel read only one page."
Another thing I would recommend to the new generation is to be patient and resilient. The hotel industry requires strong foundational skills. When I started my career, my uncle advised me to start from a grassroots level, as he explained: the deeper the foundation, the taller the building. Thirty years after working as a waiter, as I said earlier, I still feel that working as a waiter was one of the most critical decisions and changed my life for good. If you are interested in working in hotels, be patient, learn, and spend as much time as possible at the entry-level because it will give you the foundation to build on and grow. Success will come if you have a passion for doing the job and the patience to build your future in this career, but it takes time.
Q.: How has hospitality changed throughout your career globally? I think the most drastic change happened with the pandemic. How did Four Seasons prepare themselves and face the challenges of the pandemic? In your opinion, will we ever return to the industry's pre-pandemic rules?
A.: In the thirty years of my professional life, I have lived and worked in nine countries and four continents worldwide. I can tell you one thing about hospitality: the basis of hospitality is the human connection, which can never change. It has been the key element in communication worldwide since ancient times when the traders passed through the Silk Road and stayed in Sarays when the inn-keeping business was just beginning. Hospitality has always been about human connection, regulated by the level of personal attention. The significant evolvement I see these days is that it is more on a digital level.
I agree with you that the most drastic change happened with the pandemic. We at Four Seasons were visionaries in launching a Four Seasons mobile app, which we upgraded just before the pandemic. We established the app to help us customize guest experiences and connect with them on a real-time basis for elevated luxury experiences. In COVID-19, the mobile app came to the forefront when personal connections were limited. I also want to mention that at the start of the pandemic, our company was leading the way as the only hotel company to have a consulting agreement with the leading medical fraternity in the world at the Johns Hopkins Medical Center in the US. We jointly established a COVID-19 Advisory Board to inform us about health and safety decisions based on the latest scientific knowledge. They guided us on how to fight COVID and how it will impact different touch points with the guests and employees to ensure that we keep everyone's safety at the front and center of each experience. Regarding returning to the industry's pre-pandemic rules, I feel the cleanliness and hygiene standards we observed during Covid times are here to stay and are for our betterment.
Q.: Half of your career has been with Four Seasons Hotels and Resorts. Tell us what the core values in the DNA of this brand are.
A.: Our company's core values are encompassed in our golden rule, which features in all religious scriptures. It is the golden rule on which the company has operated successfully for the last 61 years worldwide. It is about "treating others as you want to be treated yourself," and it is our foundation. It allows our employees to express themselves in a safe space and contribute effectively to each other and guest experiences. Besides the golden rule, the four pillars of our company are quality, service, culture, and brand. We provide the best-in-class quality and the best-customized service to our guests; that is where our culture lies.
Four Seasons is the operator of mid-size luxury hotels, providing the same high level of service in Baku and worldwide. In our company, we believe that luxury is a love language we speak with every guest. It's all about focusing on quality, service, and details. Make sure that you are connecting with those guests, and it is the connection that brings our guests back to us. I can share many examples with you. In my career, I have seen a doorman develop a personal connection with the guest; a housekeeping attendant can do the same, and guests don't come back to us for me or any of the other managers but the team. It is all about personal connection and customized experiences– and this is luxury as far as we are concerned.
 Q.: This year Four Seasons Hotel Baku celebrates its 10th anniversary. What is the primary mission of your hotel?
 A.: Our mission is to introduce the well-known luxury service of Four Seasons Hotels & Resorts and develop local talents. Over the last ten years, we have increased the number of local managers we hire. We support them to gain international exposure by transferring them and helping them become global hospitality professionals. As a company with an international presence in 47 countries, we can do the same with ease, differentiating Four Seasons from its competitors.
Four Seasons likes to blend with the local culture and traditions wherever we operate, transfer our skill set to the local talent and help them to elevate, and this hotel is no different. Our mission here in Baku was also to integrate ourselves into the society. We have raised many local talents successfully and have many examples of fruitful partnerships with local companies where we have brought local expertise to our luxury offerings. Our efforts have successfully amplified the authentic Azerbaijani hospitality through the lens of Four Seasons over the last ten years, and this is our success story.
Q.: What makes Four Seasons Hotel Baku different from any other hotel in the city?
A.: Besides our iconic building that looks like a palace and the location of the building, which is fantastic, our most differentiating factor is our people. Our people who provide high-quality class service to our guests are our biggest asset. In a safe environment that is signature to Four Seasons Hotels and Resorts globally, we allow our people to be themselves, express their character and deliver the service in their unique way. Our high standards of service, attention to detail, unscripted acts of kindness that we give each other, and our guests keep us far ahead in our game.
Q.: What other projects and initiatives do you plan to make the stay of Four Seasons Hotel Baku's guests more enjoyable?
A.: The hotel is moving towards responsible environmental sustainability and governance. We are following an action plan to support us in achieving UN sustainable development goals. We have stopped using single-use plastics in our restaurants and are moving toward the zero single-use plastic goal by the end of the year in the entire hotel. As a responsible business operator, we plan to switch to bulk amenities (in our guest rooms) by year-end. As I mentioned, we take pride in cultivating and supporting local culture and traditions. For example, during the Novruz holidays this year, we collaborated with Azerkhalcha (manufacturer of carpets in Azerbaijan) and famous Azerbaijani sculptor Chingiz Babayev. We showcased their work related to Novruz in our lobby. Through these art pieces, we gave tribute to the Azerbaijani carpet and Azerbaijani art and traditions. The Azerkhalcha art piece was created from carpet leftovers, 100% recycled wool, promotion of sustainable production. One of the art pieces' highlights was eggs (representing Novruz) made from 100% recycled wool. These kinds of initiatives help us to showcase the Azerbaijani culture to our guests, which makes their stay memorable.
Our team has prepared several initiatives for our tenth anniversary in September to create a celebratory mood for Baku residents and the city's guests, allowing them to immerse in the country's culture and traditions. We are proud to highlight our partnership with Meysari Winery among many exclusive and unique collaborations. Together we have created limited edition bottles of their premium wine Makhmari for our 10th anniversary. Another exciting partnership we have done is with the Moser brand. We are using their handcrafted limited-edition glassware, specially made to pay tribute to "mugam," for our celebratory afternoon tea with a variety of local tea and culinary delight offerings. As we enter the autumn season, Bentley's Bar is reopening with a unique collaboration with whisky brand Macallan. It will enhance and bring a richer experience to gatherings with old or new friends over whisky and cigars in the intimate club-style lounge. At our Jaleh Spa, we have introduced a new treatment – Paillettes d'Ambre massage candle by marocMaroc. A luxury brand that perfectly combines well-being, pleasure, and efficiency, marocMaroc creates a poetic atmosphere: the gestures of traditional Moroccan beauty. In September 2022, guests have an opportunity to book a sensory massage and enjoy a complimentary 30-minute extension of the treatment.
We look forward to welcoming our guests to come and enjoy this celebratory "tour."
 Q.: Azerbaijan's government considers tourism one of the most promising non-oil sectors. What kind of tourism has the most significant potential here? How do you see tourism prospects in Azerbaijan and Baku in particular?
A.: In 2019, we saw 3.2 million foreign tourists in Azerbaijan, and there is more room for tourism in the country. The country's vision is evident in hosting international city-wide events such as F1, Eurovision and UEFA Champions League, which has already put Baku on the world map and promoted tourism. We must also give credit to the Azerbaijan Tourism Board for a fantastic job in continuing to further the vision of the country. It has helped represent the country in international travel forums and road shows.
I believe international tourism will continue to develop. I am very optimistic about the growing number of tourists. Azerbaijan is a unique destination that continues to be discovered and has a lot to offer both in Baku and the regions. Being close to the middle east and Europe, I feel more can be done to make it people's first choice for a quick vacation. Also, as a destination offering all four seasons, it can be promoted as an excellent destination for tourism throughout the year.
I think both leisure and business tourism have equally high potential here. We already have an excellent infrastructure built to attract tourism. Easing visas and enhancing air connectivity and frequency as ongoing projects will help bring in more tourists. Bringing more global events to the country will support further development of this goal, eventually benefiting all hospitality-related businesses.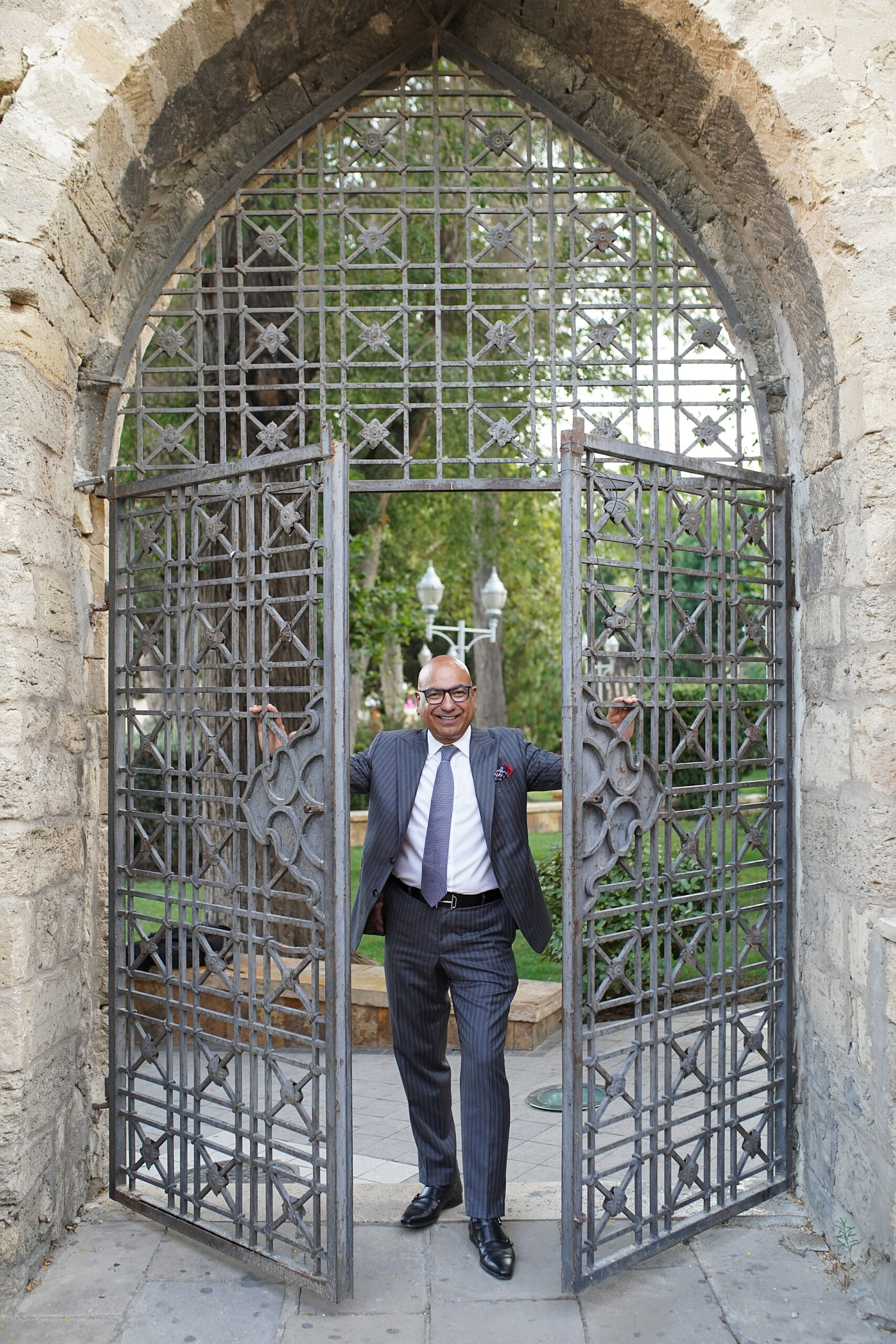 Q.: Living and working in Baku. What is it like for you?
 A.: Moving to Azerbaijan in September 2019, I didn't know what to expect as I had never visited the region earlier. I can say that Baku pleasantly surprised my family and me with its people's hospitality, warmth, and authenticity. I was overwhelmed by the warm welcome that my Four Seasons family gave me and even more touched by the welcome from the local community. The city is safe and clean and one of the best destinations I have lived in the 30 years of my career. I have become a big flag-bearer of Azerbaijan as I love Baki, the Azerbaijani people, and even more so, living here! I have been fortunate to visit many regions – like Sheki, Shamakhi Lahij, Shagdag, Quba, Khinaliq Ganja and Lankaran. They are all fantastic and different, which is a beauty. Everywhere you go, the hospitality of the people is noticeable. As I discover the country, I am pleasantly intrigued by Azerbaijan. Seeing the mud volcanoes and the first oil well in the world made from wood is incredible! When I say that to my friends and guests, they become enthused by this.
Promoting Azerbaijan is not just the role of the Tourism Board; it is also our obligation and responsibility as a leading luxury hotel in the country. There is much we can do to get the word out about Azerbaijan. As a company, Four Seasons Hotels & Resorts organizes networking events in different countries where we, as FS Baku, participate and present Baku and our Hotel to our top clients. For example, we did it in Spain last year and this year; we are heading to Thailand for a similar event. As a leading hotel in the country, we will continue to do our part in promoting Azerbaijan and showcasing this destination to the world.