One and a half years ago, amidst global changes in the telecommunication industry, Zarina Zeynalova was appointed as the CEO of the Azerbaijani mobile operator Azercell Telecom LLC. Since then, the company has successfully implemented a strategy to expand and modernize its network and technologies, as well as its digital development strategy.
During this interview with the Azeri Observer, CEO Zarina Zeynalova answered questions about the goals accomplished and provided perspectives on transformation and development.
AZERI OBSERVER EDITORIAL STAFF
Question: What key trends in the sphere of telecommunications and mobile networks affect Azercell's current business strategy?
Answer: The digital technologies that are being introduced are becoming important parts of our lives, of the economy, and of society as a whole. Artificial intelligence and machine learning have long since been implemented by leading players in the global market.
5G and 6G networks, wireless networks with low power usage, and other similar technologies introduce many new digital solutions to our lives, stimulating growth and increasing productivity in various industries. Simultaneously, demand for traditional services such as voice calls and SMS messages is decreasing, and these trends will continue.
Another important factor is the increase in the technical literacy of consumers. Consequently, in the last decade, online platforms and self-service models have changed the market significantly, motivating clients to enter the digital era. As users' technical maturities increase, their expectations also change. With a better understanding of what the market offers, consumers become more selective and demanding.
Q.: One and a half years ago, you were appointed the CEO of Azercell amidst major changes in the global telecommunications industry. What tasks lay ahead for you?
A.: In the last few years, especially during the pandemic, the telecoms industry has become one of the most important due to its key role in enabling communication and accelerating the process of digitalization. In order to maintain a competitive advantage in this dynamic market, tech companies must constantly invest in new systems and solutions.
However, in Azercell's case, one of the company's main investors at the time – Telia Company AB (Sweden) – gradually cut their investments in the company and eventually leaving the Azerbaijani market altogether. This deteriorated the quality of the network and increased negative reviews from users, resulting in an overall decline in Azercell's performance.
In my new role as the CEO of Azercell, I decided that my main goal was the development of a strategy that would first and foremost expand and modernize our network and technologies. Without first achieving this, there could be no discussions about future demand for unique new products and services or the development of new directions to ensure the future growth of the company.
Q.: What projects have been implemented by the company recently?
A.: This August, we launched a large-scale project to expand and modernize the network by increasing the capacity and coverage of 4G (LTE) across the whole country. Within this project, we have already upgraded over 30% of the planned 1,600 stations, with the help of the modern single radio access network technology SingleRAN, which allows mobile network operators to support multiple standards simultaneously. This led to a four-fold increase in network traffic due to the higher rate of data transfer.
Furthermore, in the next 12 months, we plan to install over 300 new stations across the whole of Azerbaijan. Additionally, in a short time frame, we supplied 4G coverage to all 24 stations and tunnels of the Baku underground network, providing high-speed internet even while trains are moving.
I also want to mention that over 90 new 4G stations have been installed in the liberated territories. Taking into account the importance of sustainability and energy efficiency, we began deploying stations that run on solar energy. By the end of 2023, 35 solar battery powered base stations will have begun operating in Karabakh.
Alongside this, we launched a comprehensive program for the renewal of our IT infrastructure and software. This includes modernizing the business support system (BSS), which facilitates closer interactions between clients and companies related to everything from orders and subscription renewals to billing issues. Thanks to the effective new BSS decisions, we can simplify workflows, improve the quality of service, and, most importantly, resolve customer issues faster. This process will also help to expand our ability to create and introduce more flexible tariffs that are tailored to the needs of our customers.
I want to note that, in order to implement key projects, we have attracted and continue to attract world-class technology and software solution producers. Collaborating with such leading companies simultaneously increases our capacity and contributes significantly to the professional development of our staff.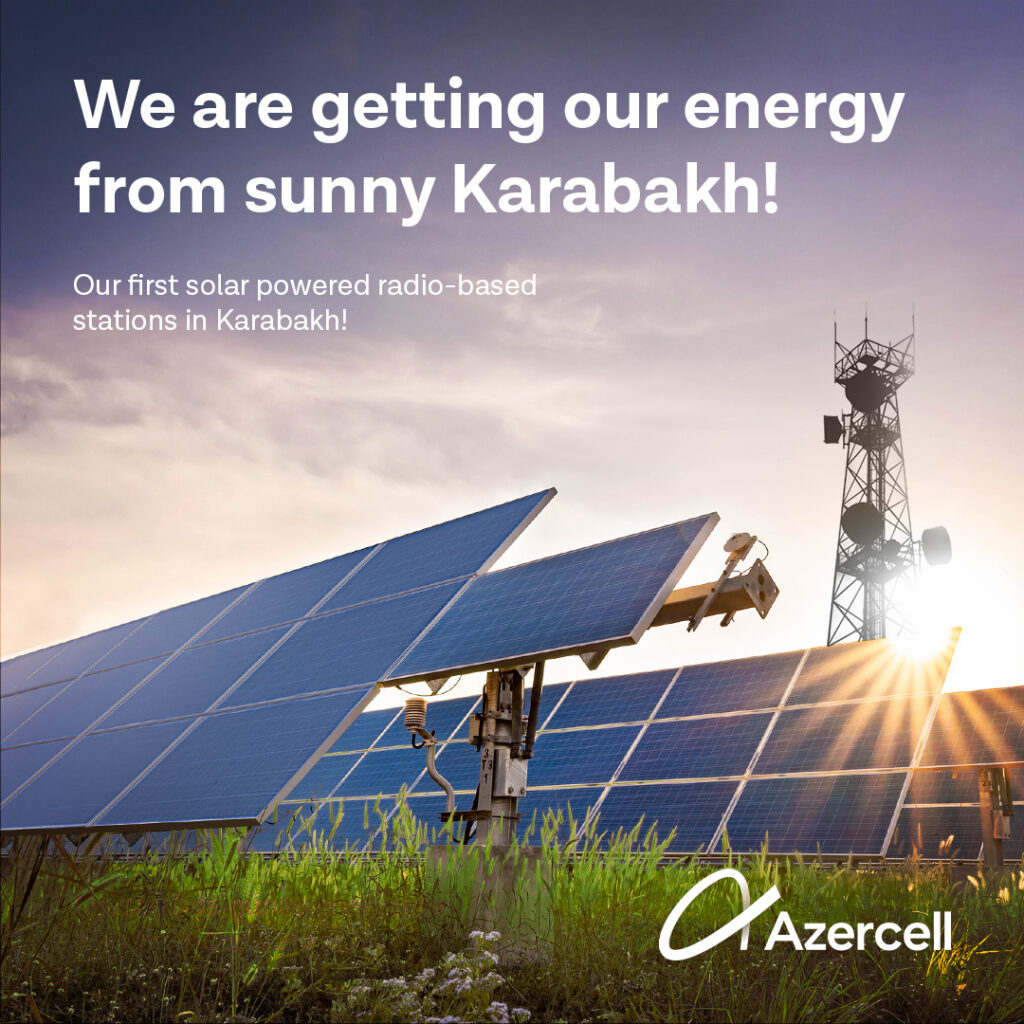 Q.: How will these changes directly affect users and the quality of the service they receive? Will there be any changes in the way the company communicates with its customers?
A.: Our strategic goal is to provide quality service and uninterrupted mobile connection to our users, as well as innovative products and solutions that will ease access to new opportunities for global integration. In fact, these are the exact aspirations we tried to reflect in our new slogan: Sənə yaxın gələcək ("the future's close to you").
Considering the above sentiment, one of the tasks we set out to accomplish this year was to optimize our retail network, thanks to which we can now provide customer support in all Azercell stores across the country. Our company works closely with dealers. They are key partners and important links between Azercell and our subscribers. We recently organized a large-scale event for all our dealers, which allowed us an opportunity to discuss the development of our company strategy, outline our new expectations with regards to the quality of service for our customers, and introduce new products. To achieve this, we started a conversation, giving the attendees a chance to ask questions and share the feedback they received from our subscribers.
Furthermore, Azercell opened two branches in Shusha and Zangilan, making us the only operator with sales points in the liberated territories, providing customer support to our armed forces, city administrators, and companies operating in these regions.
To commemorate the first anniversary of our victory in the Patriotic War, Azercell has launched the sale of new phone numbers with the prefix 010 and the slogan "The choice of winners!" With the aim of improving the quality of service and increasing transparency, Azercell created an online channel for the sale of these new numbers. Customers can choose from a wide range of available numbers and purchase them online at www.azercellim.com.
Q.: You mentioned earlier that an increase in demand for new services is important for the company. Can you please share the work carried out in this sphere? Do your internal processes change in light of this demand?
A.: One of the main accomplishments in meeting customer demand has been the new İstəSən ("design your own") tariff. This is the first flexible tariff that allows Azercell users to design their own monthly mobile plans based on their preferences and digital habits.
Within the development of new directions, Azercell is expanding its digital product portfolio. This summer, we launched a fintech project based on the idea of using your smartphone as a digital wallet to facilitate cash transfers, utility bill payments, and other such transactions.
Additionally, this August, Azercell was the first player in the Azerbaijani telecommunications market to launch a project grounded in artificial intelligence (AI). During the pilot stage, our Virtual Assistant "Alcell" will, upon analyzing a customer's verbal request, redirect the call to the relevant operator. One of the key aspects of this project is that the Virtual Assistant will provide a range of services in Azerbaijani.
With regards to the process of optimization, we launched another project concerning efficiency last year. Within this program, we optimized a part of our internal processes and significantly optimized costs in a relatively short period of time.
 Q.: Based on what you have said, a lot has been accomplished. When will the first results of the implementation of the new strategy be visible?
A.: Our strategy is already proving to be effective. The positive changes are reflected in the reports from our partners, and, more importantly, from our customers.
I am certain that next year will be a record year for Azercell in terms of infrastructure development; we will continue to increase the speed, capacity, and coverage of our network. By the end of next year, we will completely modernize our network across all regions, including the liberated territories, giving users access to a high-quality network across the entire country.
My team put tremendous effort into achieving the goals that were set for that period, but I think that it is a process of continuous improvement. Technological progress requires constant improvements in service, products, and decisions. We rely on our users for this, as their feedback and suggestions allow us to move forward, and, for that, we are very grateful to them.
 Q.: Currently, the development of 5G remains a priority around the world. What is happening with regards to preparing for the launch of 5G in our country? Are there any specific timelines?
A.: We have successfully completed all internal trials and are actively preparing our infrastructure for the launch of 5G. We will be ready to begin its gradual deployment as soon as we receive all the relevant licenses.
Q.: To date, there are not many tried-and-tested practices for using 5G to help predict the possible options for its monetization. Have you considered these risks?
A.: You are absolutely right. Currently, there are more use cases for 5G within the business segment. The advantages of 5G are faster speeds, fewer delays, greater energy efficiency, and the ability to connect more devices. This creates a unique opportunity to develop new products in spheres such as the Internet of Things (IoT), campus networks, telemedicine, and digital broadcasting. Subsequently, 5G solutions bring invaluable benefits to the business segment.
Although 5G allows for higher levels of quality and faster access to broadband internet, the full possibilities for its implementation at the consumer level are still being explored around the world.
We also need to consider the fact that research into the applications of 5G requires significant capital investments. In order to make the most of such investments, the spending needs to be planned carefully and wisely, finding the balance between the benefits of 5G for customers and the cost recovery.
Q.: You briefly mentioned Azercell's developments in the fintech industry. Could you please tell us more about how telecom companies impact the fintech market?
A.: To answer this question, I would like to remind you that consumer demand has long ago extended beyond the simple need for communication. There is a growing demand for complementary services, and fintech serves as a good example of this global trend.
Digital payments and transactions are becoming the new norm. Due to this, there is high demand for the ability to make payments via smartphone or to link a digital card to your phone. This impacts customers who, for various reasons, have limited or no access to financial services, as well as those who prefer a simplified process for connecting to new services.
Generally speaking, the strength of a telecommunications company is not only rooted in the size of their client base but also in their ability to capture customers across different age categories. Let's not forget that current generations become smartphone users at a relatively young age; thus, their relationship with the telecom industry starts much earlier than with other services. This gives network providers an advantageous opportunity to establish a relationship with their clients early on.
By providing these services to the population, telecom companies go beyond the traditional provision of mobile networks, providing customers with chances to make cash-free purchases of goods and services, as well as promoting financial involvement.
Q.: Speaking of the business components, one cannot fail to mention that Azercell is an organization that makes significant contributions to the development of society.
A.: You are absolutely right. As a company with a longstanding and successful tradition of corporate social responsibility, the implementation of our goals and what we do for society are both extremely important to us.
For example, to support the digital development of non-profit organizations, this year, we announced a competition for social projects. The winners were the Autism Centre, SOS Children's Villages, and the start-up project Fem Tech.
I also want to note that, for many years, Azercell has protected children's rights by supporting the Children's Hotline Service, in partnership with the public association of social initiatives "Ümidli Gələcək." This year, for this very project, we initiated the launch of a hotline providing psychological, legal, and social assistance to women who have experienced domestic abuse.
Furthermore, as part of digitalization process and the promotion of the cultural heritage of Azerbaijan, during the year dedicated to the memory of Nizami Ganjavi, we created audiobooks with the works of the great poet in three languages. The next audio collection, which we prepared in commemoration of the year of Shusha, was presented in five languages in December.
Q.: How do you see the future of the company?
A.: As I mentioned at the start of our conversation, the telecommunication industry across the globe is looking for ways to diversify in order to transform its business model and find new opportunities for growth. Around the world, network operators are developing their digital development strategies that involve the use of big data, system integration, the Internet of Things, e-commerce, and the development of cloud solutions. We are no exception.
In order to maintain our position as market leader, we will continue to focus on the global trends, integrating them further into the daily lives of our customers. That means that we must constantly work on developing new technologies, finding new solutions and growing our human capital while developing and improving.
 Q.: What do you see as the basis for conquering new horizons?
A.: Definitely the company's employees. It is simply impossible to accomplish ambitious goals without a healthy and effective working environment with motivated and dedicated employees. In light of this, alongside the modernization of our technologies and systems, we are improving our organizational culture and internal processes in order to remain one of the most sought-after places to work in Azerbaijan.
I am very proud to lead a team of professionals who strive to deliver high-quality results and continuous improvements. I am grateful to every single member of our organization! Together, we are doing everything to execute our goals and strategies and to meet the expectations of our clients and stakeholders.