BY SALATYN MIRZAYEVA
AZERI OBSERVER STAFF WRITER
"Azerbaijani socks", in all fairness, could  be called an Azerbaijani-American brand. The creator of the brand,  Teresa Hemlin, came to Azerbaijan from the US state of Minnesota. In her products, she combined the centuries-old culture of the Azerbaijani traditional craft of hand-knitting slipper socks called Jorab and the American approach with the introduction of global trends. Having lived in Azerbaijan for  20 years, Teresa has studied the most ancient traditions and culture of the region, the life of the country, the customs and everyday life of various localities. Today she is fluent in Azerbaijani, in which, she told us the story of creating her brand and her personal approach to promoting it.
Acquaintance with Baku
I first came to Baku in 2000. At that time, I was studying in the U.S. as a teacher of English as a foreign language. During our studies, we had to travel  to another  country for practice. So I came to Azerbaijan and taught English here for a month. In 2004, I returned to Baku again. The goal was the same – to teach the language. I enjoyed the life here so much that I decided to stay for a long time. I worked in Baku, and then I found a job in Qusar. I  moved there to teach English to the staff of the Shahdag mountain resort hotel. In Qusar I met many interesting people, fell in love with village life and traveled to many extraordinary places.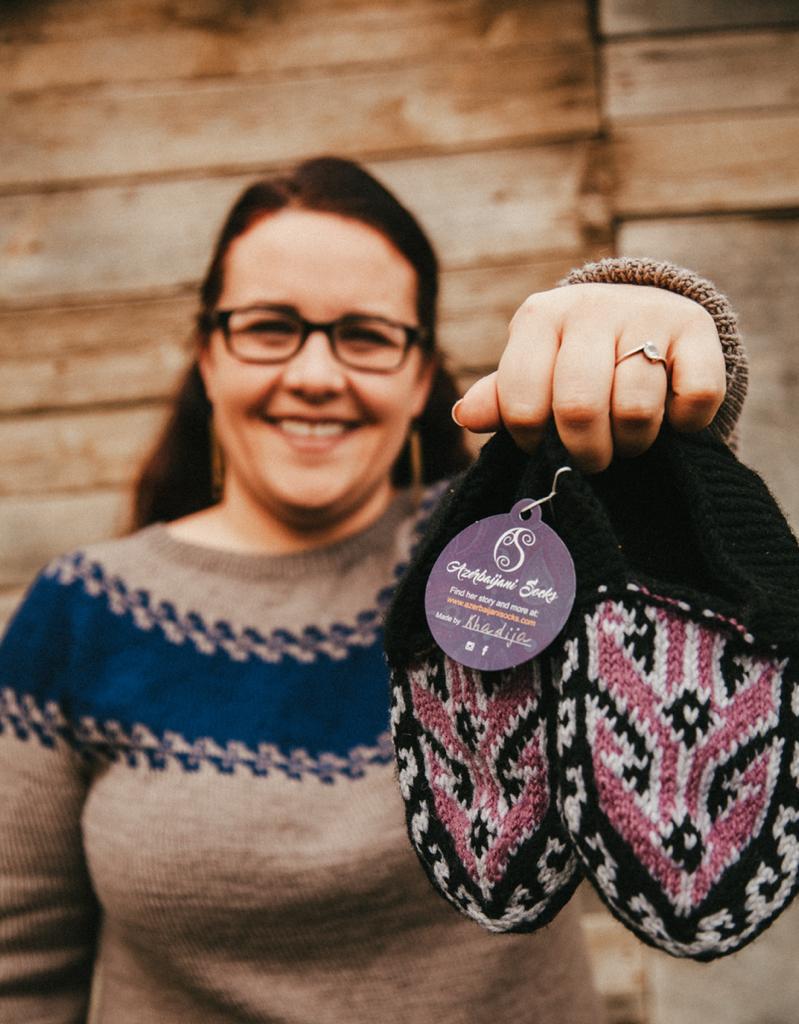 Idea of ​​creating the brand
Socks – which are better known among the people as jorab – are very popular among the Lezgins, a major ethnic group living within Azerbaijan. These beautiful and colorful socks have been a rich part of Azerbaijani culture for centuries and were traditionally made as part of the bride's dowry. Unfortunately, it was very difficult to find  any to buy them. And those that were available in bazaars were not of good quality.
I really liked to take jorabs as gifts to my homeland, to give to my mother, friends from America, as well as foreign acquaintances in Baku. Quite unexpectedly, they gained popularity among my social circle. From time to time they began to contact me with requests to order them socks, only knitted from high-quality threads, which made me think.
After some time my contract with the hotel expired, but I  did not want to leave  Qusar at all. So I thought about how to connect my life with this region and began to study the culture of knitted socks – jorab. I went around all the shops in the Old City, to the bazaars with local goods. As it turned out, many of the jorabs that you see on the shelves were brought from Iran and the Russian Republic of Dagestan. But neither the color, nor the design, nor the quality of the presented goods resonated in my heart. I realized that this area required attention and I was the one who could help fill this void. This is how the idea of ​​creating our brand was born.
My team throughout Azerbaijan
In the beginning my team consisted of a few people – women I knew, to whom I had approached with an order previously. But when my customer base expanded and many people became even more interested, I realized – it  was necessary to go on a new search to grow my team and acquire new designs. I learned that many good knitters live in Lankaran and Lerik. It was the eve of my birthday and I decided to arrange an interesting trip for myself to celebrate it. It was decided to walk around the most remote areas of Azerbaijan for one month. It was a very stimulatingtrip to Quba, Lankaran, Qakh, Lerik and Lahic where I discovered manyunknown things. Each region is unique. I really like the process of eating and cooking. The life of a nomadic family that changes its location depending on the season, loading their entire household into a big car, was fascinating to me. I love to cover the life of Azerbaijan through my Instagram account. In addition, we knocked on every door and found many knitters who gladly accepted our invitation to join the "Azerbaijani socks" family.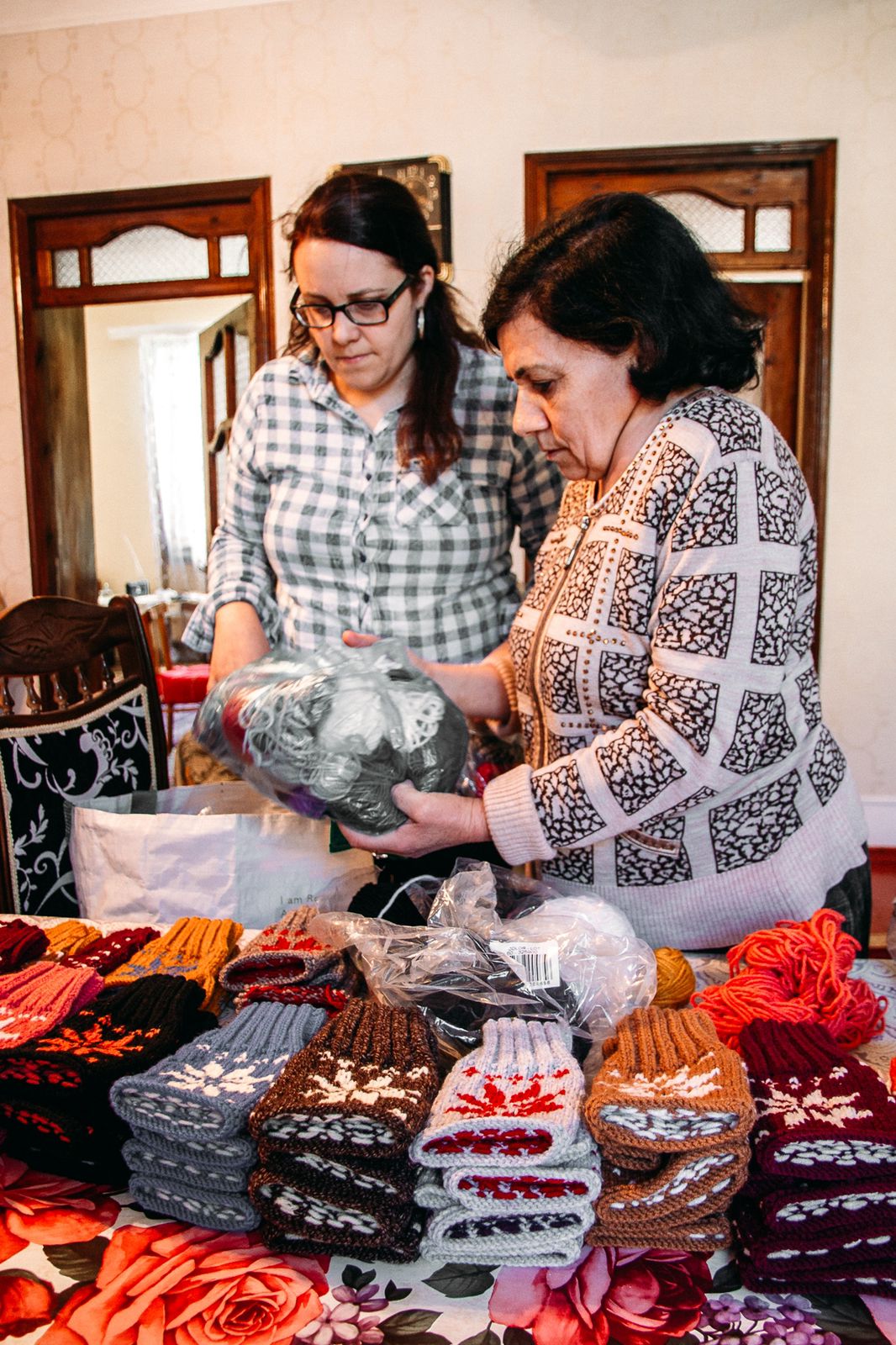 Originality of regions' cultures reflecting in handicrafts
As you know, each region of Azerbaijan has its own style of knitting, with its unique patterns and colors. I realized this when I visited the most remote places, which are rarely visited by tourists. Now our knitters work in about 14 districts. Each of them has their own vision, technique of knitting, knowledge of traditional patterns – nakhysh. So far, I have had the opportunity to work with 200 masters.
All these women are united by…
A love for what they do. Pride in their work and the need for the products they create. Women who live in the regions are in great need of this kind of work, especially in the wintertime, when they are mostly at home. In the summer they plant, harvest and spend time in the garden, and in the winter there is a more passive lifestyle.
In the most difficult moments it helps not to give up…
Responsibility to my employees . I always remember that somewhere there are women who are anxiously awaiting new orders from me. Every time their faces appear before my eyes. This is what keeps me going.
Conquering America
When I lived in Qusar I expressed my desire to open my own business for the manufacture of jorabs. Many people ridiculed this idea: "Who needs these socks?! Who will buy them?" But I believed that there would indeed be buyers! Our brand is already six years old and during this  time we have managed to gain popularity in America . Our products literally sell out online through the Etsy website. This has caused me some issues with shipping and postage.
It would be very good if they would simplify the process of shipping goods abroad for small businesses. In addition, the goods of the brand "Azerbaijani socks" are quite popular among foreigners who live in Azerbaijan, tourists who come to the city for example. It is a very interesting souvenir from Azerbaijan, which carries in itself the concept of warmth, color and traditional patterns, made by the hands of beautiful local women. In 2021, we opened our store in Patamdart. I very much hope that over time I will manage to gain popularity among Azerbaijanis, who are not very interested in buying these products at the moment.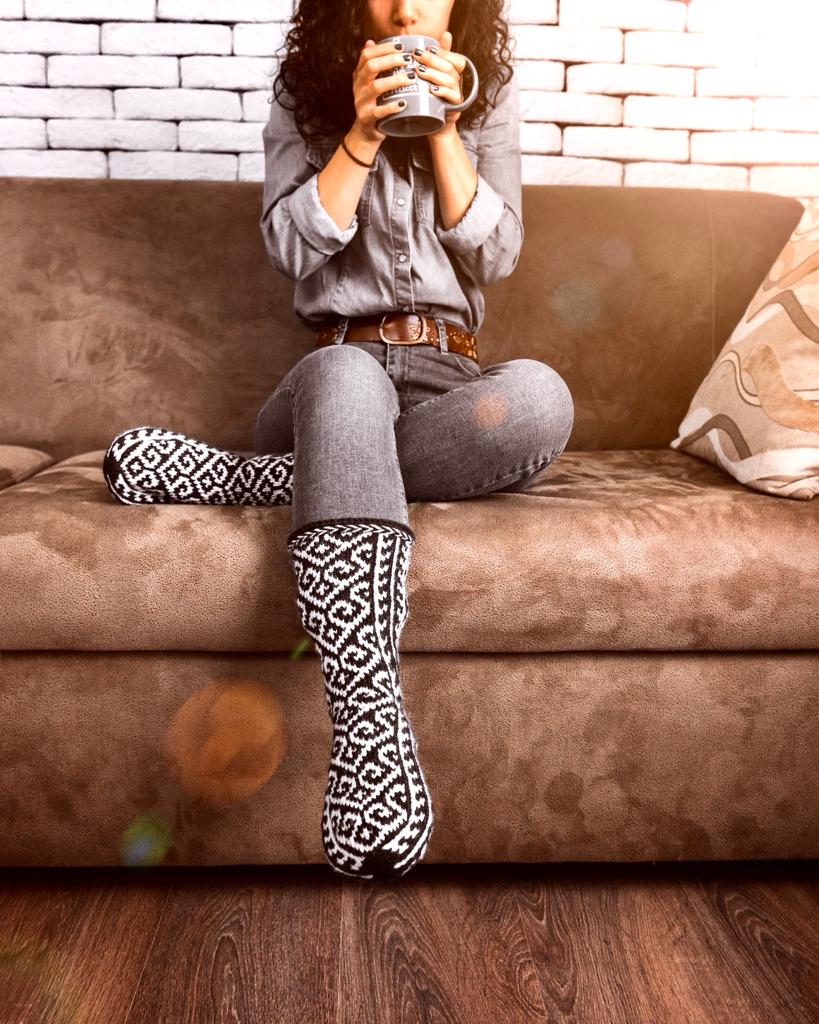 A modern take on traditional jorabs
We've made some changes to the design of the socks with the aim to extend their lifespan.  The changes concern the sole and the threads used. Women used to sew old denim into the sole of their socks to keep them from chafing quickly. But it does not look as presentable and causes some inconvenience when walking. Now our special craftsmen use a special technique to attach a suede fabric to the soles of ready-made jorabs.
Patterns you see on our models are traditional. I leave this decision  to the women who know this better than me. As for the color, I choose the range personally. This takes into account the preferences and tastes of our customers. In the U.S., for example, a different color perception, where the emphasis is on calm and pastel colors, while in Azerbaijan, by contrast they prefer brighter, "vivid" colors.
Sometimes knitters complain: "What kind of colors did you give us? Why black? Give us colors that are pleasing to the eye" (laughs). There are, of course, cases where I completely trust the knitters, and sometimes we change something in the process,  in order to find a better solution.
Brand aspirations
When I started my business, I wrote a list of my wishes and expectations. I wrote that I wanted to have 10 knitters. As I noted above, I now work with 200 knitters all over Azerbaijan. So that number completely exceeded my expectations.
Every week I get messages from women who offer their services and want to work with us. I don't like to say "no", because in the eyes of each of them is the desire and ambition to create and become part of our brand. During the pandemic, the need for work especially increased, so I tried my best to say "yes" to everyone who wrote to us.  One of our main goals is to improve our products and raise the brand to an  appropriate level. I have no competition either in Baku or in the world. There are, of course, individuals who knit and sell, but this is a small business. Future plans are to create a line of winter hats and sweaters with national ornaments and patterns to continue this line.
The fashion of tradition
Americans are very interested in traditional things that carry information about a country and its culture. Unfortunately, in the U.S., attachment to such things is not quite preserved. Sometimes people advise me to add or remove some details in order to modernize the jorabs, but I don't agree. What is important to me is originality, which expresses the uniqueness of the piece. And uniqueness is always in fashion! I also really like that people have started to pay attention and popularize the Azerbaijani kelagayi. I used to always say that we should appreciate this culture.
Brand values ​​and trends
The human factor plays a fundamental role in the promotion of any business. These trends are very popular in the U.S. today. People often think about the person behind the product they are buying, the conditions under which that person worked, and whether he or she received payment for his or her work. People find that many brands sell things for a fabulous amount of money, even though they have only paid a few pennies for human labor. People don't want to wear these things because it is morally wrong. On each label of a jorab made under our brand, you will find the name of the artisan. On our website you can read the story of everywoman whose product you bought and will wear. It is very important tous that the person and their work is above all. These are important trends that will always be relevant.