The first national brand of the CafеCity restaurant chain and LaQuzu, CityPub, CityPark restaurants created under its auspices are natural attractions of the city of Baku for real gourmets. Meanwhile, their menus can teach you the flavour thesaurus of the highest level and all the depth and variety of national cuisine. General Director of the network, Mr. Emil Aliyev, told Azeri Observer what makes the taste of a dish expressive, and what lays the foundation for a successful restaurant business.
BY SALATYN MIRZAYEVA
AZERI OBSERVER STAFF WRITER
Question: You have been working in gastronomy for over 25 years. What initially sparked your interest in this area?
Answer: Bad behavior at school (laughs). I was kicked out after 9th grade and culinary college was the only remaining option. I chose this path, because of the fear of my father. After three months of studying at college, we went to work as trainees at the Gulustan restaurant, which was famous for its large-scale high-level events at that time and was considered the best restaurant in Azerbaijan in the early 1990s. That is when I fell in love with the restaurant business, and it completely absorbed me. I set myself the goal to reach to the very top of the career ladder.
Q.: That means that initially, you chose this path just by coincidence. How did you figure out that this is what you want to do in your life?
A.: I was impressed by the high professional level in Gulustan. It had its own culture. The scale of its events and the ability to organize everything competently captivated me. Frankly speaking, being in college, I did not thoroughly understand how to apply my knowledge in practice, but at Gulustan I assembled my ducks in a row. I am positive that it was a great school and consider myself privileged to have attended.
Q.: You say you weren't the most engaging student at school. How did you perform as a college student and an intern in the restaurant industry?
A.: I established myself as the best intern and I completed all the tasks that were set before me. It was my love for the restaurant industry that pushed me the most. In a short time, I became a self-sufficient cook, gaining a wealth of knowledge and skills. After graduating from college, I started to float freely and worked in various restaurants, where I became one of the best in the sphere by applying all my knowledge.
Q.: Do you think you have reached the peak of your professional career?
A.: First, I had to become a good cook, then perseverance and tireless work helped me step by step to convert into a chef, chief technologist, deputy director, and finally the CEO of the CafeCity restaurant chain.
Q.: Which one was the most difficult job?
A.: Here the responsibility of a person is even more important than the job title. Every profession, every job position is difficult if you do it thoroughly.
Q.: Tell us about the creation of CafeCity. What are the main milestones in the history of this network?
A.: When I met the founders and creators of the future CafeCity network, I had my own event company and organized public and private events, celebrations, and receptions. The founders of CafeCity originally planned to open a Double Coffee franchise. However, I decided to approach this matter in a different way. I suggested applying my experience and creativity to launch their own restaurants similar to the Double Coffee brand, but in a more unique format. The founders found the proposal interesting, and we organized several food tests. After all the debates and negotiations, I was appointed as the chief technologist of CafeCity. Our first restaurant, which opened in Rashid Behbudov Street in the city center in 2009, was a great success. That is why we opened more branches in Fountain Square, and later in 28 Mall, Ganjlik Mall, and also in Icheri Sheher (Ed. Note: Old city). Now, our chain compiles of nine restaurants, including restaurants under CafeCity brand, as well as such newly developed concepts as La Quzu restaurant in Icheri Sheher, City Park in Ganjlik Park, and City Pub.
Q.: What makes these concepts different and what audience are they designed for?
A.: Our new concept restaurants are City Pub, La Quzu, and City Park. City Pub is mainly based on beer snacks, various types of beer drinks, and a variety of sets. In addition, its menu adopted some national dishes from CafeCity. City Park offers mixed cuisine for those who like to learn all the tastes of European cuisine. In this restaurant, we not just welcome individual guests, but also organize banquets and celebrations. The spacious terrace and the sea view make City Park perfect for such occasions. In La Quzu, you can try delicious national cuisine, enjoy the beauty of the courtyard with green spaces and listen to live music.
Q.: What is the showcase of all your restaurants?
A.: Our menu. As much as 40-50% of its dishes were introduced back in 2009, when CafeCity was founded, and they are still popular. At the same time, we do not stand still, but try to keep up with new trends, and meet changing taste preferences. We constantly develop our menu. Though, it is a very delicate process, because the guests do not always welcome innovations.
Q.: It means you are taking a risk experimenting with the menu?
A.: Our experience helps us not to make mistakes in the process. We have learned the tastes of our visitors for over the 14 years we've been in business and now we try to predict what they might like or not. It is quite difficult to experiment in CafeCity, because our main target audience comes for their regular dishes. However, we update our menu twice a year, taking into account the sales figures from the previous menu.
Q.: Does it happen that guests ask you to cook something off the menu? What do you do in such cases?
A.: In CafeCity restaurants, we usually refuse, but in La Guzu, City Pub, and City Park, we can take into account some of our guests' preferences. It also happens that guests ask, for example, for another side dish or not to serve it at all. Unfortunately, not everyone knows that when planning a dish, we consider product compatibility, which allows us to create a balance of flavours. Therefore, replacing any ingredients or side dish creates an imbalance, which is undesirable.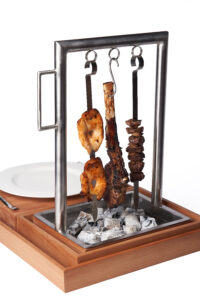 Q.: The number of new restaurants in our city is growing every day, but not everyone can stay afloats. Share the secret of CafeCity's success.
A.: That is great we are growing! I would say that flavour, product quality, service and extra services is our secret; but that's only half the story. We have created a well-coordinated team, we produce intermediate goods on our own to ensure their quality. As you noted, plenty of restaurants and cafes have opened in Baku. As a whole, this is a good trend, because people like to visit new places, get acquainted with new concepts and dishes. But they will always return to those restaurants that left an indelible mark on their memory, and they will never return to places where they did not receive positive emotions. Such restaurants eventually fail and disappear from the market.
Q.: What do you consider your biggest accomplishments over the past 13 years…
A.: Being in the market for 14 years is a great achievement itself (laughs). Over this period, we have gained great confidence and won a wide client base. This is the most important achievement, isn't it?
Q.: Do you believe that the restaurant business needs some innovations?
A.: Undoubtedly. We have already begun to introduce and apply a new format of the so-called intellectual leisure. In this context, we think not only about adults, but also the useful pastimes of our young guests. Together with the Center for Child Development with the involvement of professional teachers, we organize intellectual and educational master classes. It often happens that when children have eaten their dinner and are full, they become bored with adults who want to chit chat. Master classes give children the opportunity to communicate with their peers and show their creative skills. They are completely free of charge, and children can take the crafts they created as gifts. As for adults, pilates classes on a spacious terrace followed by a breakfast in City Park is very popular. We also organize professional breakfasts. For example, breakfast with a lawyer, when you can talk with an expert in law during a meal, gaining interesting facts about your rights. We usually invite people of similar professions to such meetings and create a unique platform where they can learn about the laws applicable to the area of ​​their work. The Day of the Ecologist and the Final of the Regional Kids Food Festival, celebrated in our restaurant, were very bright events too.
Q.: Your restaurant chain is already successful and popular among locals. What about gourmet food for the foreign visitors of the capital? What, in your opinion, do they like the most?
A.: We are the first and almost the only national brand in the restaurant business. National dishes in our restaurants are served in unique formats. We always add seasonal dishes to the menu. For example, now you can order chicken with cherry plum. A great emphasis is on the author's dishes and regional products. With national cuisine, one can say a lot about the culture and rich diversity of the country. I think this is what tourists are looking for when they arrive in any country.
Q.: How would you describe your management style?
A.: My relations with the team are exceptionally friendly, without excessive pathos. We are all on the same wavelength. However, if something goes wrong, even if it's about little things, I will not turn a blind eye. Professionalism is always a priority first.
Q.: "A restaurant is like a theater. Our task is to dazzle, amaze, entertain you… Without giving away what Hiroshima is going on behind the scenes," one famous quote says. What is happening in the kitchens of your restaurants?
A.: Interesting life always unfolds behind the scenes of the restaurant. The most important thing is that there should always be room for creativity. If a restaurant has only an endless cycle of work and no creativity and improvisation, it is a fundamentally wrong approach.
Q.: Do you have any new ideas or professional desires that you would like to bring to life?
A.: Creation of Azerbaijani haute cuisine, that we lack now. I would like to create a theater of flavours and emotions, for example when a person comes to a restaurant, makes an order, but unexpectedly receives real entertainment. Serving in this regard implies the creation of a culinary show. After all, we all love with our eyes and want to indulge not only our taste buds, but also admire visual images and experience vivid emotions. When Baku recently hosted British Food Week, I presented Shakh Plov in the form of the Maiden's Tower on behalf of La Quzu restaurant. We developed a layout of how to cook and serve the dish in advance. It was a real performance that attracted the attention of all those present. After all, cooking is an art!