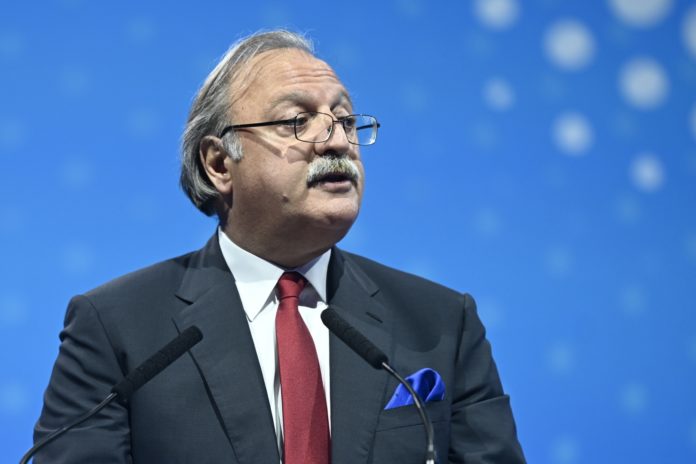 MR. GRIGOL VASHADZE, WHO HEADED THE GEORGIAN FOREIGN MINISTRY – ARGUABLY DURING THE MOST CHALLENGING PERIOD OF THE COUNTRY'S FOREIGN POLICY FROM 2008-2012 – AND THE SECOND RUNNER UP IN GEORGIAN PRESIDENTIAL ELECTIONS IN 2018, IS ONE OF THE MOST WELL-KNOWN GEORGIAN POLITICIANS BOTH WITHIN AND OUTSIDE THE COUNTRY. IN AN EXCLUSIVE INTERVIEW WITH THE AZERI OBSERVER HE SPEAKS ABOUT HIS CAREER IN DIPLOMACY AND BUSINESS, HIS WORK IN THE USSR, AN INDEPENDENT GEORGIA, AND HIS FAMILY AND SPOUSE – INTERNATIONALLY KNOWN SOVIET AND GEORGIAN BALLET DANCER NINA ANANIASHVILI. HE ALSO SHARES HIS PERSONAL VISION OF GEORGIAN FUTURE AND HIS OUTLOOK ON AZERBAIJAN.
BY EMIL M. HASANOV
AZERI OBSERVER CONTRIBUTOR
Question: What is your motto in life?
Answer: It sounds quite presumptuous and ridiculous when someone in full seriousness claims to have a life motto.
Q.: In your opinion, what is the main mission of a man in a modern world?
A.: As the very great Georgian philosopher, Merab Mamardashvili once said: "Being a man is an attempt to become human."
Q.: What motivated you to become a diplomat?
A.: The Book of Michael Kveselava, "The day of As Egtas" which I read during the fifth grade at school.
Q.: You were a part of the negotiation process of STAR 1 between the USSR and the USA. What were the main lessons learned during that experience?
A.: I was actually a member of the delegation to the Conference on Disarmament, and that international body dedicated a lion's share of its time to the chemical weapons ban and nuclear arms test ban. The main lesson learned was that nothing makes a state's position stronger in international negotiations, than honesty and fairness. The US stopped producing and stockpiling chemical weapons in 1967, however the Soviet Union had continued to produce these weapons until the comprehensive ban came into force.
Q.: Could you share with our readers the most memorable time of your diplomatic career?
A.: The war with the Russian Federation in 2008, and the consequent fight with Russian diplomacy for non-recognition of Georgia's two occupied regions: Abkhazia and the Tskhinvali Region.
Q.: You have a wonderful family: what does it mean to be a father of two children and a husband of the world-known ballerina? How did you meet your spouse? And could you tell us a few words about your children?
A.: My family is my life. Nina, Elena and Nodar are my castle. Nodar represents our family companies all over Europe. Elena is a bright schoolgirl, who is already fluent in three languages, and currently learning a fourth. Nina has stopped dancing which has broken my heart. Now she dedicates 100% of her time to directing the State Ballet of Georgia and the State Choreographic School. Both entities are extremely successful within Georgia and far beyond. I fell in love with Nina without even knowing her personally, then I stormed in her life, and after three years of perseverance, married her. This was the smartest decision I ever made in my life.
Q.: You had a long break in your diplomatic career – from 1990-2008 to be exact – and lived in New York and Moscow during this period. What forced you to leave diplomacy and become a businessman and go back to the political arena as a state-man-diplomat?
A.: I left the Ministry of the Soviet Union in 1988, because I knew for sure that the USSR was to disappear soon, as it was a doomed state and ideology. I became a free person, and it was a blessing after the Soviet civil service to not depend on anyone. I came back to Georgian civil service in February of 2008, due to the increase of pressure with aggressive action from Russia, and I knew that my Fatherland would need each and every citizen's service.
Q.: If we go back to 2008-2009, I witnessed that two well-known political figures like French Foreign Minister Bernard Kouchner, and US Vice President Joe Biden – as well as other recognized international politicians – tried to handle the political crises that resulted in a 5-day armed conflict over the Southern Ossetia. It was obvious that Europe and the US had very different approaches in handling this situation. In your opinion, who was the most efficient? Can you mention somebody else whose efforts were very strategic and efficient for Georgian interests?
A.: To make a long story short here: Georgia's independence and sovereignty was defended by Georgian Armed Forces, Georgian citizens, and our allies. If we speak about the efficiency of Georgia's allies, many heartfelt thanks to them for everything they have done for us since 1990. I would say that the role of the United States was essential.
Q.: You had both Russian and Georgian dual citizenship. Did this fact impact your political credo during the presidential race in Georgia in 2019?
A.: Not at all. I left Russian citizenship in 2010 with no regrets, simply because it was ineffective. Besides, the citizens of Georgia knew what I had done for my state while being the Minister of Foreign Affairs.
Q.: While looking back to the period when you were the Minister of Foreign Affairs of Georgia, is there anything you would have done differently?
A.: I will politely decline answering this question. Many issues are still vital, and I do not want to give an insight to our adversaries.
Q.: What can you tell our readers about Azerbaijan?
A.: I wish all the best and all the success to our brotherly nation. We are in the same boat, and will always share this commonality.
Q.: Where do you see Georgia in 10 years?
A.: Ademocratic state in the very full sense of the word; a member of NATO and the EU, and of course, we will be a much more prosperous nation.
Q.: If you could go back in time and do one thing, what would it be?
A.: Join the Georgian Armed Forces.