The spouse of Israeli Ambassador to Azerbaijan, Mrs. Anna Deek reveals to Azeri Observer about her childhood in a multicultural environment, the values she learned from her mother's knees and how her motherly advice prepared her for a life in Baku – her first experience of living abroad. She also reflects on the dynamics of family, the different aspects of diplomatic life and shares her passion for Azerbaijan.
BY ELENA KOSOLAPOVA
AZERI OBSERVER STAFF WRITER
Question: Could you tell our readers about yourself – your family, education, and professional background?
Answer: I come from a devout Christian Arab family who I love very much. I grew up in Jaffa, where we always lived in co-existence with Jews, Muslims amongst others. While in school, I was involved in many activities that brought Jews and Arabs, both Israelis and Palestinians, together to meet and work on social projects together. Our parents always taught me and my sister and two brothers to believe in God and in ourselves. They believed that hard work is the road to success in life. After graduating from high school, I worked as a bank teller for a while, and then I began my first degree in Sociology and Anthropology at the age of 19. The university studies broadened my horizons and was crucial to my personal growth. I met people from various walks of life – Jews, Arabs, Muslims, Christians, Ethiopians and many others. It was really a wonderful place to learn about each other and enrich our knowledge. I was always interested in learning about different cultures, so naturally I was very happy to have that experience.
In 2018, I went back to university to do my Masters' degree in Organizational Consulting, but I had to freeze my studies after one academic year, because my husband and I were beginning our posting in Baku. George (Ed. note: Israeli Ambassador to Baku, George Deek) and I got married only last October, so we've been married for less than a year, and in fact Baku is our first home as a married couple. We moved here in November 2019. We are now very excited since we are also expecting our first baby son.

Q.: So this is the first time you've accompanied your husband in a foreign mission. Have you had previous experience of living abroad? Do you find it difficult to live in a foreign country? What is the biggest difficulty?
A.: This is the first time I have lived abroad. To be honest, I never thought about living overseas before meeting George. Despite the fact that I love to travel and discover new places in the world, I always imagined my family life in one place – in Israel. However, as the saying goes: Man plans and God laughs. Now we are in Baku, and we are very happy to be here. I thought it would be more difficult for me to live abroad, far away from my family and in an unfamiliar new reality, but so far my experience is very positive. I discovered that my upbringing and my values are giving me the strength that I need. Since we got married just a few months ago, this all feels like one big adventure. I do not experience many difficulties, but of course I am concerned about what is happening with the coronavirus, and how to deal with the pregnancy in this reality.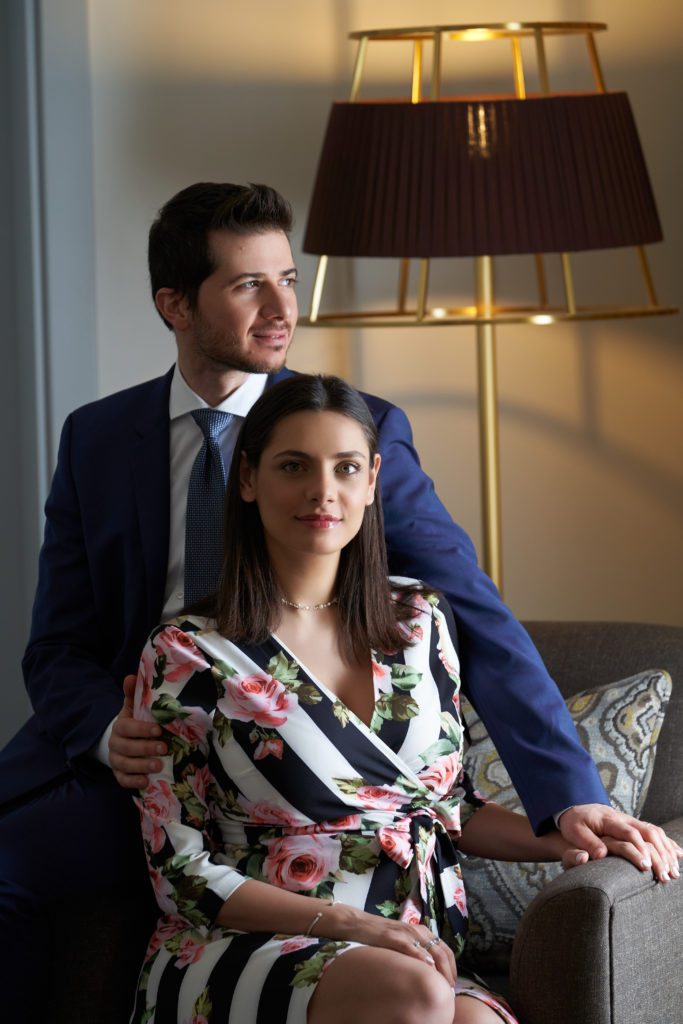 Q.: In your opinion, what is the role of an ambassador's spouse in diplomacy? What is the primary mission of the spouse of a diplomat?
A.: I believe that the role of any spouse, not only diplomats, is to support each other and to be there to help, give advice and comfort when required. It is important for any couple, especially diplomats, to understand the needs of each other, without forgetting yourself. If you are not happy and fulfilled in your own life, it will be harder to understand others and provide them support. As for our diplomatic family, I see the mission of an ambassador's spouse to take part in diplomatic events, and be a representative to the public, for example, giving interviews. I also believe that we should use this opportunity to engage in projects that promote the relations in the diplomatic community and with the Azerbaijani public. I discover new things about the life and work of a diplomat every day.
Q.: What is the most challenging and rewarding aspect of the life of a diplomat?
A.: The life of a diplomatic family requires you to be adaptive to new realities. The most challenging aspect of this life is that you never know what will happen next, which is rewarding in itself.
Q.: What similarities and difference do you see between Azerbaijan and Israel?
A.: There are many similarities between our countries. Both our nations give a lot of importance to family, like respecting parents and elders, and there are similarities in social norms and traditions. In both countries, people of different faiths and ethnicities live side by side. Being an Arab, I also noticed that there are many words that are similar to our language. For example, center is markez in Azeri, merkaz in Hebrew, markaz in Arabic. There are many other similar words, especially with Arabic, like book (kitab), morning, love, and more.
Q.: Could you tell our readers about the activities that you are involved with in Baku?
A.: Firstly, I work at the accounting section of the embassy, dealing with the finances. In addition, I joined the Head Of Missions' Spouses (HOMS). This group performs many activities for the diplomatic community, mostly in the promotion of projects to help others. This is a very rewarding activity, and I had a chance to participate in a charity Gala that raised funds for many important social causes. In addition, I aspire to discover more about the Azerbaijani society, especially those who face challenges. For example, I visited a center that treats children with Down syndrome, where my husband and I learned so much from the children and their devoted teachers.

Q.: Do you have any hobbies?
A.: I love dealing with design. When I was in Israel, I earned a certificate in home-styling, and I constantly follow ideas in this field with much interest. I enjoy combining two different worlds, the traditional and the contemporary. This is something that I wish to develop more in Azerbaijan. I also love painting, and learning new languages.

Q.: Have you had an opportunity to travel around Azerbaijan? What are your impressions?
A.: I have traveled in Azerbaijan, and visited many places, like Quba, Shahdag, Gabala, Ismaili, Shamakhi and other places. It is really beautiful; we enjoyed the nature, the authentic lifestyle and the vast landscapes. In fact, George and I even decided to make our engagement photoshoot right here in Azerbaijan!

Q.: What are the main areas of interest that everyone should know about Israel?
A.: Israel is about combining the old and new, in history, architecture, art, etc. For example, the combination of Tel-Aviv with its modern architecture together with Jerusalem with its thousands years old history. When I walk in the port of my home city of Jaffa, I get excited every time when I hear a diversity of so many languages. I also like to climb to the highest point in Old-Jaffa, and see the magnificent view, that includes Churches, Mosques and Synagogues next to each other. We also have a variety of beautiful landscapes. You can find wineries and agricultural fields in the mountains, as well as in the desert. And at the same time you have buzzing cities with an innovative technological industry.
Israel has many conflicts, but at the same time it is a country where you can find many people and organizations dedicated to promoting peace and a better future for all, where we all can live in prosperity and dignity.

Q.: Finally, our signature question to conclude the interview. It is said that behind every successful man there is a woman. How does that manifest in your life?
A.: I agree that a good partnership is about one empowering the other. However, I think it goes both ways – I stand behind my husband, and he also stands behind me. We both influence each other's success.