CEO OF THE ABSHERON HOTEL GROUP, MARTIN KLEINMANN DISCUSSES HIS VISION FOR AZERBAIJAN'S FUTURE, DINAMO HOTEL'S FIRST ANNIVERSARY AND HIS NEW HOTEL THAT OPENS IN BAKU NEXT YEAR. HE ALSO SHARES WITH US THE PASSION THAT DRIVES HIM TO PROMOTE AZERBAIJAN'S TOURISM, HIS LOVE OF TRAVEL AND HOW HIS GRANDMOTHER'S AUSTRIAN BED AND BREAKFAST GAVE HIM HIS FIRST INSIGHT INTO THE WORLD OF HOSPITALITY. HAVING LIVED AND WORKED IN BAKU FOR THE LAST SIX YEARS, MR KLEINMANN IS A DYNAMIC AND DRIVEN INDIVIDUAL WITH A GENUINE LOVE FOR AZERI FOOD, WINE AND CULTURE, PROMOTING AZERBAIJAN'S AGENDA TO THE REST OF THE WORLD.
BY GEMMA BIANCHI SLATER
AZERI OBSERVER EDITOR
Question: You were appointed to the post of CEO of the Absheron Hotel Group in January 2019. What is your priority in this post and what kind of goals do you set yourself and your staff?
Answer: We now look after the JW Marriott and the Four Seasons in terms of asset management, managing the Boulevard, Intourist, Dinamo, Bilgah Beach, Pik Palace and Park Chalet in Azerbaijan. Our vision is to be the leading hospitality company, not just in Azerbaijan but the whole region. We're already fairly strong within the country but our desire is to grow beyond the borders. For example, we have a hotel in Bodrum, but we also want to diversify to Georgia, as they are a strong feeder market. For the people who travel to the Caucasus, we want them to visit all our hotels within the neighbouring countries.
I took the job in January, so we are consolidating and building a new team to ensure all the properties we have are in excellent condition, especially with the changes in the country's strategy to tourism so we adapt our offerings to our customers. When we arrived here in Baku six years ago there weren't many tourists, it was all corporate business, and now all of a sudden we have a lot of guests coming from the Middle East, Asia, China, for example. We are opening a truly authentic Chinese restaurant at the Boulevard Hotel from next year to cater for our international visitors.
Tourism development is not just about telling people to come; you have to develop your infrastructure and tailor it to their needs so there's enough here for them to be interested in.
Azerbaijan has a clear message with active open representation offices all geared towards tourism. We think it's important to keep everything authentic, but we need to preserve what people love about Azerbaijan.
With our company growth, we need to set up a solid foundation to ensure we are internationally recognised, and that we deliver on our promises.
Q: What can you tell us about your newest hotel in Baku, for example Dinamo?
A: Originally named after a sports club, it opened in September 2018 and is an incredible hotel, our most luxurious hotel. It was designed internally by Alberto Pinto, one of the world's most famous interior designers. He really looked at every single detail of the hotel. You can clearly see the relation to sports; with pictures, trophies and medals, all showcasing Azerbaijan's contribution to its sporting history. Art deco on the one hand but with the design elements related to sports. From a product point of view, Dinamo is our pride and joy. What makes it exceptional is the service that's provided.
We have a great Chef, so the food is excellent. There's always a prejudice that hotels are very formal, hotels are very expensive but it's not necessarily the case.
We are opening a smaller hotel with 63 rooms close to Fountain Square in spring 2020. It's in the historic building where the Caspian Shipping Company was based, so we will see a lot of elements that retain the history of this iconic building. It will be called 'The Merchant' and will have a small restaurant in the inner courtyard under a beautiful glass dome, through which you can enter the restaurant from the boulevard.
It will be the first hotel that my team and I will be opening so we are all very excited and currently busy searching for new members to join us in this new venture.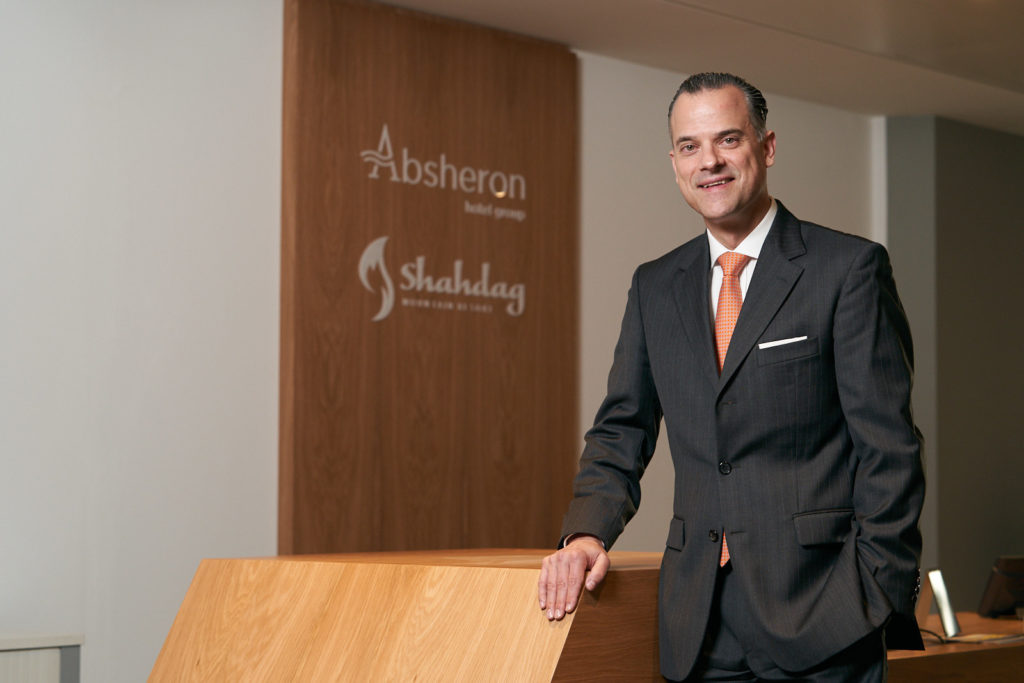 Q: What motivated you to go into the hotel industry?
A: My Grandmother had a bed and breakfast in a ski resort in Austria where I spent most of my vacations, so hospitality has always been a part of my life. Although I initially began a law degree, I decided I wanted to travel the world and work everywhere and hospitality was one of the professions with no limitations. You see a lot when you travel, but you only scratch the surface, the hotel industry gave me the chance to live and experience different cultures – I don't look back.
I have worked all over the world, China, Istanbul, Cairo, Bahrain, New Delhi, Germany and the US, and now Baku for the past 6 years.
Q.: In your opinion, what is essential in the hotelier's industry?
A: You need to love what you do, you need to have the passion and want to be with people, and be there for people. You need to be aware that everybody is different with different needs and desires, be very adaptable, be very flexible with a clear understanding that it's not about yourself, but it's about others. People with a big ego may find hospitality a challenge but at the end of the day, you can't be successful if your people aren't successful as well. The further you go and the higher you move, you need your people around you.
Q: How do you find the hospitality in Azerbaijan in comparison to your home country of Germany?
A: Azerbaijan is still in its infant stage of hospitality so you can't really compare. It took until 2012 for international hotel brands to come, following the country's strategy of putting Azerbaijan on the map. Therefore in parallel with the preparation for the Eurovision Song Contest coming to Baku in 2012, we had the Fairmont, Four Seasons, Hilton, JW Marriott Absheron and Kempinski (which is now Pullman) all open within less than a year. If you want to attract major events, you have to accommodate everyone. Then the inaugural European Games came in 2015, more hotels were needed – the Holiday Inn returned to Baku and our company opened the Boulevard Hotel and the Intourist.
For the Azerbaijanis, hospitality is in their blood, but if I was to mention Germany, it has the technical skill set and educational system focused towards hospitality, so we need to now improve our technical skill set through more tourism focused schools. We have tourism kicking in which fuels future growth.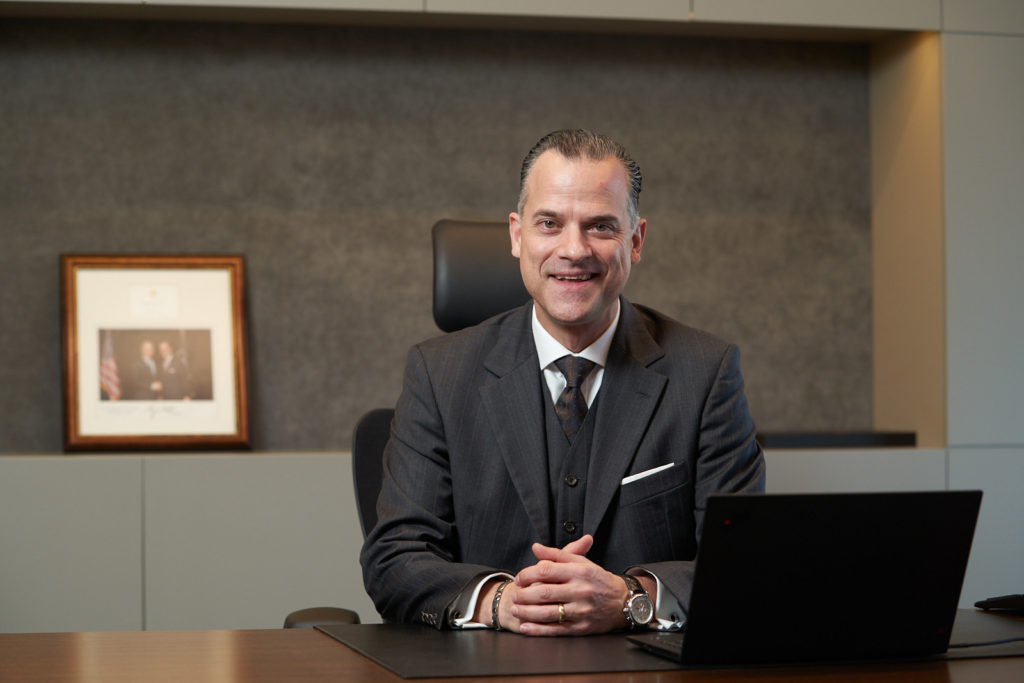 Q: Is there anything else worth mentioning in regards to your hotels?
A: The message should clearly be that we have something for everyone; every need, every taste and every wallet. Dinamo has great food and an amazing spa. Boulevard has an incredible fitness facility and pool. In the mountains, we hope people will make use of the winter months in our hotels up there. We plan to have a Christmas market with huts around the ice rink, selling goodies like mulled wine and sausages.
Q: Where is your favourite place to wine and dine in Baku?
A: Having an Asian influence in the family with my wife Min, Chinar is a classic. There are also some wonderful local restaurants, especially close to the Boulevard; in particular there is one called Qadim Gabala, where you are served a big rack of lamb carved right at your table – it is to die for. It is a recent find, but it is definitely worth it.
Q: Where do you take your relatives when they visit?
A: You start in the old town, walking on the cobbles, having breakfast, you go to the museums like the Carpet museum, Heydar Aliyev centre, Museum of Modern Art, then the mud volcanoes, Yanar Dag, then drive to Shamakhi, Ismayilli, Sheki and Gakh.
Q: What is the best thing about living in Azerbaijan?
A: It is so wonderful for the family. It has the combination of the big city, but then in twenty minutes you can be wherever you want to be. You can maximise time, it's great for the kids; they can do whatever sports they want. From day one, I never had to worry about my family. You can go down to the boulevard and spend time outside. Then an hour north you're kite surfing in Shuraabad. Enjoying really nice wine, like Chabiant.
Q: What artefact would you take home to remind you of Azerbaijan?
A: Azerbaijan has such a strong influence on our family and the memories are something we will always treasure and never forget.
BIO
Martin Kleinmann started his career in 1995 as an apprentice at the Hotel InterContinental in Stuttgart, Germany. After completing his degree in Hotel Management at the Hotel Business School Bad Ueberkingen in 1997, he stayed on at the hotel as the Front Desk Agent and was transferred with the InterContinental hotel group to New York as Assistant Manager one year later.
He moved back to Germany in 2000 and held various positions at the Raffles Hotel Vier Jahreszeiten Hamburg (now Fairmont Hotel Vier Jahreszeiten), including Front Office Manager, Room Division Manager and Executive Assistant Manager. After four years, Martin moved to the opulent Imperial New Delhi hotel in India, where he accepted the position of Executive Assistant Manager.
In 2007, Martin joined Marriott International in the position of Hotel Manager/Acting General Manager at The Ritz-Carlton Bahrain Hotel & Spa before being promoted to his first General Manager role at The Nile Hotel, Cairo (managed by The Ritz-Carlton back then and now The Nile Ritz-Carlton, Cairo).
One year later, he transferred as General Manager at The Ritz-Carlton, Istanbul, Turkey, which he successfully steered through the crisis, followed by a GM assignment at The Ritz-Carlton, Shenzhen, China.
Martin came to lead JW Marriott Absheron Baku, one of the outstanding hotels of the Azerbaijani capital, in 2014. Since January 2019 he is the CEO of the Absheron Hotel Group.