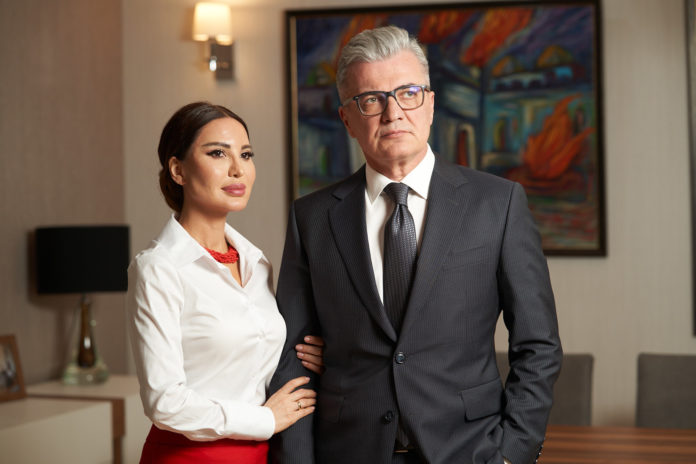 In an interview with Azeri Observer the spouse of Croatian Ambassador to Azerbaijan, Mrs. Gunay Zebic (Mehdizade), speaks about her artwork, the changes which came to her life after getting married, and the role of women in the contemporary world. She also reflects on the similarities between Azerbaijan and Croatia, and the projects which could bring the two nations closer.
By Elena Kosolapova
Azeri Observer staff writer
Question: Could you tell our readers about yourself – your family, education, and professional background?
Answer: I was born in Baku. There are no other artists in my family, but we all have a talent for painting. I achieved a degree in computer programming, however had always been interested in art and painted a lot even in school. After growing up, I decided to turn this talent into a profession, and took lessons with honored Azerbaijani artist, Beimkhanim Hajizadeh. My first painting style – Art Nouveau miniature –was developed under the influence of our traditional patterns and ornaments, which I've been in love with since my childhood, when my grandmother made carpets and sewed beautiful Azerbaijani national dresses. Then I began to paint in Shabaka style (ed. note: shabaka are stained glass windows made by national Azerbaijani masters, without glue or nails.) My third style are the paintings of our national architectural beauties and the actual style is closer to realism. I always set myself difficult tasks to try and develop my capacities.
Being a member of the Unions of Artists of Azerbaijan and Turkey, I have taken part in many exhibitions and symposia, and have organized different international events by myself. For example, I was a curator of the Izmir-Baku exhibition exchange project supported by the Turkish Embassy and Turkish Yunus Emre cultural center, and also an author and organizer of the Brother School project between Zeki Muren Fine Arts Lyceum in the Turkish city of Bursa and the Art Gymnasium under the National Conservatory of Azerbaijan. The latter project we spent three months in Turkey. While living there I implemented another project, dedicated to the 100th anniversary of Azerbaijan Democratic Republic – theatrical performances by the students of the Art Gymnasium under the National Conservatory of Azerbaijan. They were invited to Bursa and the performances had a full house and were also aired on television.
Q.: How has your life changed after marrying Mr. Ambassador?
A.: I always understood that I needed a person who would be interested in art, understand my inner world, and support me. We actually met through art – at an exhibition in Baku. Regarding the changes, now I have to attend more events and receptions. There were many events in my life even before, but now their format is different.
Q.: What is the most challenging and the most rewarding aspect of the life of a diplomat?
A.: If a person is a professional, they will not experience any challenges. Some people say that the main complexity is to leave your own country and go on a foreign mission. However, I do not think it will be difficult for me to move to another city. Before marriage, I lived in the Turkish cities of Ankara, Izmir and Bursa for quite a while, traveled to Madrid, Vienna and Italy to work on various projects, and felt very comfortable everywhere. Before the trips, I was worried that people there would be unfriendly and distant, however, I made friends quickly in every destination, and we are still friends to this day. If a diplomat knows his profession very well, he will not face any difficulties in any city. On the contrary, an opportunity not just to visit somewhere new, but to live and work in different countries, feel and learn a new culture and people, is very pleasing for me.
Q.: What will you miss when you leave Azerbaijan and move to another country?
A.: Everything. First of all my parents and brothers, then the city, the people, the food. No matter how much you enjoy another location, the love for the Motherland is eternal, so I will miss everything. Branko (ed. note: Ambassador Branko Zebic) and our children also love Baku very much. However, I will definitely visit Baku, and will maybe come back for some exhibitions. Also, I will have to take my paintings with me, as I cannot leave them, because they are like my children.
Q.: What similarities and differences do you see between Azerbaijan and Croatia?
A.: There are a lot of similarities. For example, the Croatian traditional circle dance 'kolo' reminds me of 'yalli', which is the Azerbaijani dance. Both Croatians and Azerbaijanis are skillful in carpet making and crafts. We have similar musical instruments, and I even contemplated combining them for a concert. We have already organized a mini concert of Croatian music played with Azerbaijani musical instruments on the occasion of the start of Croatia's EU presidency. Besides, Croatia has many interesting national holidays, and I am thinking about organizing some events to celebrate them jointly with national holidays of Azerbaijan. We have some similarities in food and languages; there are Turkic words in the Croatian language. Croatia was influenced by both eastern and European culture, and they are beautifully interconnected. Of course, there are some differences too. Nevertheless, I get used to everything very quickly, so nothing seems strange to me.
Q.: What places in Croatia would you recommend foreign tourists to visit?
A.: There are a lot of beautiful places in Croatia, and it is a very touristic country. Recommendations will depend on what you want to see. If you are looking for the sun and the beach, you should definitely go to Dubrovnik. It is famous for its picturesque landscapes and beautiful architecture. Besides, it was the main filming location of the famous series 'Game of Thrones.' If you want to see the culture and try the cuisine, you have to go to Dalmatia. In the city of Rovinj in Istria you can meet local artists and visit their studios. A must see visit is a marine organ in Zadar, where you can hear beautiful music when the waves are rolling in. A lot of places in Croatia are included in the UNESCO World Heritage List, and every city is unique.
Q.: Our signature question. It is said that behind every successful man there is a woman. How does that manifest in your life?
A.: This is a correct expression. Of course, women inspire and support. With my husband we talk, discuss all the issues, but he is the one who makes the decisions. However, at the same time, a woman should develop as an individual and professional. Everyone should be confident and have a profession. I got married when I was already a recognized artist, and Branco supports and respects me as an artist.
Q.: What are your plans for the future?
A.: It is difficult for me to sit around, stay idle and live without new ideas, projects. That is not in my nature. Besides, I have never wanted to imitate anyone and have always strived to become a better version of myself. Even while cooking, I always introduce something new to the dishes. I cook both Azerbaijani and Croatian cuisine, but the majority of dishes are of my own invention. As for the future, I am already working on the sketches of accessories and interior items decorated with Art Nouveau elements with fragments of my paintings to create my own brand. Besides, I am involved in the preparation of a performance based on a beautiful Croatian fairy tale, which will be presented within an international festival in Baku this April, and want to organize more international exhibitions of artists on various topics. So, there are many plans.