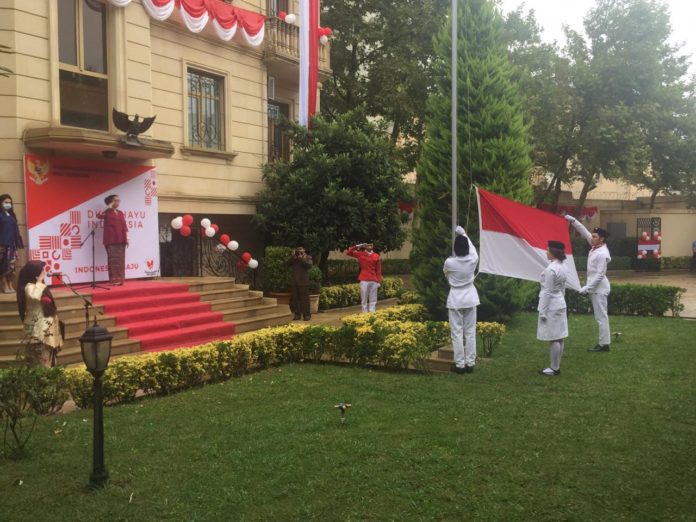 The commemoration ceremony of the 75th Anniversary of the Independence Day of the Republic of Indonesia was held at the country's embassy in Baku on Monday. Unlike the previous events, the commemoration ceremony of the Indonesian Independence Day was carried out in a simple and limited manner because of the state of Covid 19 pandemic.
Although in a simple atmosphere, the ceremony was quite in a festive mood and solemn. The ceremony was led by Mrs. Ingan Malem as Charge d'Affaires, attended by all Staff of the Indonesian Embassy in Baku and by limited number of Indonesian citizens and diaspora.
In her remarks, Mrs. Ingan Malem said that even though we are currently in a difficult situation and are facing the worst world economy in history, this condition can be used as an impetus for a new awakening to make a big leap of change for the better and to strengthen the unity and integrity of Indonesia.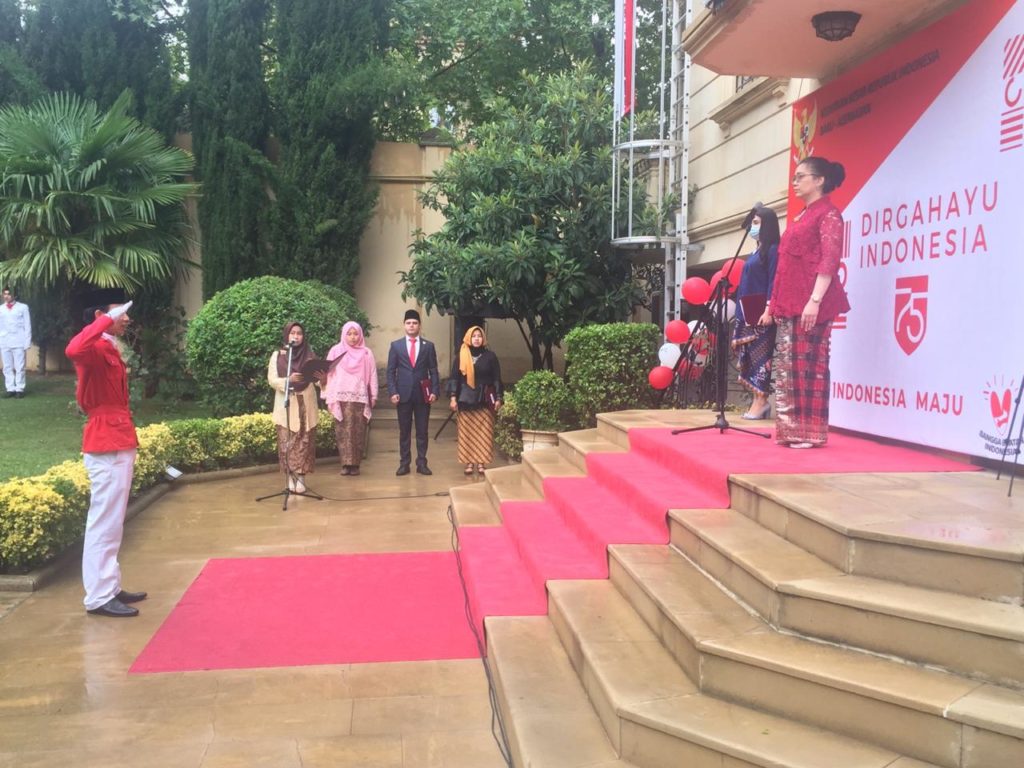 In addition, Mrs. Malem also told that the bilateral relations between Indonesia and Azerbaijan which has been established for 28 years, run well without any obstacles. Currently, the relationship between the two countries is focused on enhancing mutually beneficial economic, trade and socio-cultural cooperation.
"In these difficult times, especially in the economic and security fields, with solid bilateral cooperation, we hope that the two countries could overcome the challenges together. We want to see Indonesia and Azerbaijan becoming partners who need each other for mutual growth and inclusive development. It is our fervent hope that the cooperation between the two countries will bring great benefits to both countries," Ingan Malem said.
Furthermore, the event continued with the presentation of prizes to the winners of the virtual competition which was held in the framework of Indonesia's Independence Day. That was unlike the previous year, as usually the Independence Day competition consists of various traditional games and sports such as eating cracker, marble games, ping pong and bowling with the participation of Indonesian citizens, students and diaspora as well as Azerbaijanis. But now, it was carried out in a virtual manner, consisting of competitions such as photos of food decorations and Independence Day commemoration, as well as child's drawings.