BY ELENA KOSOLAPOVA
AZERI OBSERVER STAFF WRITER
The capital of Azerbaijan will become the world center of piano music in different genres for the next two weeks. The Baku Piano Festival, which starts on June 15, will convene classical musicians, jazz bands, and other well-known names from 11 countries: Azerbaijan, France, Spain, Brazil, Austria, Turkiye, Canada, Latvia, Hungary, Norway, and Germany. The music will fill the halls of such venues as the Heydar Aliyev Center, International Mugham Center, Landmark Hotel, Chamber and Organ Music Hall, and Baku Book Center.
Speaking at a press conference before the festival, the CEO & Founder of this important and prestigious event in the piano world, the internationally known Azerbaijani jazz pianist, and composer Shahin Novrasli noted that Azerbaijan had already become famous for its classical music and jazz festivals. Meanwhile, the idea of the Piano Festival was not to set limits in styles: in addition to classical and jazz music concerts, the program includes tango and milonga evening, poetry and piano night, folk-pop and flamenco performances, and even screenings of films about distinguished Azerbaijani and Latvian composers.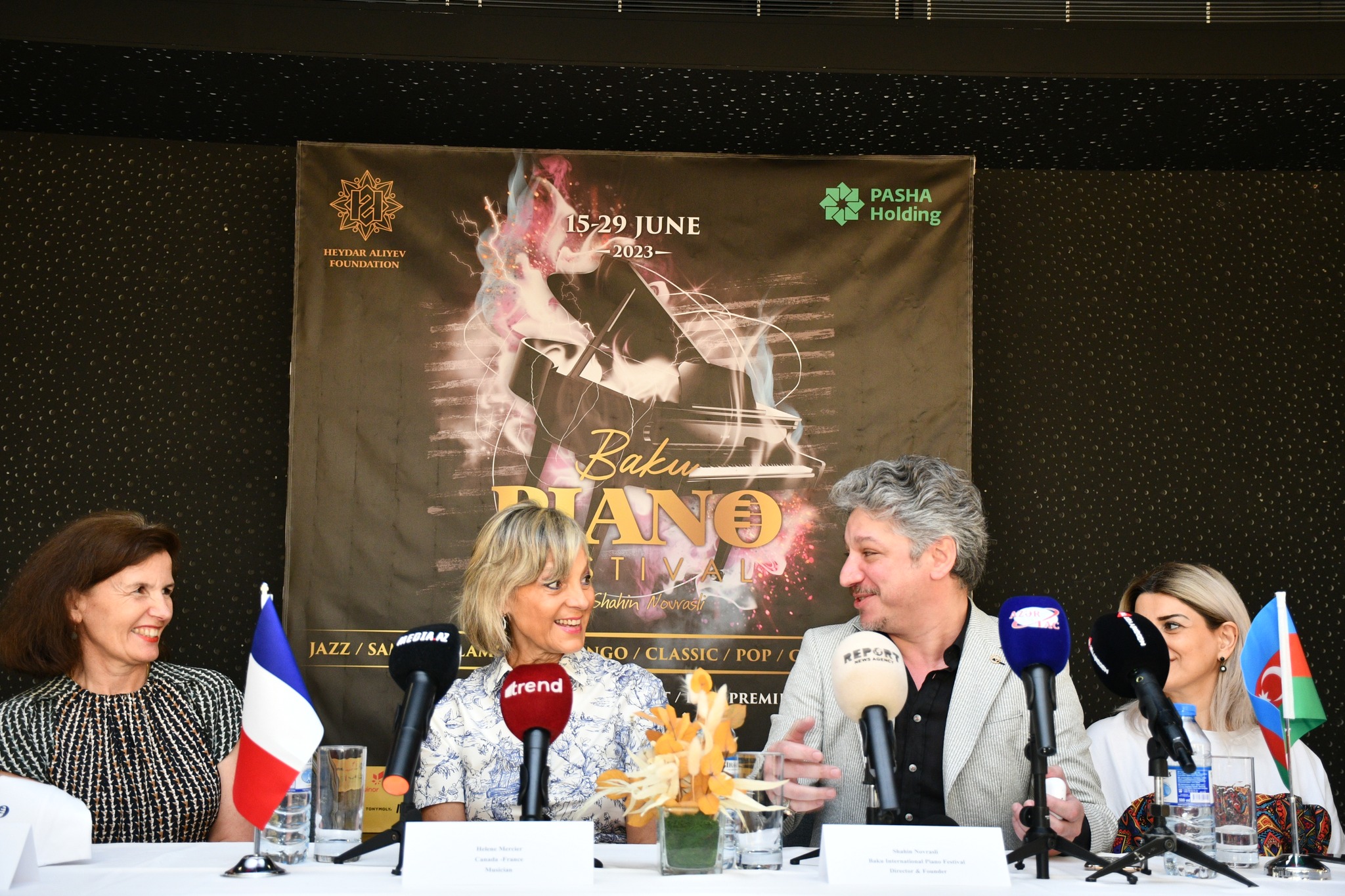 A special guest of the festival is Helene Mercier, a renowned Canadian-born pianist and the wife of the richest man in the world, French billionaire Bernard Arnault. At the press conference, Mrs. Mercier, who came to Baku for the first time, told journalists that many years ago she had performed together with Azerbaijani-born prominent cellist Mstislav Rostropovich. Despite leaving the country at a very young age, he was extremely attached to Baku, told her a lot of good things about the city, and even invited her to visit Azerbaijan many times. However, it happened that she saw Baku with her own eyes only after more than 20 years. The pianist noted that it was a pleasure for her to see Azerbaijan and she had been impressed by the high professionalism of Azerbaijani musicians and the warmth of Azerbaijani people. Helene Mercier will open up the festival with a joint concert with Shahin Novrasli at Heydar Aliyev Center on June 15 evening.
The press conference was also attended by representatives of the embassies of Austria, Brazil, Hungary, Latvia, and France, who gave information about the participants of the festival from their countries, and noted that this international occurrence culturally brings together the people of different countries.
Baku hosts the International Piano Festival for the second time. For the first time, the festival was held in Baku in May 2022, when it featured 15 incredible concerts.
The concert schedule for this year is available on the official website of the festival: https://bakupianofestival.com/
To buy tickets log on to https://iticket.az/events/2nd-baku-international-piano-festival