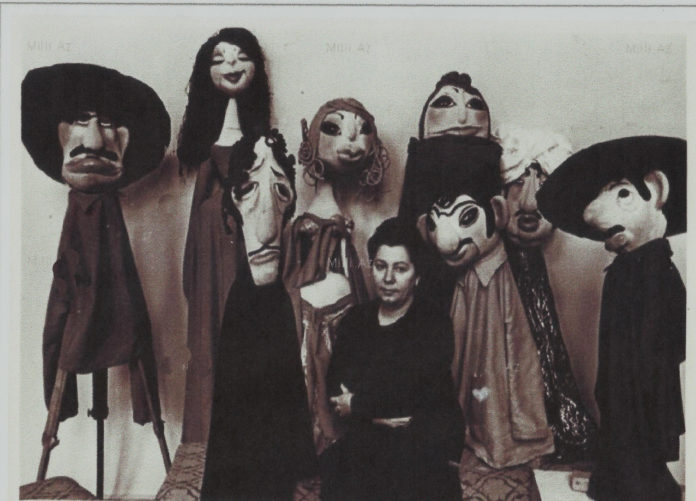 BY ZENAIDA CHERNAKOVA
AZERI OBSERVER CONTRIBUTOR
Solmaz Musayeva's puppets preserved Azerbaijani culture and tradition and brought magic to children and adults alike.
She was born on April 10, 1928, to a family of educated and intelligent parents. Her mother was a teacher of the Russian language and later became a school principal. Her father was a famous Azerbaijan dramaturge. She passed her childhood in a creative atmosphere. Such famous Azerbaijani writers and playwrights as Huseyn Javid, Mikayil Mushfig, and Jafar Jabbarli as well as composers and artists often came to visit them. They also held opening evenings in their home, where each of the visitors could share their creative talents. Solmaz Musayeva came under their creative influence. It was the beginning of her imaginative nature. Her life and creative path was full of political and creative events. After graduating from high school no. 132 she entered the Azim Azimzada (1944 – 52) Art School, and then continued her education at the Leningrad Art and Industrial Higher School named after V. Mukhina.
But then, she decided to leave her education due to family commitments. However, her artistic journey continued, and in 1965 she began her creative career as a theater designer at the Azerbaijan State Puppet Theatre. In 1981, Ms. Musayeva was appointed to the position of Chief Scenic Designer. She always considered this period in her creative life as one of the most fruitful. In the space of 22 creative years in the theater, she created and produced 50 performances, both in the Azerbaijani and Russian languages, including Malchish Kibalchish by Arkady Gaidar, The Magic Pomegranate and Jyrtdan by Huseyn Seyidzadeh, Brave Children by Afrasiyab Mammadova, Teremok by Samuil Marshak, Safar's Fairy Tale by Zeynalov Nadir and Mammad Mammadov, and Meshadi Ibad by Uzeyir Hajibayov.
Her folklore dolls were characterized by their grotesque appearance and facial expressions. She began to create such dolls after getting acquainted with Sergey Obraztsov, her mentor and teacher, a great master of puppets, who visited Baku at the invitation of her family, and spent some time with his drama group at the Musayevs' summer cottage. This meeting left an indelible imprint on her soul. After some time, Solmaz Musayeva decided to visit Moscow to improve her creative talent. There she took a course in applied arts under the direction of Mr. Obraztsov. At the end of her training he gave her invaluable advice to create dolls with different facial expressions and grotesque expressions, saying that although the creation of beautiful dolls was much easier, it was not relevant or innovative. After that, her dolls became both more realistic and more grotesque. In 1987, she quit her job at the theater and retired with the title of Veteran of Creativity, but her artistic journey did not end. She got a job in the Arts Foundation, and there she created a number of ethnographic dolls from different historical regions of Azerbaijan such as Shusha, Shamakhi, Nukha, Aksu, and Nakhchivan.
She toured with her world of dolls across the globe (Paris, Belgium, Tashkent, Pakistan, etc.) and in each country her dolls found acceptance and praise. She returned to her homeland with an immense number of awards and prizes. She always was a true patriot of her country and represented the art and wealth of Azerbaijani national culture with great dignity and pride. All her work was like a fairy tale, where Solmaz Musayeva was a kind fairy who taught us to feel and love the magic art of the world of dolls. Her immortal and talented imagination will forever remain in our hearts and memory, and her dolls will remind us of her immense and versatile creativity.