BY RODRIGO LABARDINI
AMBASSADOR OF MEXICO IN AZERBAIJAN
Often and regularly throughout the days and weeks, we are quite sure that everything around us is permanent and unchanging. The global pandemic we are dealing with in every corner of the world has made us review and analyze ourselves. We have had to look once again, set our priorities clear, and reconsider moral and material values in our lives; for example, what do they mean to us, what do they represent, how to achieve them, and which of them, simultaneously or not, should we further develop – as well as analyze the approaches taken by other people and nations, in different parts of the world.
We are aware that the present situation has a negative impact on international tourism and all areas linked to this sector. However, we must always remember that every situation – particularly crises – provide us with the best teaching moments, often demonstrating the opportunities it presents. They give us our greatest lessons for life and guide us to not only find a solution, but a way to grow. As such, we have to stress that as a consequence of general en masse lockdown and the apparent cessation of industrial activities worldwide, we have actually allowed nature to breathe in deeply and enjoy its new found solitude. However, this solitary environment has encouraged a boldness in that both flora and fauna – animals and plants – have ventured into the cities and they became the observers of humans enclosed in their four walls.
Mexico – the most visited Latin American country and the 7th most visited destination in the world (2019, UN World Tourism Org.) – has also felt this pause. Nonetheless, the high potential and wealth of its natural and cultural resources, as well as its image as a megadiverse country worldwide, have generated broad expectations regarding tourism. It is a country with one of the greatest climate diversities in the world: one of three megadiverse countries with coasts in both the Atlantic and Pacific Oceans (and the Caribbean Sea). It is homeland to 12% of the world's biodiversity and more than 12,000 endemic species. These and other factors – vast and millenary culture, exquisite and diverse gastronomy, archaeology, extreme sports, colonial cities, panoramas, beaches – have all contributed to the relevant role of tourism in Mexico's economy: approx. $120 billion or 9% of Mexico's GDP. Furthermore, tourism favors the creation of new direct and indirect jobs, as well as innovations in urban and rural infrastructure.
The pandemic we are all facing, has proven that nature and biodiversity need more rest, tranquility and relaxation. Nature may seem to many an in-exhaustible wealth, but it is not. This small protein has allowed nature to repossess beaches, mountains, forests, deserts, lakes, and more. Positive changes are observed in ecology, in particular in the purification of the atmosphere. Many cities in the world have experienced this phenomenon – Mexico City and Baku not excluded.
These environmental circumstances are clearly seen in Mexican coasts, extended over 11,000 kms. The waters have become purer, the sand cleaner, the panoramic vista even more attractive. It is clear that Mexico's beaches are a magnet of nature for national and international tourists. Visitors know these beautiful landscapes through various masterpieces, where the picturesque views of the Mexican beaches have been chosen for their sceneries, including movies such as The Night of the Iguana (Richard Burton and Ava Gardner), or more contemporaneous as Titanic, Quantum of Solace, Man on Fire, Troy, Apocalypto, Predator, and Rambo II. People live unforgettable moments here. Furthermore, they dream of visiting the coasts of Mexico, to bathe in the waters of the Atlantic and Pacific oceans, the Gulf of Mexico and the Caribbean Sea.
Travelers discover hidden secrets and delight in the impressive Mexican beaches. Not only will you marvel at the excellent climate and aquatic activities, you will be able to visit splendid archaeological zones and interesting colonial cities without traveling long distances; not forgetting the amazing views.
Let's consider the present as an opportunity to dream, plan and develop the future one more time, with beaches as the setting to our lives. Please remember, as beautiful as Cancún is, it is but one of more than 33,000 beaches (assuming three beaches per kilometer of coast belonging to Mexico).
Acapulco
Acapulco, the most legendary and stunning beach resort in Mexico, offers its visitors a varied concoction of excitement and fun, with the Mexican authenticity that distinguishes it.
Acapulco does not only seduce the senses of those who visit it with its natural beauties, the sea breeze, the sunsets and an intense nightlife, but it also conquers the tastebuds with its most varied dishes. The incredible dives into the void in La Quebrada are also unforgettable.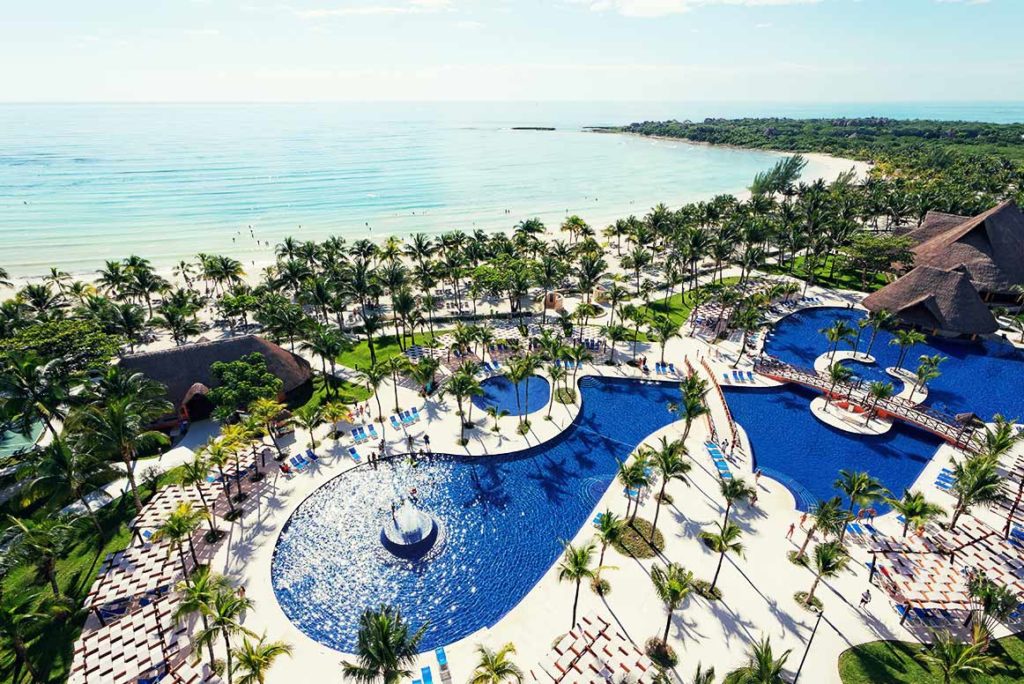 Riviera Maya
The Caribbean Sea, white sand beaches, crystal clear waters of intense turquoise, archaeological sites, underwater caverns, natural and theme parks, underwater museums, natural spas with ancient wellness treatments, and many other natural and cultural wonders, as well as delicious gastronomy.
The Riviera Maya captivates visitors with a unique mix of adventure, nature, culture and relaxation. It offers a wide diversity of experiences for different travel styles, interests, tastes and budgets.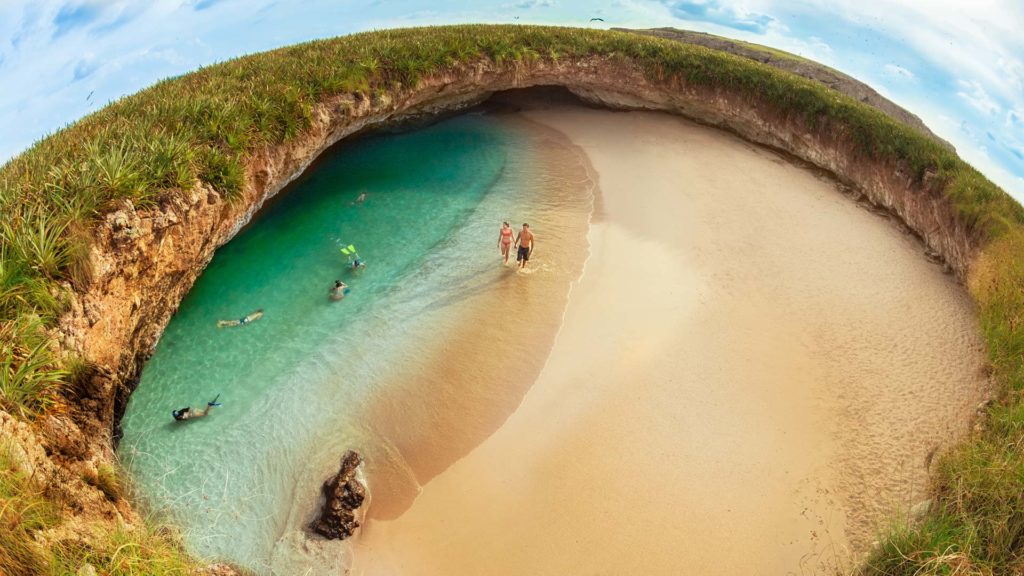 Riviera Nayarit
In the Pacific Ocean, Riviera Nayarit is one of the youngest destinations in Mexico. It is already established as a luxury brand, thanks to its versatility, its history, culture and its fascinating beaches. It is without a doubt, one of the most amazing places in Mexico. It has more than 300 kilometers of beaches with golden sand (some surrounded by palm trees), rugged mountains and nature sanctuaries. And, oh!, the seafood is fresh and delicious!
Los Cabos
Los Cabos is a magical land full of contrasts, from stunning seas, to deserts and mountains. It is also known as "Land's End" for being located at the tip of the Baja California Peninsula.
Nothing can prepare you for the impressive scenery that Los Cabos offers. Viewing the immensity of a blue sea colliding with large glowing granite rocks is a natural spectacle that leaves every visitor speechless. You can wonder at stone-carved arches, admiring the Pacific Ocean from the Gulf of California. Los Cabos and its fantastic tourist development are a product of its own nature: a true utopia where you can also golf and fish marlin!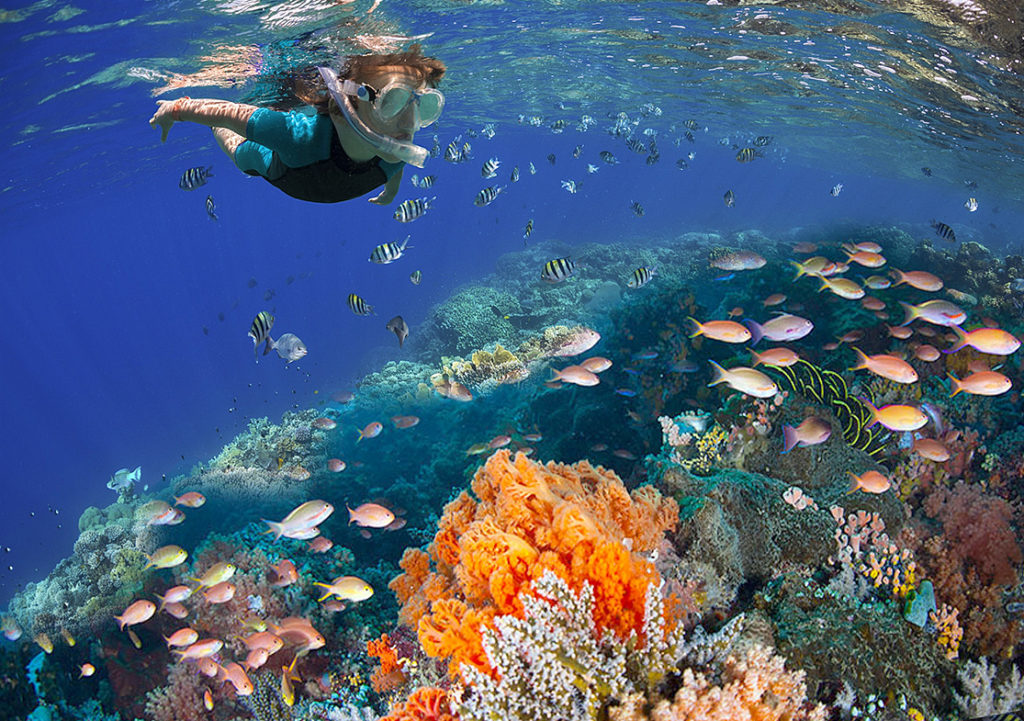 Cozumel
Cozumel is the largest island in the Mexican Caribbean. Rich in history, Mayan vestiges and natural wonders; a lone paradise in the middle of the sea with white beaches, beautiful sunsets and world famous coral reefs.
Cancún
And yes, there is also Cancún, the entrance to the Riviera Maya. It is recognized around the world for its spectacular white sand beaches and its fascinating turquoise sea and beautiful cenotes. With its unique natural setting, Mayan culture, aquatic and adventure activities, as well as international cuisine, spectacular golf courses, sophisticated spa facilities, exclusive shopping malls and local craft markets. The unbelievable and ancient Mayan pyramids are also just a short distance away.
Languages, religions, social customs, and civilizations are once again pondering similar issues that every community confronts with such a global pandemic. May we travel once again to find ourselves in a Mexican nirvana.