BY RODRIGO LABARDINI
AMBASSADOR OF MEXICO IN AZERBAIJAN
The geographical location, the size of the territory, the longevity of history and millennial culture has all resulted in the great diversity of elements and opportunities for life in very diverse areas, as well as its amazing flora, fauna, gastronomy, tourism, art, etc. Puebla, one of Mexico's 32 states – and its capital the City of Puebla, also known as "Puebla of the Angels" – symbolizes this diversity. It is not only a source of pride but one of the most privileged places for tourists, adventurers and admirers.
Puebla is a jewel in the heart of Mexico. Beautiful and rich on account of its nature and deep roots, its history, its artistic and cultural treasures, are all jealously guarded by very hospitable people.
Puebla de los Ángeles was rightly designated by UNESCO as a World Heritage Site. Puebla has seven Magical Towns; Pueblos Mágicos – places that offer a wide variety of tourism options, including gastronomy, colonial and archaeological sites, panoramas, vibrant nature, culture, art, people, with innumerable testimonies and objects. The state has places of extraordinary natural beauty; immersed in historic, pre-Hispanic, colonial and modern buildings and monuments throughout the State, with a rich indigenous handicraft that ranges from textile embroidery to amate paper. Furthermore, it boasts one of the most important gastronomies in Mexico. After which you will enjoy endearing popular festivals, traditions and legends. In short, Puebla is a wealth of treasures that frame and guard the reliquary of America and captivate its millions of visitors.
In the first third of the 16th century, the City of Puebla de los Ángeles was founded in a valley called Cuetlaxcoapan – in its nahuatl designation – located 120 km. southeast of Mexico City, in a land of volcanoes. Close by are the Popocatepetl and Iztaccihuatl volcanoes in their eternal depiction of the nahuatl story whereby "Don Goyo" – as Popocatepetl is also known – spews fumes every now and then while he cares for the sleep of his bride, Iztaccihuatl (in nahuatl: sleeping woman). Both volcanoes feature prominently in Malcolm Lowry's 1947 novel, Under the volcanoes. Not far away is Citlaltepetl (star mountain) or Pico de Orizaba and Matlalcueitl (blue skirt) or "La Malinche" volcanoes.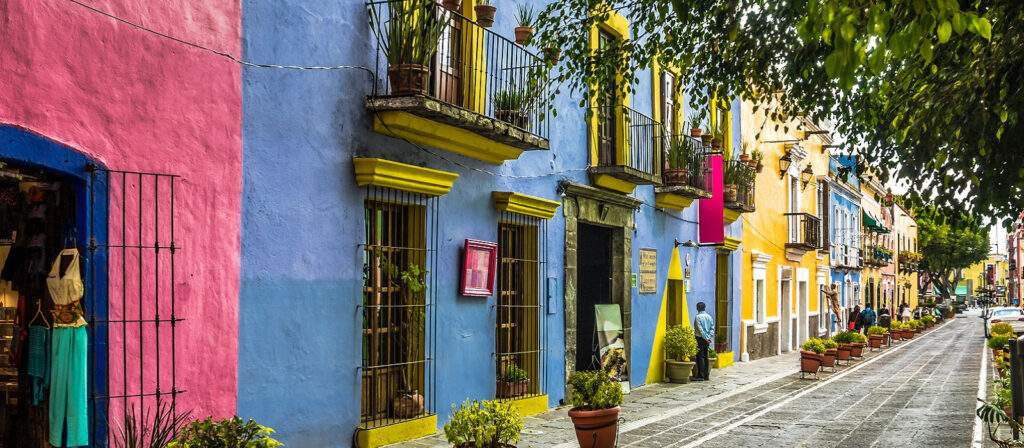 Historical events took place in the City of Puebla, and carved a fundamental reference in Mexican history. One of such is the Battle of May 5, 1862 (the famous cinco de mayo) in which the Mexican Army defeated the invading French army, then considered the strongest; or the beginnings of the Mexican Revolution on November 18, 1910 by the Aquilés Serdán brothers.
Now, why is Puebla called "City of Angels"? Legend has it that a heavenly court was in charge of drawing its streets and placing the largest and heaviest bell in the cathedral, which could only mustered by angels. Additionally, the city is said to be sheltered by the angels themselves with almost 365 baroque domes delineating the horizon. Furthermore, when you visit – because I know you will visit – you must savour the delicious flavours of its gastronomy, such as mole and chiles en nogada (chiles, sometimes hot, sometimes not, in a sauce of nuts), served in the intense blue of its Talavera plates (each plate being individually painted and designed). But above else is the angelical spirit felt with the hospitality of its people.
The Historic Center of Puebla was declared on December 11, 1987, as a World Heritage Site by UNESCO. It preserves 2,619 monuments in 391 blocks, distributed in an area of 6.9 square kilometers. It is amongst the cities with the most monuments in the American continent.
With this, it is understandable that religious tourism is a main attraction for Puebla. In its historic center there are two exceptional examples of New Spain Baroque. 1.) The Cathedral, which took two centuries to build, has the tallest towers in Latin America. The Cathedral is considered one of the most beautiful cathedrals in the world, for its architecture and its pictorial, sculptural, musical and documentary heritage it protects. 2.) The Chapel of the Rosary, where your eyes cannot cope with the number of gold-covered altars and Talavera tiles that are mounted on its walls. This is the greatest jewel of the seventeenth century Baroque in Puebla and Mexico. Since its opening on April 16, 1690, it has been the most unique of its kind for its symbolism and quality of its decoration, mostly covered with gold foil.
Museums are essential in the cultural life of Puebla. A clear example is the Amparo Museum. It has a wide collection of pre-Hispanic, colonial and modern art, and a terrace where you can take some of the best photos of the city.
The city has its own documentary memory in the Municipal Archive. Due to their importance, several documents in the Archive are declared, 'Memory of the World' by UNESCO. The Palafoxiana Library is considered the only ancient library on the American continent that preserves its original building, shelves, furniture and collection.
As previously outlined, a notorious bonus in town is Puebla's gastronomy. It is considered one of the most varied and exquisite in Mexico and the world. Some of its most recognized dishes are Mole Poblano, Chiles en Nogada, Chalupas and Cemitas. Puebla cuisine shares with other Mexican cuisines the miscegenation of indigenous, Spanish and Asian elements, a product of the country's history.
Throughout Puebla, as in Mexico, staples are corn, beans and chili, as well as chocolate, peanuts, and nuts. A combination of these ingredients produce a large number of dishes, including molew, which may contain over 200 ingredients; enchiladas (salsa-covered tortillas) or extended tacos are consumed in any town in Puebla. Beyond the capital, Puebla's cuisine is even more diversified in each of its regions, incorporating various plants on account that Mexico has 12-14% of the world's biodiversity.
Food, culture, archaeology, colonial buildings and streets, hospitable people, all encapsulate the environment for you to watch Popocatépetl exhale some fumes, vying to care for the sleep of his beloved, Iztaccíhuatl.