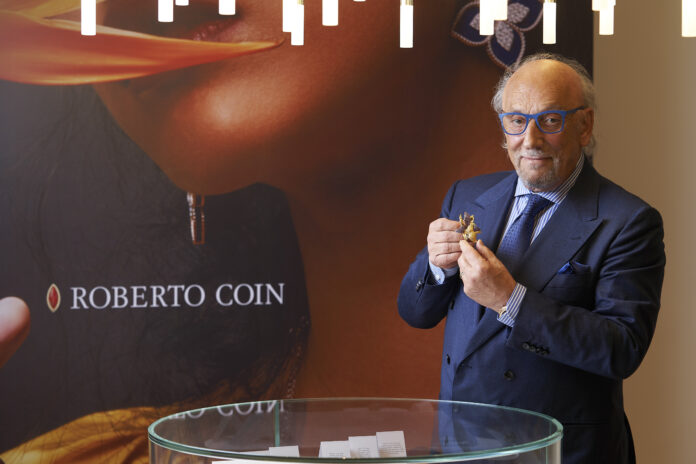 In an interview with the Azeri Observer Magazine, famous Italian jewelry designer Roberto Coin speaks about his Khari Bulbul brooches, made exclusively for Azerbaijan. He also shares his view of the contemporary jewelry world, explains what his creative process looks like and demonstrates his support to medical workers during the COVID-19 pandemic.
BY EMIL AKHUNDOV
AZERI OBSERVER STAFF WRITER
Question: You are a very energetic person. As you have said yourself, you never feel tired. Where does your boundless energy come from?
Answer: You are right; I am never tired, even when everyone next to me is exhausted. My energy comes from my strong mind. One should not think of tiredness. I personally focus on how to please the person around me, which gives me the energy to keep going and never stop. At the start of my career, I used to work 6-12-18 hours a day. Sometimes I even managed to work 19 hours per day. If you think ahead of the amount of work you have to do, you are exhausted before you even begin. But when your mind is focused, you are not tired even after accomplishing your work.
Q.: Creativity is an absolute must-have in your line of work. However, you can't just click your fingers to summon creativity. Where do you get such inspiration to create new products and collections all the time?
A.: Creativity cannot be learned at University. Either you have it, or you are in trouble. When you are born with this talent, the creative process becomes natural. Do you see that flower vase? I can make a beautiful champagne cup out of it. Just decorate it with olives on chopsticks and put some flowers around, for example. Everyone sees the same things, but a creative mind alters them and converts them into a piece of jewelry. As for inspiration, sometimes I fall in love with something that I don't expect. In recent years, I took some ideas from the architecture of Venice. Nevertheless, my primary source of inspiration comes from different cultures. I have visited 116 countries, and every country possesses its own beauty, inspiring me with new ideas. For example, when I was in India I saw a wonderful carpet, which I tried to repeat in gold. It wasn't an easy task to make it soft and bendy, but after two years we succeeded, and that is how one of the most important bracelets of my life, Appassionata, was created. When I traveled around Africa, I was shocked at how the nature is being destroyed by humans. After much thought, the idea for my Animalier collection came to mind. With this collection I tried to send a message to the people: we have to protect nature, we have to protect the animal world. When I travel, I see beautiful women wearing beautiful clothes, and I try to realize what pieces they are missing, imagine what jewelry I would add to their look. That is creativity, it is endless. Therefore, I will have a job forever.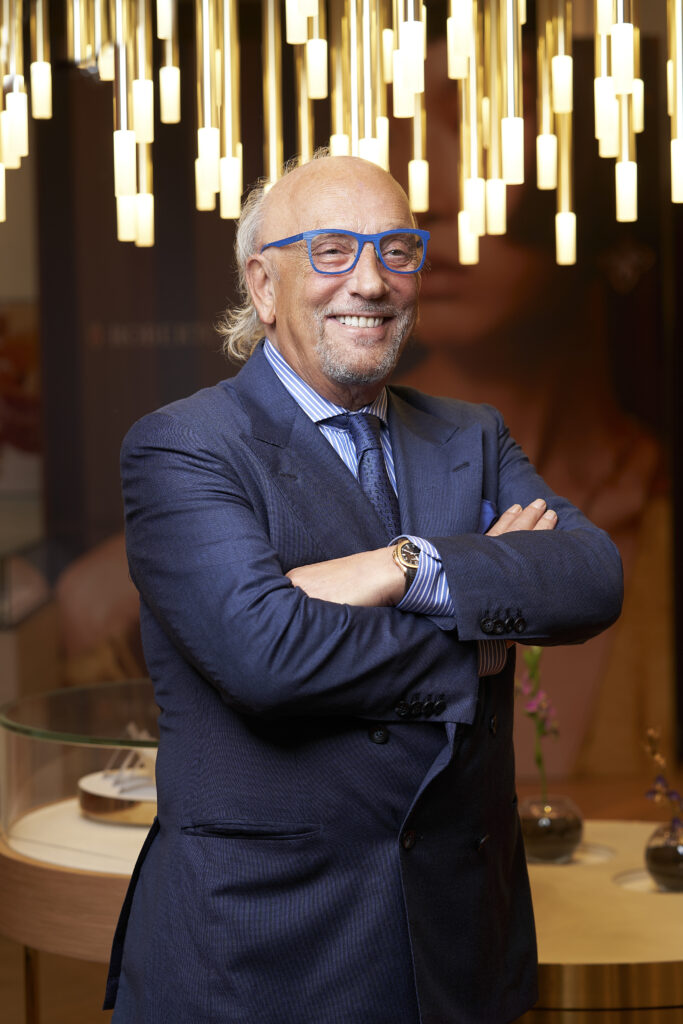 Q.: Do you have a particular image of a woman in your mind when you create your collections?
A.: Not really. It is true that I like creating jewelry for members of royal families. However, I also create pieces for the younger generation, which they will find beautiful. Young girls don't usually like the jewelry of their mothers, but they will probably like the pieces their grandmothers wear. In ten years, their taste will change. Fashion will change by that time; they will wear different clothes and need different jewelry. Secondly, we all dress differently in different situations. A woman may prefer a casual style, but she will have a more official look at work, or put on a cocktail dress when she attends an evening reception. With different dresses, she will have different jewelry. I give my clientele the possibility to choose jewelry pieces corresponding to their look. The same woman is first 14 years old, later 25, then she is a 45-year-old mother with children, and finally she is a grandmother. Which one do I like? I like all of them! The big brands want to dress everybody equally, sell the same things. I, in turn, prefer women to have as many different dresses as possible. Roberto Coin says, "You all are different, you dress differently, why should you have the same jewelry then?" People have their own personality, their own style; therefore they should not have the same pieces.
Q: How would you advise women to choose the right jewelry so they can look different from others?
A: There are many suggestions. I can only advise that beauty is not based on price. Not everybody is rich. However many people who don't have a lot of money, have good taste. Sometimes poor people have even better taste than the rich ones. Unlike affluent customers, who can buy 20 pieces and make mistakes, they can afford only one piece so no mistakes are allowed.
Q: In the 20th century, Elizabeth Taylor was considered a true connoisseur of jewelry. However, time has passed and things have changed now. What does an example of a jewelry connoisseur of the 21st century look like?
A: There are no examples. They all are different. The younger generation want to buy branded pieces if possible, which should also be green and ethical. They appreciate beautiful well-made things and want to buy more often than in the past. The younger generation don't want pieces, which will last forever. They want to change them more often, of course, looking for lower prices at the same time. They are not interested in big pieces that you can wear only once or twice a year. This interest will arise much later, when they develop more of an understanding. That is when they will start buying them. Therefore, all the big brands – Cartier, Bvlgari, etc. came down in price to make their collections more affordable. Otherwise, they will not entice their younger clients, who are our future customers, and in time will buy costlier items. Moreover, the nightlife has changed. Decades ago, women wore jewelry when they had a lot of money. Now it is changing. People want to wear jewelry with pride. They pay attention to the origin of the diamond, if it is legally purchased; blood diamonds are not acceptable any more. Expensive pieces will be sold, but in a different manner. We still produce big pieces, but we make them unique – one piece only for a special client, special lady, special occasion.
Q.: Italy was one of the most affected countries by the COVID-19 pandemic. How did your company adapt to the situation?
A.: First, we closed like anybody else. Second, we took out insurance to cover any doctor or hospital visits, to include any spending at pharmacies for all my staff worldwide. Now we wear masks and gloves and take all the precautions at our factory and in the office. My responsibility is to take care of my employees. I believe social responsibility is the best investment you can make in life.
Q.: Tell us about your project to support medical workers by giving them golden rings. How did the idea appear?
A.: I wanted to do something to support people fighting coronavirus. However, I cannot make masks, gloves, medicines, so I didn't know how to help. A friend of mine advised me to make presents for medical workers. Since there are millions of them, giving golden jewelry to everyone would cost a fortune, I could not afford that. So, I decided to present a wedding ring to those medics who are going to marry. If both bride and groom are working with COVID patients, I give them two rings. I believe this is a beautiful idea. So, we implemented it in France, Spain, Italy and the US, and we shall consider such a project for Azerbaijan as well.
Q.: The main reason of your visit to Azerbaijan this time was the presentation of two amazing Khari Bulbul flower brooches. Tell us more about them. Is it the first time you've made exclusive jewelry for Azerbaijan?
A.: I don't see money as an indicator of success. For me, the feeling for the things I do and people around me are much more important. I have been cooperating with Azerbaijan for years and I believe that I have been a good teacher and a good friend for people who work with jewelry here. When they asked me if I can do something especially for Azerbaijan, I decided, why not. Wars are never nice, so for me, Khari Bulbul is a flower of peace. Moreover, it is beautiful. You can wear this jewelry piece as a brooch, or put it on a chain and wear it as a pendant. I tried also to make it more or less affordable, so anybody can buy.