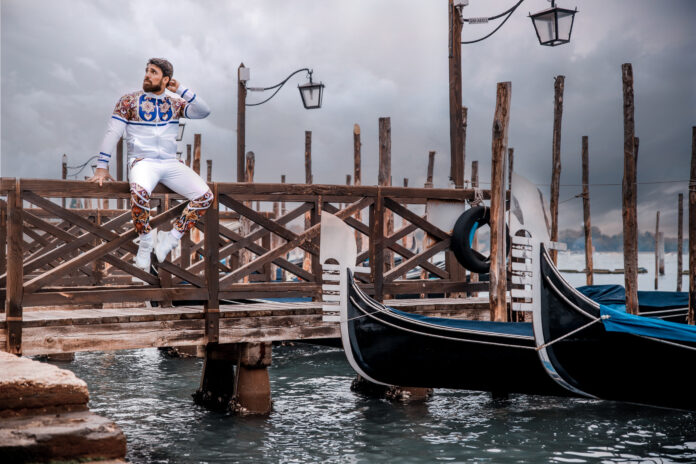 An international sports agent, volleyball player and creator of the first Azerbaijani sportswear brand, IL'AZERO, Ilgar Imamguliyev, dreams of designing a uniform for the Azerbaijani national team for the 2024 Summer Olympics, which will take place in the French capital. In an interview for Azeri Observer he speaks about his passion for volleyball, explains what makes his brand different from others, and shares what makes him believe in himself and his success.
BY EMIL AKHUNDOV & SABINA DADASHEVA
Question: You are a sports agent, volleyball player and creator of a fashion brand. What do you spend more time on? Which of these activities fills your life?
Answer: Before creating IL'AZERO, volleyball was the center of my life. I have been playing volleyball since the age of 12. However, the fashion brand has moved volleyball away from the pedestal. Later, I tried to strike a balance between studies, work and volleyball, though I realized that the prospects in the sports sphere were not so great. In 2007, I created the il azero blog on the popular blogspot platform, which became the first source of information about Azerbaijani volleyball in English, and after some time I made a full-fledged website, azerivolley. At the age of 23, I became the manager of the Rabita Baku club, so I am still working in the field of volleyball. I am sure I will play volleyball as long as the state of my health allows me to, because I love doing it more than anything else. My pals and I even played it during the quarantine period, gathering in the backyard, like schoolchildren. Playing volleyball is equal to living for me. On the court, I forget about the darkest and most bitter moments of my life. Having been involved in volleyball for more than 20 years, I work with big clubs, organize athletes' transfers and receive a good income, which has allowed me to create my own brand.
Q.: In July last year, you were a part of the Azerbaijani national volleyball team, which took part in the prestigious Hubert Wagner Memorial tournament in Poland. Tell us more about it.
A.: They called me just several days before the first game, and invited me to take part in the tournament. It was quite unexpected, and at first I tried to look for a replacement, but failed to find anyone. Finally, I prepared for the competition within several days and went to Poland. Debuting in the national team at the age of 33 in such a prestigious tournament was incredible! It was one of the happiest moments of my life. Years ago, people called me "a bleachers guy" because I spent a lot of time on the bleachers rooting for volleyball teams. Then I had an opportunity to go to a tournament as an athlete. I entered the hall with prayer on my lips, looked at the then half-empty stands and realized how important it was to dream and not give up. I wore my favorite number, 17, and despite not being comparable with the legends who had played under this number, I was happy. Unfortunately, the results of our team were not very high and we ended up at the bottom of the tournament table. We were noticed though! People said the Azerbaijani team adorned the tournament with colors – from the IL'AZERO sports-line, of course.
Q.: Many people criticized the official uniform of our athletes at the last Olympic Games. Why such a colorful collection as yours didn't make it to the last year Olympics in Tokyo?
A.: In 2020, I met with Azad Rahimov [the then Azerbaijani Minister of Youth and Sports, who passed away in 2021], and he told me, "We want to see our athletes in the uniform by IL'AZERO, but we have a contract with another brand. They delivered clothing for Azerbaijani athletes at the European games, and the contract obliges us to continue cooperating with them during the Tokyo Olympics. However, IL'AZERO was present in Tokyo anyway. Before the games, many athletes called us and asked for our tracksuits, because they are of high quality, comfortable, colorful, and have many national elements and patterns. Despite believing that athletes should wear the same uniform at the Olympics – the one ordered for the Games – I was pleased to see many of our athletes wearing clothing by IL 'AZERO at unofficial events and trainings. I hope that is just the start and we will receive more support in the future.
Q.: Does the brand reveal your character and nature?
A.: This brand comes from my heart. Looking at my art – I cannot think of another word to describe the process of creating clothes – you can see and understand my inner world. All IL'AZERO clothing are vivid, colorful and full of national spirit, since we use the national flag colors and national patterns. It is just like me. On the one hand, I love the whole world; I hate borders and framework, avoid standards and stereotypes, and look for complete freedom. On the other hand, I am proud to be an Azerbaijani. If I had the chance to be born for the second time, I would choose Azerbaijan as my place of birth again, because I sincerely love my country. There should be a source of inspiration in every person's life. In my case, it is IL'AZERO. This brand is like my child; it encourages me and gives me the strength to live.
Q.: How did the idea of the IL'AZERO sportswear brand occur?
A.: Working with sports teams, we constantly ordered players' uniforms from world-famous Italian and Japanese brands. Their lack of Azerbaijani national elements saddened me, and I always wanted the uniforms of our national teams to have some patterns related to our country. We tried to order custom-made clothing from the leading brands, but this experience almost never turned out to be successful – both in terms of price and time, and in terms of quality.
We often attended sports competitions in Europe, and every time I traveled to European cities and passed by European sportswear shops, I dreamed that someday I would create my own brand. And so it happened! In 2017, I created the brand that I had dreamed of for so long. We launched production in Poland, as I wanted our clothing to meet the highest European quality standards. I visited 11 factories and chose the one that seemed to be able to turn all my ideas into reality in the best way. I had numerous ideas – I wanted to use our national ornaments and the colors of our flag, which we had managed to raise at various sports competitions many times.
Q.: Tell us about the brand's cooperation with various teams and federations.
A.: The first contract we received came from the Karate Federation, though it was not a big one. Three years later, they contacted us again, and this time the contract was more solid. They are our biggest customers, besides the volleyball team and the wrestling team. In the near future, we will start cooperation with the Karabakh football club. Their contract with Adidas expires soon, and they are ready to start working with our brand. I am sure we will create something unusual for them.
Of course, my biggest dream for today is to dress the Olympic team for the Games in Paris. I believe that the national team clothing should be colorful, and it should immediately explain which country the athlete represents. Therefore, we will continue developing the colorful patterns of our national carpets, which we already use in our tracksuits. Let's leave minimalism and monochrome clothes for everyday life and regular workouts (laughs).
Q.: Every brand, including fashion ones, wants to make a profit. Why don't you sell your clothes at retail shops?
A: Of course, everyone wants to make money; there is nothing to argue about. We probably will sell our products at retail one day, but now we are interested, first of all, in corporate large-scale contracts. If we succeed with the Olympic uniforms and uniforms for the Karabakh club, and if people like us, then, of course, we will open fan shops and start selling souvenirs with the brand symbols.
However, I like that our brand is called "a brand for the elite", because it is important for us to see the best athletes and the best people in the country wearing it. For example, we presented items from our "Karabakh is Azerbaijan" collection to soldiers and heroes of the 44-day war and families of martyrs. I understand that the absence of our brand in the market may cause surprise and ask questions. Someone might say that Ilgar Imamguliyev is just looking for advertising and wants to be known as a great patriot, not a businessman. I don't care about the rumors – believe me or not, I do it with a pure heart because I enjoy doing good things. Large corporate orders bring a good income for the company. However, mercenariness and self-interest are not in my nature; I never had a goal just to earn a lot of money. I do not expect any gratitude or earnings from this, because I know that everything comes back as a boomerang. The more good things you do, the more God supports you. I feel that the right doors always open in tough periods, and help comes from where you don't expect it. The four years since the brand started, convinced me once again that my lifestyle and thoughts were correct.
Q.: You have received offers to open branded stores not only in Azerbaijan, but also abroad, however you refused …
A.: It's true. The last time we were offered to open a store in one of the resort cities of Turkey, next to Dior and Escada. Believe me, it was a great honor for us. However, in the end, it didn't work out, and I think that's for the best. I envisage our store to have an extremely high level of professionalism, but with the short deadlines, it was impossible to do everything perfectly.
Q.: What are you dreaming about now?
A: My biggest dream is to dress our athletes at the Paris Olympics, which will be held in 2024. I draw sketches of the Azerbaijani national team's future uniform at the Games almost every day for five-six hours. I can promise that our athletes will look as good as the Americans in Ralph Lauren, the French in Lacoste or Italians in Armani.
Photos by Mariusz Patczynski, Tatiana Peynot