Exhibitions have become an integral part of Azerbaijan's economic activities. Every year, more than 20 exhibitions take place in Baku and act as a...
Mrs. Marta Riva de Quesada Spouse of Argentinean Ambassador to Azerbaijan Question: The role of diplomatic spouses is often overlooked. How would you describe the role...
Ulviyya Talishinskaya Director of Sales & Marketing of Four Seasons Hotel Baku  Ulviyya Talishinskaya initially began her hospitality career in room service, before everyone quickly realized...
Mrs. Suzanne Mohamed Gamil Ambassador of Egypt to Azerbaijan Question: Mrs. Ambassador, how do you assess the diplomatic and political relations between Egypt and Azerbaijan?...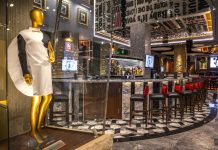 On December 16th Hard Rock Cafe officially celebrated the highly anticipated grand opening of its Baku location with a live performance by punk rock...