María Ángela Holguín Colombia's Minister of Foreign Affairs In June 2017, Colombia's Foreign Minister María Ángela Holguín made a reciprocal visit to Azerbaijan, meeting with...
The 2nd Indonesian Cultural Festival has kicked off in the Azerbaijani capital of Baku on September 9 with a solemn opening ceremony at Heydar...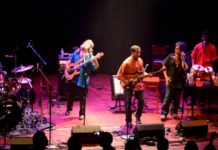 The Indian Ocean music group which is widely regarded as one of India's foremost bands will be visiting Azerbaijan from 10-14 September, India`s Embassy...
On the occasion of the 18th anniversary of the accession of His Majesty King Mohammed VI to the throne, the Moroccan embassy in Baku...
Continues to grow global portfolio and strengthen position as partner of choice for luxury hotel and residential projects Four Seasons Hotels and Resorts, the world's leading...