BY FUAD ALLAHVERDIYEV "AZERTELECOM" LLC CEO Nowadays, we are witnessing the informatization process all over the world. Information and communication technologies (ICTs) are boosting economic growth...
Indonesian President Joko Widodo official visit to Islamabad on January 26 had a very warm welcome from his Pakistani counterpart Mamnun Hussain. Both leaders...
María Ángela Holguín Colombia's Minister of Foreign Affairs In June 2017, Colombia's Foreign Minister María Ángela Holguín made a reciprocal visit to Azerbaijan, meeting with...
The 2nd Indonesian Cultural Festival has kicked off in the Azerbaijani capital of Baku on September 9 with a solemn opening ceremony at Heydar...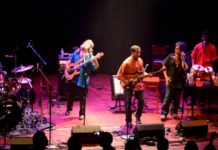 The Indian Ocean music group which is widely regarded as one of India's foremost bands will be visiting Azerbaijan from 10-14 September, India`s Embassy...